Chris Schulz tries to track down mysterious musical pixie Grimes ahead of her Laneway appearance.
She's elusive, we'll give her that. "We are trying to set this interview up," emailed Laneway's publicist on November 5, nearly three months before the festival. A month later, in mid-December, an update arrived: "Still trying to get that Grimes interview to happen!"
In early January, we had some deflating news: "Looking like it will be an email interview ... "
TimeOut desperately wanted to get Grimes on the phone: The Canadian singer, real name Claire Boucher, released our second-favourite album of last year, the anti-pop masterpiece Art Angels, a record so good we awarded it the No2 spot on our Best Albums of 2015 list.
She also gives great interviews: In November, she told Vice the media had "kind of ruined Grimes"; in December, she told the Guardian her brilliantly summery, achingly dark single California was "shitty", then said: "In my life, I'm a lot more weird than this."
Amazing. So if it's only an email interview on offer, we'll take it. Maybe we'll get something out of it; maybe we won't.
So we put together a rushed series of eight questions and fired them off on a Wednesday. On Friday, we got our answers. Boucher answered just six of them during a stopover in Seoul.
It's hard to build up a rapport with an artist with a 10-minute phone interview; it's virtually impossible to do it via email. And so it proved.
Grimes features on the cover of this week's TimeOut:
Boucher, who last played here in 2012 on the back of her breakthrough album Visions, said she was looking forward to returning to New Zealand because she "had my best breakfast ever there". She didn't say what it was. It won't have included bacon (she's vegan).
Continuing her elusive mood, she said her show - probably the most anticipated performance from Laneway's impressive line-up - has changed "quite a bit ... but also not at all".
"It's basically the same, but significantly better," she wrote.
She was more forthcoming when talking about her album.
Despite rave reviews for Art Angels, Boucher considered it unfinished.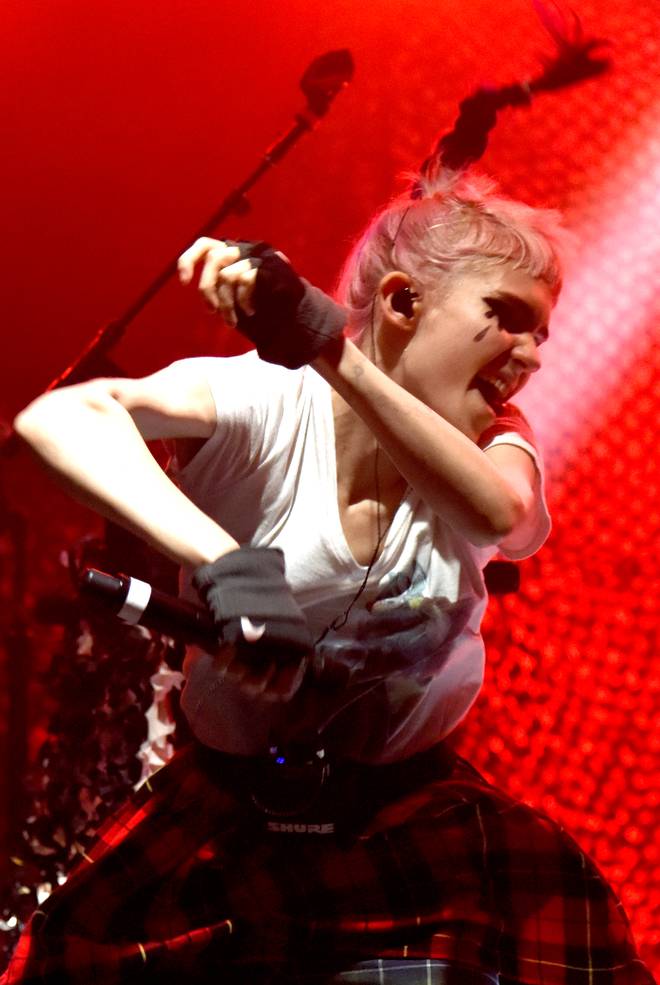 "Laughing and Not Being Normal is actually a full song with a chorus and stuff, but I didn't have time to flesh it out so I condensed it," she wrote. "Realiti still doesn't feel done, the verses are too dry. The live version of Scream has better synths, I wish I had done the instrumental that way."
She continued: "You can always go on forever tweaking things. I'm glad I stopped myself and put it out when I did, but I could probably edit into eternity ... barely anything seems finished to me."
So she's a perfectionist, but we already knew that: Art Angels was entirely self-produced, and it sounds better than most albums released last year, skipping from Realiti's alt synth-pop to the power ballad Easily, Venus Fly's throwback thuds and the punkish sprawl of Flesh Without Blood.
The album's expansive nature might be explained by Grimes' musical tastes, which read like a hilarious tweet: "Slow jams ... country music ... jazz ... some scientists made music for cats, it was good ... I like the band A-bee. Aristophanes' new stuff, obviously Lana Del Rey ... "
Sigh. Going through her answers looking for a story is nearly impossible. Perhaps the interview's most telling moment comes from the two questions she didn't answer: "Do you consider yourself to be a pop artist?" and, "Do you want to be as famous as someone like Rihanna or Katy Perry?"
No reply. Maybe we'll have our answers after Laneway. Maybe not. With Grimes, you never know.
Who: Grimes
Where and when: Laneway, Mysterex Stage, 8pm
Also: New album Art Angels, out now