In Slipknot's sick world, death isn't an ending - it's a reason to celebrate.
It's been six years since the Iowa act's last album, something the band blames on the loss of two key members: bassist Paul Gray, who died from a drug overdose, and drummer Joey Jordison, whose departure is the subject of legal wrangles.
It's Gray's death that hangs most heavily over proceedings: the album's named after him, and several songs directly reference his departure. Front man Corey Taylor seems to be hurting the most, using Gray's death for much of his lyrical inspiration.
"I will keep your soul alive," he howls on Skeptic, later admitting that "the world will never see another man as amazing as you". As that song's metal grind shows, Slipknot are still capable of delivering dark, brooding metal anthems - and this is one of their most fired-up albums yet.
The Negative One pounds like a brutal migraine, Sarcastrophe's superior riffage is made for air guitar fans, and on Custer, they turn a punk-rock chant into the kind of chorus that will make Slipknot moshpits a dangerous place to be for years to come.
If you're a Slipknot fan, that six-year wait was well worth it.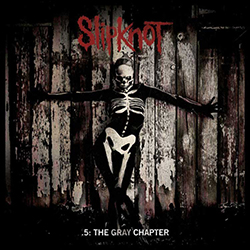 Label: Roadrunner Records
Verdict: Masked metallers get lean and mean.
- TimeOut