Between writing music for Tim Burton, performing at festivals around the world and inspiring French designer Franck Sorbier, Kimbra has been working away on a new album influenced by Salvador Dali. Lydia Jenkin talks to the Hamilton-born star.
You're about as likely to find a simple term that describes the personality of Kimbra Johnson as you are to find a single genre into which her music fits. In fact, if there is one characteristic that defines Kimbra, it's that she consistently defies categorisation.
Her chatter is peppered with enthusiastic exclamations of "dude" and "man", sporadic fist pumps, and the occasional Americanism. But she also speaks fluent French, and when a five minute break opens up during a day of press interviews for her new album, she's pulling a slim volume entitled The Sacrament Of The Present, by a 17th-century Jesuit priest, from her bag, for a moment of quiet and reflection.
She loves heavy rock like The Dillinger Escape Plan, Mew, and The Mars Volta, as much as she loves the future soul sounds of Erykah Badu and Flying Lotus, or the old recordings of Nina Simone, Miles Davis, Michael Jackson and Prince. In fact, ask her about any genre and she'll likely school you on it pretty quickly.
At the age of 24, she works just as happily alongside 71-year-old super-composer Van Dyke Parks as she does with 35-year-old crooner John Legend, and psychedelic RnB artist Janelle Monae (who she planned to do a double-headline tour with earlier this year before Monae got ill and had to cancel). Not to mention her 20-something Kiwi bandmates Stevie Cat jnr and Timon Martin.
And she is equally open-minded when it comes to what she wears - thrift shopping, retro pieces, Kiwi labels like Stolen Girlfriends Club, original creations for her stage show involving a bodice lit with EL lights. She will throw them together over her petite doll-like frame with a colourful sense of confidence that somehow makes animal prints on top of floral patterns work.
"I think my approach is often about juxtaposition, and trying to find things that could co-exist together that maybe shouldn't," she says with a smile as we talk in an Auckland hotel during her recent brief visit to New Zealand to launch her new album, The Golden Echo.
What does all this juxtaposition and eclecticism have to do with success? Well, doing something in a way that no one yet has without totally befuddling or alienating people is a rare talent in the world of art and music, and Kimbra seems to have nailed it.
"My favourite thing in pop music is if someone takes you to a chorus or a lift, and it totally satisfies, and gets you in the 'ooh' moment. But it came in a way that you totally didn't expect, and you have that 'woooaaahh' moment of surprise.
"Part of what pop music is about is serving as a place for people to come together and go 'yeah!' But my thing is that I don't think it has to be watered down beyond any kind of challenge for the listener. I think you can still have complexity within music, and still make it fun and accessible."
You can tell that nothing excites Kimbra quite like talking about music, but anyone who's been following her story so far knows that she's had this passion for most of her life.
"I don't think any parents would say they'd imagined their child signing a record deal and living in Los Angeles," says Kimbra, "but mine could see that music was a place where I came alive as a kid."
For those in need of a quick recap: Kimbra's love of music started with musical theatre at a young age, and she had such vocal prowess that before long she was singing the national anthem in front of 27,000 people at a hometown Hamilton rugby match at age 12.
She placed second in the Rockquest at age 14, and started recording singles and videos which got national attention. She moved to Auckland after she finished Hillcrest High, and played small gigs at The Dog's Bollix and Wine Cellar, planning to pursue a degree in philosophy at the University of Auckland.
That all changed when she got an offer from respected British manager Mark Richardson (who worked with Jamiroquai, Travis and Gomez), who had recently moved to Australia and set up a new company. She moved to Melbourne at 17 and started working on an album, frequently winning major songwriting competitions, and occasionally collaborating with other Australian artists.
One of those collaborations - a little song called Somebody That I Used To Know by Gotye - topped charts in 26 countries, sold more than 13 million copies, and made Kimbra a bonafide international star, which helped to draw attention to her debut album, Vows, released worldwide by Warner Bros in 2012. She toured pretty much everywhere: Poland to Turkey, China to South America. And then the song won two Grammy Awards in 2013, which saw her rocket further into stardom.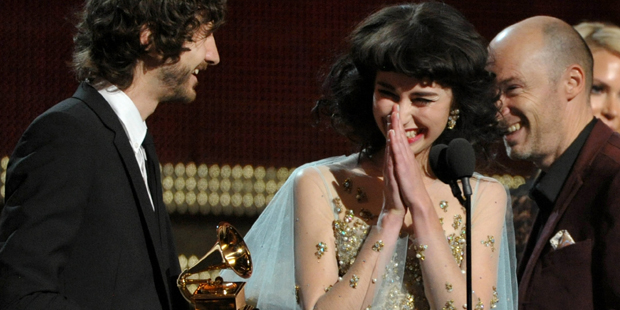 Kimbra and Gotye (left) accept the Grammy award for record of the year for Somebody That I Used to Know in February 2013. Photo / AP
Since that special night just over 18 months ago, she's been somewhat off the radar in her homeland. But that's not because she's been twiddling her thumbs in seclusion; more that she's been in demand for various international projects.
Film director Tim Burton asked her to write a song for his recent animated movie, Frankenweenie; she performed at legendary Brazilian music festival Rock in Rio; and she became the godmother of a fashion collection by renegade French designer Franck Sorbier, and found herself performing with a large wooden giant at Paris Fashion Week.
"It was more like an art show than a regular fashion event," she laughs. "The whole culture of runway and fashion shows, it's not really the world I grew up in, and I don't know much about it. I just know when I see things I love, and I enjoy designers who use fashion as a way to totally expand consciousness, and create something magical. All of these different fields, from fashion to film to music, they're all part of the same thing, they're just different methods of expression."
When she hasn't been diversifying her talents, she has been at her "urban farm" in the Silverlake district of Los Angeles, with sheep, chickens, and a rooster, working on her next album.
She wrote 40 or 50 demos, having enormous fun with a huge sound palette, limited only by imagination, and recording bits and pieces with a host of excellent musician friends: Muse's Matt Bellamy, bassist Thundercat, rapper Flying Lotus, Dirty Projector's Dave Longstreth, Silverchair's Daniel Johns, Mars Volta's Omar Rodriguez-Lopez, and soul-singer Bilal to name a few, plus her own band.
And then she approached producer Rich Costey (who's worked with Sigur Ros, Muse, Santigold, Nine Inch Nails, Fiona Apple, Arctic Monkeys, and Bloc Party among many others), to ask if he'd potentially work with her.
"He wasn't the label's [Warner's] first choice for me to work with because he doesn't make massive pop records, but I'd had him on my wishlist since I was like 15, because he produced Mew and Interpol [Danish and American rock bands, respectively], and I love how he makes such heavy records. And also because my record was going in an RnB soul direction, I liked the idea of working with someone who wasn't in the RnB world, someone who made wall of sound records."
Let's be clear though - Kimbra is as much of a whiz kid in the studio as she is with her vocal chords. She knows the ins and outs of all the gadgetry and software and hardware, and all the language that goes with it. She impresses any (usually male) producer/engineer/sound guy/tech who crosses her path. So, though she was excited to work with Costey, she certainly didn't take a back seat when it came to production, and she knew exactly what she wanted to hear.
"I really wanted a sense of weight to come through, and aggression, and theatrics. I used way more subs [sub-bass sounds below 60Hz] on this record than Vows, it was all about making something feel like it's in your chest, and that's something hip-hop does well. I also wanted this fluidity to the rhythm. A lot of pop music is very on the grid, and Vows was very much like that, everything was very sharp and precise. But with this one, I started thinking, what happens if I zoom in, and I just nudge this off the beat, and all of a sudden, there's way more swagger to it, and way more freedom to it. It's more opened up, even sensual."
It's not just the music that makes a memorable album these days, though, it's the whole package. The artwork, the photos, the fashion, the title, the story behind it all. Kimbra knew she'd struck a key idea when she had a dream one night which left the phrase "the golden echo" going round and round in her head, and from there it all fell into place.
"I woke up, and I started going down these rabbit holes, researching the phrase, and I read about this poem called The Golden Echo, and the poem had these lines in it, about "how to keep beauty from vanishing away, to give beauty back, to beauty's self and beauty's giver".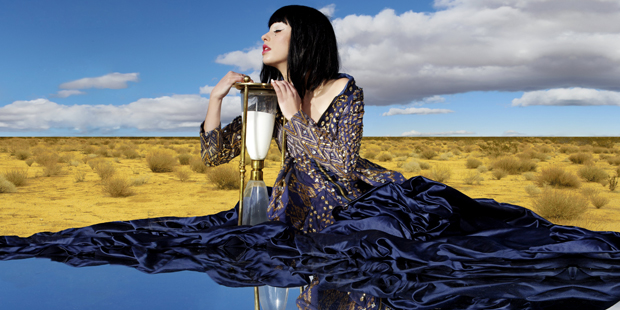 Photo / Thom Kerr
"And that was a moment of realising this is a thread that runs through the album. This character who struggles with the chaos of being locked in the mind, and the traps of reflections, and the self, but they're drawn outward and they realise that to hold on to beauty, you have to give it back."
So, Kimbra is giving it back - the imagery and style associated with The Golden Echo is imaginative and otherwordly, and the album sleeve is a beautiful piece of art in its own right.
It's all part of her collaboration with a young photographer named Thom Kerr, who she met several years ago, and has since become her creative director.
"We're very focused on the intention behind everything we put out. He's been very good at teaching me about that. It's not just about putting out images because 'Oh that looks cute', we're telling a story here. We believe we can change the world!" she says with a laugh.
"It's silly, but as artists I think you have to believe you can change the tapestry of culture and influence people. That you can make people think in a new way, or remind them of something, or inspire them. So Thom is more than just a photographer, he has a passion for creating art that serves to expand the consciousness. Which sounds all very wanky and hippie, but I do take this stuff seriously."
The main photo shoot was done at Joshua Tree, the famed desert-like national park in California, but by no means did the pair rely on interesting cacti and red earth to create their vision.
"The desert is the place where a lot of the mystics and prophets walk through, it's a place of journey, and we felt that the desert could represent this infinite unknown, and imagination, so we knew that was the place we wanted to shoot. But we had very strong ideas about the props we would use, and it's quite Dali influenced because we think Dali had an amazing way of making you feel unbound by time and space."
There's an egg timer and a crazy clock, and sail boats made of gold cascading over her melting mirror dress. And a mystic with a Narcissus Golden Echo flower (they're a close relation of the daffodil) painted on his chest, and a bare tree decorated with glowing triangles. It's like Lewis Carroll and Michel Gondry got together with David LaChapelle, and is worthy of an essay in itself.
"I don't just want things to look pretty," she explains. "They are all part of telling the story of the music. Of course there are moments where you just go, 'Man that looks rad! Put it on!' But we're always thinking about what we're borrowing from a culture, spinning it a bit, putting it on acid, and everything gets filtered through that process of 'What's the intention, and what are we saying?'"
There are days when she takes her outfit less seriously, but you'd never catch Kimbra in a boring ensemble. Even when she's working in the studio, or on a plane, she looks colourful and adventurous.
"I think to me, what it means to be stylish, is just being brave about your self-expression. Anyone that I see walking down the street, and they're just wearing something that totally expresses who they are, that's inspiring. Fashion can be quite cold when it's all about following trends, but when you put on an outfit that says something about your personality, and for me, when it says something about my music, I guess that's when it becomes more iconic, because it's original, and it's stemming from who you are, and there's a sense of creativity to it."
And Kimbra is all about creativity - if she's not writing her own music, she's making playlists of other people's music that she loves (she performed a DJ set while she was in Auckland last week), reading (spirituality and philosophy remain favourite topics), creating a new website through which she can share fan art and the work of her collaborators (thecaveofficial.tumblr.com), or organising jam nights.
"In LA next month I'm starting a residency with a bunch of my friends, which is just going to be improvisation, and that will be all about the spirit of just jumping up on stage, making some noise and seeing where it goes."
She likes the idea of still being able to perform more intimate, stripped-back performances as well as the large-scale shows.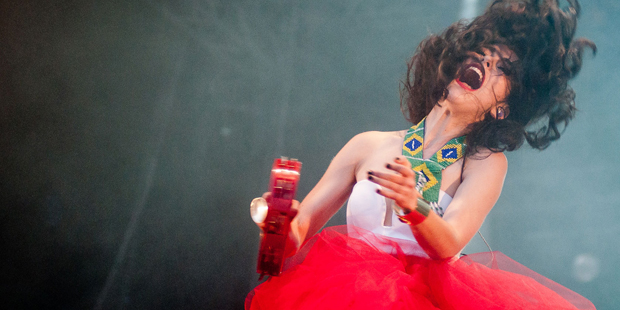 Kimbra at Rock in Rio in Brazil.
"Because that's how it started - there weren't any bells and whistles when I played Rockquest [as a 14-year-old]. So I think it's really nice to have a balance. I don't think we have to be black and white about the way we present ourselves, we all have multi-faceted personalities, and we all have multiple ways of expressing ourselves, so I love that I can do these grand pop shows, but I also have a strong desire to keep the stripped back thing going."
She does still pick up her acoustic guitar and just sit down for a strum now and then, but she admits the way she makes music now is a long way from her early days.
"I feel a strong calling to one day make a record that is going back to eight tracks or even four maybe, just really challenging myself to work with a simple palette. There was a point where I thought maybe this record might be that one, but then I got fascinated with sounds, and I thought, 'No, you've got to create from where you're at'.
"I know that music at the moment is going in a very minimal direction, and I was aware that if I were to just make a chill song with a drum machine, that would probably be really hip and successful, but I'm too excited by maximalist arrangements!"
She doesn't seem too concerned about creating another global number one hit, or feel any particular pressure to follow up her earlier mainstream success - she's purely interested in creating the strongest art she can, and hopes her songs will continue to connect regardless.
"When [the first single] 90s Music was released, fans that were strongly connected to some of my jazzier, soft singing were probably a bit surprised. But is that a bad thing? I want my fan base to follow me for the spirit of my work, and the approach, not just the sound palette. I want this to feel like a progression. There are still moments in this record that relate to Vows, but I'm definitely trying to push myself in different directions, and just keep following where I'm excited to go.
"And not everyone is going to follow you, but coming to terms with that is something every artist who wants to progress has to do. You have to be okay with losing and gaining fans as you go."
Kimbra's new album, The Golden Echo (Warners), is out now.