It's been a tough year for 67-year-old John Banks, whose parliamentary career ended after he was found guilty of filing a false electoral return. But the former Act Party leader tells me he's found a renewed sense of peace and freedom as we take to the blue skies over Auckland city this week in his aerobatic plane.
Technically, he is part of a syndicate that owns the CT4 Airtrainer formerly belonging to the Royal New Zealand Air Force.
Flying is Banksy's passion, he's been doing it for 50 years. An experienced operational pilot who earned his private pilot's licence for fixed-wing aircraft and helicopters in 1964, he says it's just one of a number of thrill-seeking activities he indulges in.
"I like to race cars and motorbikes too, but I've never played golf or gone fishing. Walking a course is too sedate for me, although oddly enough I'll watch golf on TV. I could never kill an animal. Imagine a fish's eyes staring back at you after you've caught it? No, I couldn't do it. Fishing may be a pastime for most Kiwi males, but not me."
Aerobatic flying is what relaxes the father of three - loops, rolls and spinning in the air at about 300m.
Banks heads out to Ardmore Airport most weeks. He flies a variety of aircraft, renting them by the hour, but the 40-year-old CT4 is his favourite.
He has a Dick Frizzell oil painting of it hanging in his palatially appointed three-bedroom penthouse apartment atop the Stamford Plaza Tower.
We pull up to the Warbirds hangar at Ardmore in his sleek black Mercedes-Benz. Suddenly Banks adopts a swagger that channels Top Gun meets James Bond.
"So, you fly planes, you fly helicopters - is there anything you can't do?" I tease. "Yeah, file an electoral return," he jokes.
The jokes were flying on Twitter when Banks had a memory blank about visiting the Dotcom mansion. A helicopter pilot who couldn't remember any chopper flights to Coatesville? He had travelled on so many, his friends and supporters said.
Banks was a world away from the scrutiny and media pressure as we circled above the summit of Rangitoto and skimmed past the Sky Tower before touring across the city's extinct volcanoes.
"Isn't Auckland beautiful, Rach," he says through the state-of-the-art headset.
"It's quite a spiritual feeling flying over the summit of Mt Eden.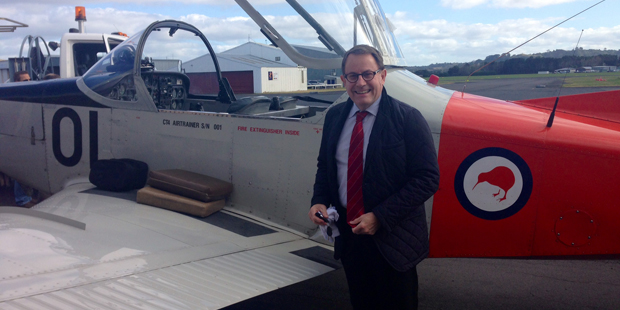 John Banks with his favourite plane.
"I love coming out to Warbirds because it's a place where everyone is equal. It's an escape for me, a place of great solitude. I can relax from everything and just fly. No one cares who you are out here."
These days he lives a life of quiet seclusion, and admits he struggles to cook healthy meals for one.
Two of his three children are living in Australia and his wife, Amanda, has relocated to Queenstown, though Banks says he flies down to see her, and vice versa, every couple of weeks.
He is focusing on large-scale business deals and often holds catered work dinners in his penthouse with its panoramic views across the harbour.
He continues to feed the stray cats in Auckland each week, rising at dawn to take food to the animals he has grown attached to over the years.
He says he has also developed connections with many of the inner city's homeless, and says the $2000 Zegna suit - the target of a bucket of manure outside court - was dry-cleaned and hand-donated to a vagrant he has befriended.
Relationships, he reckons, are what life's all about. Act leader Jamie Whyte, Banks says, struggles to relate to people and, as such, will never make it in politics.
Les, the 87-year-old volunteer who does odd jobs at Ardmore, said the Banksy he has known for 30 years always has time for people.
"He often takes the time to ask me to go flying with him and we never talk politics, you know.
"He's flown 800 hours in that plane and I trust him with my life. We've been in a couple of big storms and he's gotten us out smooth sailing."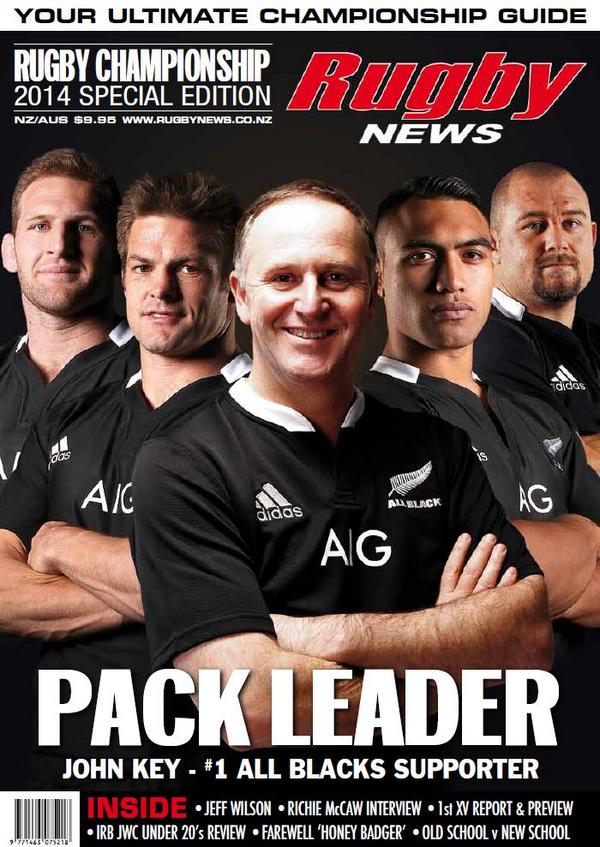 John Key graces the cover of the latest Rugby News.
Basking in reflected glory
Rubbing digitally-enhanced shoulders with World Cup-winning All Blacks is not a bad get if you're Prime Minister John Key and it's election year.
This week, we find the country's leader gracing the cover of Rugby News magazine and basking in the reflected glory of superstars, but the magazine's publisher and managing director, Mark Calverley, tells The Diary it's not a political stunt.
"I approached John Key's office about taking part in the article and posing for the cover primarily because he is a big rugby fan, and which fan wouldn't want to be pictured alongside the All Blacks?
"The article didn't mention the National Party or the upcoming election, and clearly stipulated the cover photo was photo-shopped. I tried to make it apolitical, but I admit, my timing may have been a bit naive."
Calverley says he was surprised by the negative reaction from some New Zealanders who thought it was a cheap stunt on behalf of the PM. He said he sought approval.
"I told the NZRU and the All Blacks about the cover before it hit stands and they were okay, but they didn't want it to look like they endorsed a political party."
The Electoral Commission says the cover does not breach election ad rules because it is a periodical.
One Twit wit says it does breach the bounds of vanity.
Key was ignoring the naysayers and clearly chuffed by his cover-boy status, telling The Diary yesterday, "Maybe I'm the All Blacks' new mascot".
Internet Party parties on
The Internet Party's first "Party Party" was held at K'Rd's Studio nightclub on Wednesday. Last night it was The Foundry, Christchurch.
Apparently they're designed to get the youth out to vote, which may explain why Auckland Central candidate Miriam Pierard was inexplicably tarted up in fake catears with whiskers drawn on herface.
Presumably nothing says electoral engagement like feline face paint.