Leonie Hayden salutes the passing of an Auckland musical institution.
In honour of Auckland's York Street closing down, here are five music moments that came from within those studio's walls that touched my cold, cold heart.
Shihad - Churn (1993)
The first album for Shihad was also the first for the studio, produced by Killing Joke's Jaz Coleman. Remember when Shihad was a metal band? Churn still sounds as bloody and raw as anything on the market today, testament to Coleman's huge production as much as Shihad's technical brutality. The intro to Factory is a beast.

Bic Runga - Drive
When I was teen, I used to sneak out of bed in the middle of the night to watch music channel Max TV. One night, wrapped in my blanket with an ear tuned to the possible incoming footsteps of parents, an angel appeared on my screen. She was a singer-songwriter but so effortlessly hip with her cropped pixie cut and leather choker. A perfect storm of coolness and emotion for an easily influenced young woman to fall in lesbians with. I bought the cassingle of Bic Runga's Drive the very next day.
Home Brew Sundae Sessions (2013)
Status quo-botherers Home Brew launched their self-titled album in March last year as offensively as possible. The celebrations included a three-day, 24-hour launch party in a brothel, and a pop-up store on Ponsonby Rd that got repeat visits from police and complaints from local businesses abut the smell. (This year, "special" cookies were delivered to media for the @Peace record release, which shares members.) Perhaps the most radical thing they did was play the phenomenal songs off the album live, because by God can that band play.
Home Brew perform Dark Intro from their self-titled album that debuted at No. 1 on the New Zealand album charts. This is the fourth of seven songs performed at York Street Studios for the Sundae Sessions.
Follow Hugh Sundae on Twitter to get links for future sessions and other entertainment content on nzherald.co.nz
Supergroove - Traction (1994)
I loved them then and I love them now. Live they were an energetic powerhouse of unabashed fun, and it was as infectious as a coldsore. Supergroove's debut album was a hit factory, with songs like
and
You Freak Me
delivering dark, icy blasts that you weren't expecting to offset the more upbeat fare like
Can't Get Enough
. To be honest,
For Whatever Reason
is still a go-to tune if I'm having a bit of an emo time in my life. When Che Fu was honoured at the recent Vodafone Pacific Music Awards, his Supergroove bandmate Karl Steven was amongst the musicians that paid tribute in a super-cut of Che's biggest hits and I was reminded of the easy flow between Steven and Che Fu on those first tracks. The guy really can spit mad rhymes, and is also credited with co-producing
Traction
with York Street's Malcolm Welsford when he must have been all of 19 years old. A mad bunch of geniuses.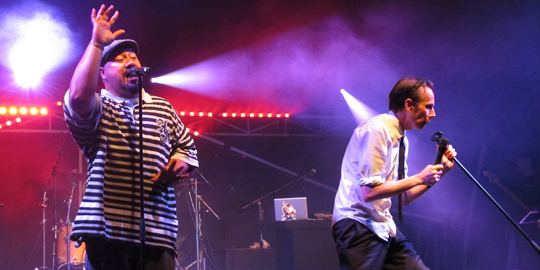 Che Fu and Karl Steven of Supergroove. Photo / Peter de Graaf
The 1974 24-Channel EMI Neve Console
Last year media were invited to watch Dave Grohl's Sound City documentary at York Street Studios. The star of the documentary wasn't Grohl and his rock n roll circle jerk, but the Neve mixing desk in the Sound City Studios that recorded albums like Nevermind, Neil Young's After the Gold Rush, Fleetwood Mac's Fleetwood Mac and one of my all time favourites, Cheap Trick's Heaven Tonight. York Street was chosen to host the launch because it too boasted a rare EMI Neve Console, one of only seven that started life at Abbey Rd Studios in England, before being shipped to the EMI studio in Wellington in 1975. The film was screened atop the console and my eyes kept getting drawn down to it, imagining all the awful and wonderful things it must have seen.
- nzherald.co.nz