When British popstar Ed Sheeran came to town, TimeOut's Lydia Jenkin tagged along as he went about his daily work.
It's 6.50am, the air has that heavy, cold feeling. It's only just light, and yet there are already at least 20 teens gathered outside the Radio Network on Auckland's Cook St. Why? Because it's Ed Sheeran Day in Auckland. They are here for a glimpse of their ginger crush.
Yes, the British pop star who has much of the pop world under his lad-next-door spell, is back Downunder for the third time in less than two years.
Next month, he'll release his new album X (pronounced "multiply") - his first since + ("plus"), his 2011 release, which has sold over four million copies - so he's on the promo trail, which includes a free iHeartRadio concert for 2500 fans at the Aotea Centre, and a full schedule of radio, TV, and press.
So that's why he's up at this bleary-eyed hour, despite not having got to bed until 1.30am after last night's show.
Several hours of breakfast radio banter await but Sheeran is surprisingly upbeat and switched on - and there's no caffeine in sight. Tea (a special box of Yorkshire Tea, in fact) is his tipple.
It must be good stuff though, because not 20 minutes into his first hour-long co-hosting stint with Polly and Grant on The Hits, he helps a listener win $1000 by answering 10 entertainment questions in 60 seconds. Talk about quick, mate. You can tell he keeps up with his celebrity gossip.
He's also forthcoming with anecdotes about playing a military base in Afghanistan and wanting to come to New Zealand for a proper holiday (he was a big Lord of the Rings fan even before he got last year's Hobbit theme song gig from Peter Jackson.
Then it's time to hop out for photos with contest winners and quickly march down the corridor to repeat it all at ZM - although there he gets to spray tan one of the hosts in the face for a gag (he does help her wipe it off after), and makes up some radio jingles.
The 23-year-old never once seems to stumble or say anything inappropriate. He knows how to give away enough of himself to keep interviews interesting without becoming total tabloid fodder. The boy's a pro.
He's also a pro when it comes to sharing the love with his fans - even if he's occasionally a little bemused or confused by their fervour.
The group of excited teens outside the Radio Network has grown to 200 by the time Sheeran leaves, but he's determined they should all be rewarded for their patience with a photo, so the fans are herded into an orderly queue and, one at a time, Sheeran takes selfie, after selfie, after selfie ... .
Next he's off to South Pacific Pictures in Henderson for a cameo appearance on the Shortland Street set. No sooner has he finished sitting down with the writers to talk about the scenes he'll be appearing in, than cast members start ambling in for yet more selfies and signatures, too.
Sheeran is there for a couple of scenes, playing himself (we can't reveal too much, but he helps a young cast member get through a rough patch with a bit of a musical jam), and seems to be a natural on set, despite it being his acting debut.
There's a few jokes about being "born to play this role", and he occasionally hams it up during a rehearsal for laughs. But he nails the scenes pretty quickly and you can tell all those hours learning lyrics give him an advantage when it comes to learning lines.
Then he gets to head back to the hotel for a break. Finally.
Strangely though, when chatting about his workload later in the afternoon, he's not remotely fazed by the seemingly ridiculous schedule.
"Today wasn't actually too bad. Australia almost killed me, with six shows in 48 hours, and press in between. It was intense. New Zealand was pretty good. We arrived yesterday, soundchecked, did a few radio interviews, did the gig, and then bed. Woke up, radio interviews, Shortland Street, break, press, one more radio interview, and then get on a plane."
The thing is, he's been doing it for a couple of weeks, all over Europe and the United States, and he's heading back to Britain for more.
But it's a lifestyle Sheeran seems to mostly enjoy (he even admitted he was busy recording a new track idea into his phone as he lay in bed before getting to sleep last night) and even when it's nearly killing him, he knows this is how it works if he wants to rule the world with his music. You get the impression he's not being forced into this schedule by anyone - Sheeran is doing it because he's ambitious.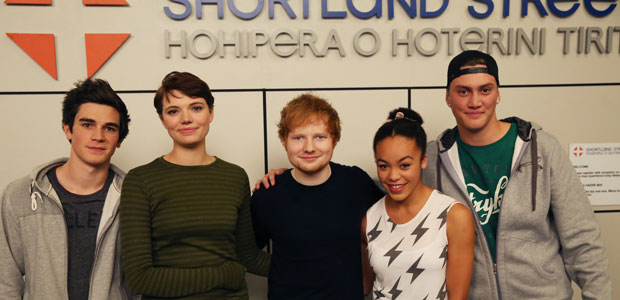 Ed Sheeran with his co-stars on the Shortland Street set.
"I just want this album to be bigger than the last album, even if it sells one more copy. Just to build on the success that we've already had, because I think if you don't build with your career, then you're kind of moving backwards.
"I never expected to get this far, and as soon as I saw that there wasn't a finish line, I became really ambitious. I used to think there would be a finish line, that we'd get to a certain point, and that would be it, we'd be done. But it hasn't really stopped."
He was the one who made the call to book three shows at Madison Square Garden in New York - there were doubts he could fill it on his own, but three sold-out nights, with nearly 20,000 fans at each, beg to differ. And he knows the next big step for him would be to play Wembley Stadium in London (which takes 90,000) - but not before he's ready.
"Because it's in England, Wembley would be very nerve-racking. So I think, next, I'd like to do a stadium other than Wembley, like MetLife in New York for example, just to test the water. I know it sounds crazy to say that MetLife would be testing the water, but people in the UK are quite unforgiving if you get a big, big show wrong. I'd want to go into Wembley and do it right, rather than go into it and do it half-heartedly."
MetLife ain't exactly small (his recent tour-mate Taylor Swift played to more than 50,000 people there in one night, and Sheeran opened for her), but seeing the kind of drive Sheeran has, it seems highly likely he could pull it off. Especially if things keep going the way they look like they could with X.
"It's kind of similar to the first one thematically, it's just amplified, or multiplied - that's the multiplied thing, everything has gotten bigger, the song ideas have gotten bigger, the production ideas are bigger, the emotion is bigger," he explains.
The first single, Sing, has had nearly six million views on YouTube in a month (despite not actually having a video), debuted at No 1 in Australia, No 15 in America, and No 8 in New Zealand, and has been one of his fastest-selling digital singles worldwide. And it marks a clear move for Sheeran beyond acoustic balladry and strum-along anthems.
"It's shaken everyone up. Everyone that I speak to is going, 'holy shit, we didn't expect you to come out with that', and that's what I wanted. I wanted people to have an opinion about it. Even if they hated it, at least they had an opinion. It's the same thing Justin Timberlake did with Suit and Tie, it really polarised people, but it worked. And I definitely looked to him for inspiration."
He worked with the ubiquitous Pharrell Williams on Sing (and does a remarkably good impression of him), plus an impressive list of other producers like Rick Rubin, Benny Blanco, Jeff Bhasker, plus Johnny McDaid from Snow Patrol, which is a bit of a change from +, where he almost solely worked with long-time collaborator Jake Gosling.
Despite the reputations of the likes of Rubin and Williams, Sheeran wasn't intimidated going into the studio with them, he was more motivated to prove his talents.
"You find you want to bring your A-game more, if that makes sense. With Pharrell, my thinking going into it was 'I have to show him I'm the best songwriter alive, and I have to go in and smash it'.
"So it wasn't so much nerves, just pressure to show them you can do more than what they think you can do. It's a good kind of pressure. Except with Sing, the really high note at the end, I kind of did it, literally because I saw Pharrell watching me, and I thought, 'I'm gonna show him I can do this!' And it worked. And then I was like, 'Ah f***, I've got to sing this live now'."
Video: Sneak peek: Ed Sheeran plays Hobbit song
Ed Sheeran performs a sneak peek of I See Fire, his new song for The Hobbit: The Desolation of Smaug soundtrack. Video: Peter Jackson/Facebook
Fans who are wondering what happened to the sweet, fragile tones of huge international hits like The A Team or Small Bump won't be disappointed by X though - there's a song about his grandfather, who passed away last Christmas, called Afire Love, there's a classic love ballad Thinking Out Loud, and there's his latest single, One, which was the first song he wrote for X.
"One is about closure really. It's about being too drunk and wanting to call up your ex, as all my songs tend to be, but it's about closure and moving on. It's about the girl that the first album was about, but it was also about being done with that album, and moving on to the next thing.
"And it's sweet and soft rather than punchy, so basically my moment to show my fanbase that I haven't gone that far left, there's still stuff on the record you're going to like."
There are plenty more tracks like You Need Me, I Don't Need You, where Sheeran gets to vent, or call out the people who've hurt him, and some scathing rapping too. But he thinks if a songwriter wants to turn his words on others, he can't be afraid to turn them on himself.
"Every song on X is kind of like a confession, good or bad. It's not just me getting hurt, there's songs about other people getting hurt as well. I'm not trying to say I'm perfect. There are songs like Don't, which are me being in a bad situation after someone has hurt me, and then there are songs like I'm a Mess, which is me being in a bad situation after I've hurt someone.
"I think it's important to stay double-sided. I'm very aware I have a lot of flaws too and I think I wear them on my sleeve with this album."
And he'll still be performing all these songs on stage by himself, with just a loop pedal for backing. Despite having recently performed with a band on Saturday Night Live, occasionally with Taylor Swift's band while touring with her, and repeatedly admitting that he'd like to have a band one day, that day has not yet come.
"That will definitely happen. But this record was mostly written on a loop station, and so it's going to be performed on a loop station. Maybe the next record will involve a band and I'll start touring with one - I can't play with the loop pedal forever. But for the foreseeable future I will be.
"I just got a fancy new loop pedal too, that my sound team made for me. It's cost a hell of a lot of money, but it does what my old pedal did, times four, and it makes for a better show."
Another new album might not be all that far away though - Sheeran is aiming for three new albums in three years, including one he's recorded with rapper The Game.
"I'm a massive Game fan, and I think he brings out a side of me that's a bit more dark, and I bring out one of my favourite sides of him, when he gets really really deep and emotional. He's an incredibly talented rapper, so yeah, it's really interesting record. I don't know how commercially successful it will be, but there is a radio hit on it."
Yes, Sheeran knows the importance of radio, which is why he soon has to wrap up our chat and dash off to do a final guest-hosting spot on The Edge's drive show before being sped to the airport so he can get on his long-haul flight back to London.
There's more overwhelmed fans to meet, more questions to answer, more selfies to smile for. And somehow, despite having been up since 6am, he's still got the energy to do three live performances: a raw live version of I See Fire (the track he wrote for The Hobbit soundtrack at Peter Jackson's request), which pretty well silences the building; a pared-back version of an obscure local folk song called Royals, quickly learned during ad breaks; and a new track called Tenerife Sea.
If there's one thing that seems clear after a day with pop's favourite redhead, it's that Sheeran's talent is in no way manufactured.
He's got plenty of natural musical flair that he's happy to share at a moment's notice.
He's also working darn hard at this business.
- TimeOut