Herald journalists have been visiting small town New Zealand and talking to voters about their hopes, dreams and fears. Each day we stop at a town beginning with the letters H, E, A, R or T. Today, David Fisher stops at Hikurangi in Northland.
The coal mines closed, the dairy factory shutdown and then State Highway 1 cut Hikurangi loose.
Once, there were so many reasons for Hikurangi being. Then, not so many.
And yet it persists.
Oh yes, says Tracey Haika, 49, of Ngati Wai/Ngati Hine. Like others in the town, she rattles through its former glories. This has gone and that shut down and then there wasn't much left at all.
But now? Hikurangi has "come to fruition", she says. There's the cafe, a hair dresser and a beauty salon, the antique shop and a Four Square. The pharmacy van does a run from Whangarei - from where the city ends, it's a straight seven minute run to the Hikurangi turn-off.
It's a recovery, of sorts, but it doesn't disguise the need that exists.
And so, amidst the recovery and neighbouring stores still boarded and empty, is the thrift shop, where Haika volunteers. "We have a lot of people from all walks of life who drop in," she says.
There are 1413 people living in 501 houses in Hikurangi.
Of those people, Statistics NZ records 14.4 per cent as unemployed. Whangarei's unemployment rate is 9.1 per cent, almost double the national average of 4.8 per cent.
Hikurangi people are less likely to be in work. And if they do work, they earn less money and they do it working with their hands.
Hikurangi does it hard, says Haika - just like the rest of provincial New Zealand.
There could be support for the local business community, she says. The improving fortunes of the town are down to those who have made it work.
There should be opportunities for all, she says, and effort expended on all. Hikurangi has many elderly who, Haika says, are not supported but should be.
The same for the youth in the town - what do they do in a place with no public transport to Whangarei and few jobs locally?
If Haika ran the country, she says she would focus on education along with changes to social development.
Communities should be supported until self-resourceful and then sustainable, Haika says.
"I believe the economy will take care of itself if we support those other areas."
Haika sees those opportunities extending to those on benefits - but practices have to change.
"I think it's unrealistic for the processes they expect people to go through - to jump over hurdles when they find it hard enough to wake up in the morning.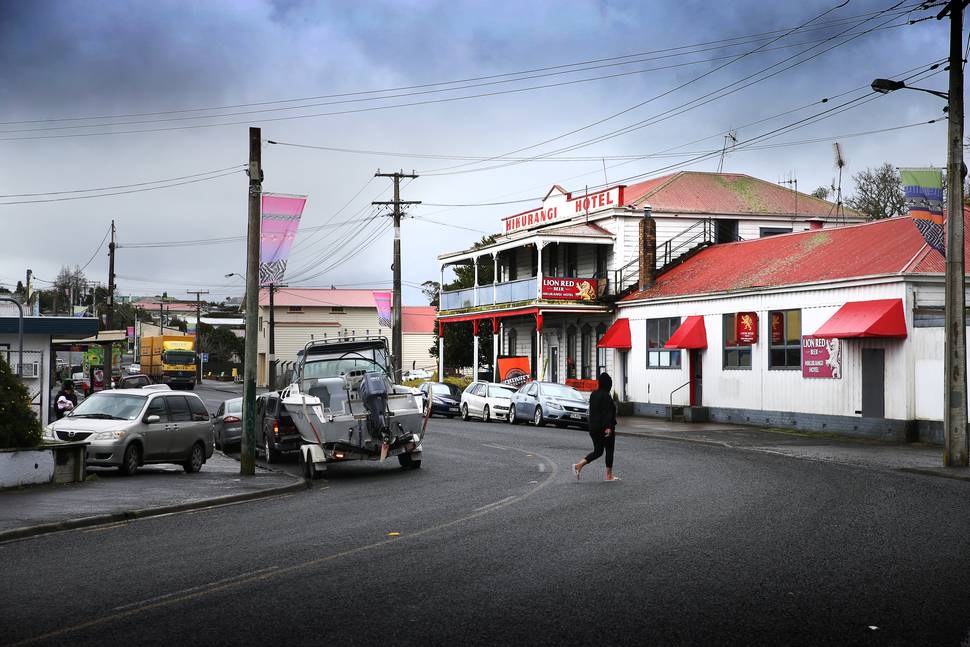 "You don't really want it to feel welcoming but you don't want people going in there feeling like you're being judged."
Thank goodness John Key is gone, she says, and who even thinks about Bill English. Haika says she would like to see Winston Peters in charge but admits to being startled - and excited - by Jacinda Ardern's rise to Labour Party leadership.
There's two ways into Hikurangi. George Street and King Street, which about dates Hikurangi's golden age. King George took the throne from 1936-1952.
The streets connect and form a wide loop off State Highway 1 and then back onto it after a short cruise through the main business area.
That's where Caroline Davis, 33, set up "Hush", a hairdressing and beauty salon.
Davis and husband Andrew bought their first home in Hikurangi seven years ago. They were drawn by cheaper housing, which has allowed them to buy a home large enough for their five children.
"It's the new Ponsonby," says Davis, with a laugh to show she's not really serious although might be a bit.
"It's starting to feel like Ponsonby" - laughs again - "or at least it does in Hush."
There's lights and mirrors and snickety-snick from the stylists. Davis is a beautician so Hush does that, too, along with massage and a hydrotherapy tank.
The emergence of Hush on the main street - and Foxy Locks 50 metres down the road - are the signs of revival of which Haika spoke. Both open until 8pm twice a week - both a sign there's enough custom to keep the businesses going and that their clientele work during the day.
Davis has seen it turn in a short time. "Hikurangi got a bad rap. Some of the houses got quite run down."
Many in the area had lost jobs, and as change came and went, it left those people behind.
The shops closed and "there's nothing sadder than driving through a small town and all the shops are closed".
But change came again. Houses prices pushed people out of Whangarei - and further afield. "Within the last decade, a lot of first home buyers have been buying houses and doing them up," says Davis.
The thrift shop and a dairy were joined by all the other business Haika mentioned, and a few more.
"I think when you've got people in work, they're spending money in the town and there's a happier vibe."
"It's the most tight-knit community in Whangarei," says Davis, unilaterally turning the town into a suburb. "People wave out and people know who you are. People keep an eye on each other."
That kind of "keeping an eye" turned into "Breakfast Hub" at the local school. Davis, who thinks she'll probably vote NZ First, calls it a social club but Hikurangi is not the only community with less than others that has created a place where children can be guaranteed one meal a day.
And there is less money in this town than others. The median income in Hikurangi (2013) was $20,600. In Whangarei, it's $25,300, while nationally it's $28,500.
"Not enough" is an issue for the whole area, she says. "Even people that work 40 hours a week still are living on a credit card and are still living week-to-week."
Food, she says, just costs too much for many people.
And if you get a job, then distance - even Hikurangi's short hop to town - becomes a curse.
"We need to get to work so we need a car. But if they buy a cheap car that blows up then they're in debt and it's very hard to get out of that situation."
These unsolvable puzzles, unpickable knots, get tougher. What of intergenerational beneficiaries? How do you fix that? Do you swap out financial payments for food deliveries? What about community service and building a work ethic?
"We need to stop pointing the finger at parents, asking why those parents are hopeless, why those parents are on drugs.
"The children at school need to be given the very best start. There needs to be access to clean, warm clothes. There should be lunch in every single school, whether they are decile 10 or one.
"A lunch in school should just be normal. If we lived in a society that valued children, we would provide that for them. You can't learn if you're hungry."
Ross Campbell, 63, also wonders about community service. He's a transactional character, as much in his musings over benefits as in understanding Hikurangi's neglect.
"Because after the slowed up, it stopped getting looked after by outside interests." The government, like in other provinces, stopped seeing Hikurangi.
Campbell's nonplussed. If there's an obstacle, he says, "work around it or get out of the game".
Just over three years ago, he gave away a life of working on local dairy farms to open a mechanical repair business. How can the bank ask farmers for a budget when Fonterra can't forecast payouts?
So he started a business repairing tyres, chainsaws, mowers and anything with an engine. Now there's cars on hoists and golf buggies and he's got a job available for a mechanic.
Since then, he's also taken on Tonto's Grill (four more jobs filled). Campbell's canny eye is reflected in the menu. The Hika Special is a $10 pizza with an eye for the local market even as the No 7 American Miner targets passing trade at $17.20.
"People might have $10 in their pocket but they won't have $17. We put those out every night and sell a huge amount of them. That's to cater for the average person in this town.
"It's our local custom we've got to look after. You can't forget that people are on the lower side of income.
"Hikurangi is a low-income area. There's a lot of people here that don't work. There's people around who want to work but the work isn't here."
So, like Tonto's Hika Special, he aims to get the best deals from suppliers for his workshop to pass on savings instead of markups for profit. Campbell reckons locals save $15 a tyre than what they would pay shopping in Whangarei. "That's made a hell of a difference in this town."
There's a few changes around town, he says. Two real estate agents "going great guns".
There's people from Auckland moving up. "They didn't even know what the place was until they started hunting for houses. They'd absolutely had enough of Auckland." Those Aucklanders spend more than the locals so more money circulates in the town.
And yes, his tyres are cheaper than Auckland too, he says.
Campbell knows the election is coming but, he says, "it wouldn't bother me if they weren't even there".
"I think it's up to the individual. If you want to get ahead you just need to work. You can't tell me you can't make a living in New Zealand.":
He votes "after a fashion", says he's leaning NZ First's way but admits he has no idea who the local MP is. Politics
"How can you vote when you don't understand politics well enough? I just keep my head down and keep working and hope they do their job too."