Auckland is booming with cricket talent, fuelled by an influx of South African and Asian players.
One player is standing out though — 14-year-old Muhammad Abbas who plays for Eden Roskill and is on the verge of making the Kings College first XI.
It's the rapidly rising number of centuries which sets Abbas apart, leading some observers to wonder if he is a superstar on the rise.
Abbas, the son of former Auckland Aces bowler and bowling coach Azhar Abbas, has already notched seven centuries. Two of those have come in T20 games.
The 42-year-old Azhar Abbas says: "Other people think what he is doing is extreme but I just say that he is a good player for his age.
"But seven centuries is very unusual — I've not heard of anyone at his age having done that, and they have been good centuries.
"There are things he does which are beyond the coaching manual.
"Sometimes I will see him play a particular shot and it looks to me that he has missed the ball. Somehow at the very last moment, he does something not just to manage the situation, but to manipulate it in his favour.
"I put it (Muhammad's success) down to basic human qualities — he is very honest, he is always very helpful to other people in his team. He always gives 100 per cent effort."
Muhammad Abbas was just 11 when he scored his first century playing for Western against Central in the Auckland year seven tournament at Lloyd Elsmore Park.
The run-rush shows no sign of abating, with Abbas scoring two more hundreds in last month's year nine tournament when he averaged 110 with a strike rate of 125.
Just as significantly perhaps, after being called up into the older Western year 11 team in December he rescued them in a 170 run chase against Manukau, top scoring with 62 after coming in at 56 for 6.
Former international Dipak Patel, the Kings College coach, says the number of centuries from a player so young is almost unheard of.
"He is obviously very talented but there are always good kids coming through," said Patel, who adds that Muhammad is also an excellent fast bowler.
"But to have the mentality and technique to score 100s is such a rarity at that age level."
For now, this is very much a story about a boy and his dad.
When asked how he has achieved so much so early, the very quietly spoken Muhammad says: "I really love the game and enjoy it every time I play. Practice is a big part as well.
"My dad has given me the motivation...and he makes me work hard."
Azhar Abbas, the son of a farmer from a village in the Punjab region, was a fast bowler whose biggest break and heartbreak came when he made a wider Pakistan squad in 1997, but missed out on the team selected to play Sri Lanka.
A meeting with the former New Zealand medium-pacer Richard Petrie in England helped lead Abbas to the Karori club in Wellington, which in turn led to him becoming the Eden Roskill player-coach 12 years ago.
Muhammad virtually grew up at the club, which is now the hotbed for Asian players in the Auckland cricket melting pot.
It's not just the nightly training sessions with his dad — they always start with a batch of hand-eye co-ordination exercises — which indicate the family's commitment to his career.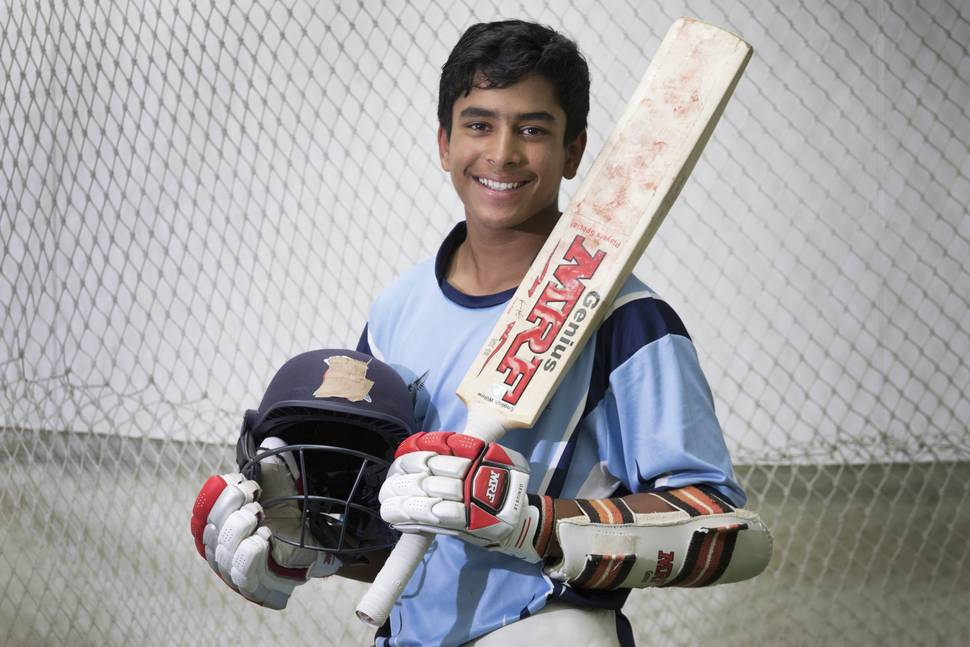 When Kings College offered a scholarship, Azhar and wife Shazia moved the family — which includes Muhammad's two sisters — from Mt Roskill closer to his new school having turned down the boarding opportunity.
Azhar himself had left home at 13, moving to Lahore 300km away for his education and cricket. The shift worked on those levels, but he also missed family life.
"For many families boarding is fine but I didn't want Muhammad to be in an artificial environment where everything is taken care of," he said.
"I want him to see the struggles we go through as a family, to be part of those ups and downs, the laughter, the sadness."
When it comes to what is emerging as a brilliant cricket career, Azhar — unsurprisingly — says that sheer hard work and finding smart ways of practising is the key.
There is also a strong sense of gratitude that comes through, with Azhar repeatedly thanking every institution he has come into contact and particularly the Eden Roskill club.
"When you come to a new country there are so many doubts," he says.
"And then you find you are in good hands and have so much peace of mind. We are New Zealand citizens now, and extremely grateful to the whole of society here, and what New Zealand has given us."
There is often caution needed when making predictions about a career which is still so young and Muhammad realises that his growing reputation plays to his advantage in the junior grades.
"I have found that there is a bit of fear when I come to the wicket, opponents tend to bowl in a nervous way," he said.
"I find it easy to make runs against that."
After a brilliant Auckland districts tournament two seasons ago, he struggled last year and asked for even more time from his dad to work on his game.
Azhar obliged, his stint as the Auckland Aces bowling mentor having come to an end.
In particular, they worked on a batting flaw contributing to leading edge dismissals — working relentlessly on specific issues is at the heart of their game plan.
Patel, the 10-year international who became the Kings College coach late last year, has also had an immediate influence.
"He has got me playing under my eyes...I used to push out of my reach a lot, and was getting caught behind," says Muhammad.
Whatever the destiny of this career, Team Abbas is leaving nothing to chance.