Einstein was right. Something can indeed be in two places at once. The white Kookaburra cricket ball both leaves the whirring machine, and arrives at me, around 18m away, at the same time.
The speed gun says 99mph (159.3km/h). Faster than any Black Cap. Ever. It would slide into the top ten quickest deliveries ever recorded in international cricket.
I can see it, surprisingly.
After a few "sighters", at 80mph (128.7km/h) and then 90mph (144.8km/h), it's like my eyes have calibrated to the extreme pace.
I've played a bit of cricket. Club stuff, First XI, even the odd rep game. But I've never experienced anything remotely this quick.
READ MORE:
• Science of playing fast and loose
And neither have I ever watched a ball so intently. I can feel my eyes straining, seemingly leaning towards the bowling machine, trying to get closer to it, seeking any advantage in picking it up.
My body leans forward. My trusty sanded-down County bat (still seeking sponsorship opportunities…), usually hovers just above my right boot in my stance. But now, it's raised higher, like Graham Gooch and his SS 333 Turbo, waiting. There's no time to raise it and then play a shot. I can only clamp it down.
I hit a few. Slash through gully. Good luck catching that, I think. Four runs! A snick to slip. A squirted square drive. Bunt to cover.
All my shots seem extravagant. Lavish, even. I chide myself, that this is a hundred miles an hour, why am I trying to whack it? Block the next one, move forward, watch the ball, WATCH. THE. BALL.
Whack. Another slice through fourth slip. I can't help but go hard at the ball. It's appears the only way I can handle the speed. Totally reactive.
New Zealand Cricket High Performance Coach Bob Carter has set the bowling machine up to deliver balls full, ie pitching near me and so not bouncing very high, and just wide of off-stump.
I feel safe. Pads, gloves, thigh pad, abdominal guard, helmet.
After a few buckets of balls, I feel remarkably comfortable. Sure, I leave one that tails in and bowls me. Several scorch past me before I can move.
And if there were world-class slip and gully fielders – Ian Botham, Mark Waugh, Richie Benaud, Sir Garfield Sobers – I'd have been out caught multiple times.
Although I have no fear, it's only because I know, roughly, where the ball is going to be. Full, just over there. I can't get hurt.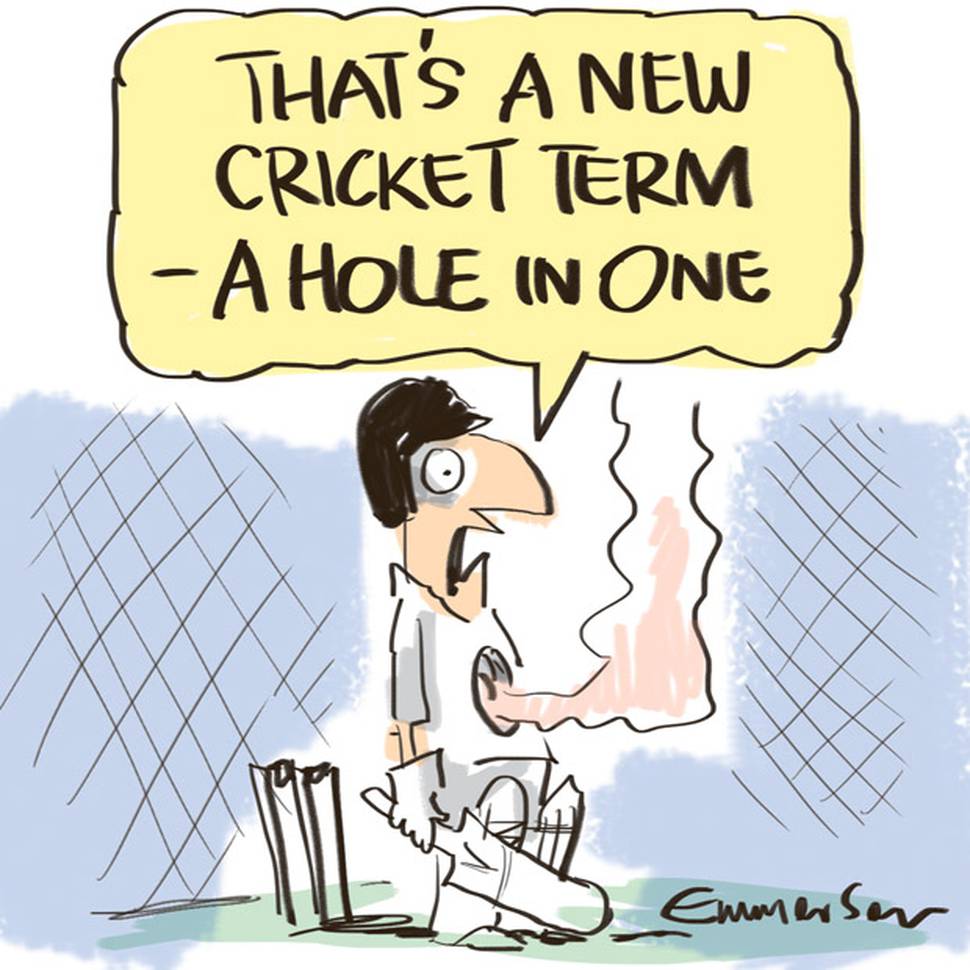 But if I'd just slashed Brett Lee, Waqar Younis, or any nasty fasty through history, between fourth slip and gully for the second consecutive ball, I very much doubt the next delivery would be so kind.
It would likely be aimed at my chest, throat, or head. Or maybe not.
And just how you're supposed to react to the ball, without knowing where it's going to be, at that speed, I have no idea.
I only know that I sure wouldn't manage it.
Maybe, a raw animal-instinct jab of the glove would protect my face, and I'd get caught. That would be the best result possible.
Because I sure wouldn't want to get them angry. Unless they were on my team, or I was back watching from my couch.