Southern Spars has a busy couple of years ahead but a "chronic" labour shortage may stall the speed of progress.
The West Auckland-based boat manufacturer is not only building the masts and rigging for Team New Zealand's giant foiling monohull for the 2021 America's Cup in Auckland, it is also doing the same for most competing teams.
In addition to work for America's Cup, the company is working on a "big project" believed to be for a superyacht owned by one of the world's wealthiest.
Mark Hauser, Southern Spars co-founder and managing director, says his team of 250 will be "all-go" in the two-and-a-half-year up lead up to the regatta.
Hauser says labour is an issue currently with a shortage of staff. The company is looking overseas to bring in the at least 30 workers needed.
"It's going to slow us down - it's going to hold us up," he says.
"Unemployment here is so low and the construction industry has taken a lot of our people.
"We're looking everywhere."
Southern Spars' team is made up by about 30 per cent offshore workers, many from South Africa.
"We're looking all round; for designers, from composit people to fitter-wielders to machine shop guys - it's a wide skill base that we're looking for."
Work for the America's Cup began - with Team New Zealand - around eight months ago.
America's Cup projects combined are worth in excess of $15 million, says Hauser.
"At the moment we pretty much have close to three years' work in front of us."
Southern Spars has a group revenue of US$80m ($118.7m) and claims a 95 per cent share of the global race boat market.
Over the next five months through to June, the company will build the first rigs for the competing teams and send them off to Europe. The second release will be later next year and then another just before the racing starts.
For the last America's Cup event Southern Spars built the entire boat for Team New Zealand but this time it will built everything above deck. It has designed, and will build, the rigs and masts it will use.
Each mast is built over a period of 14 to 16 weeks, the equivalent of over 4000 hours of work in each.
The company has 11 projects on the go currently, plus its servicing arm.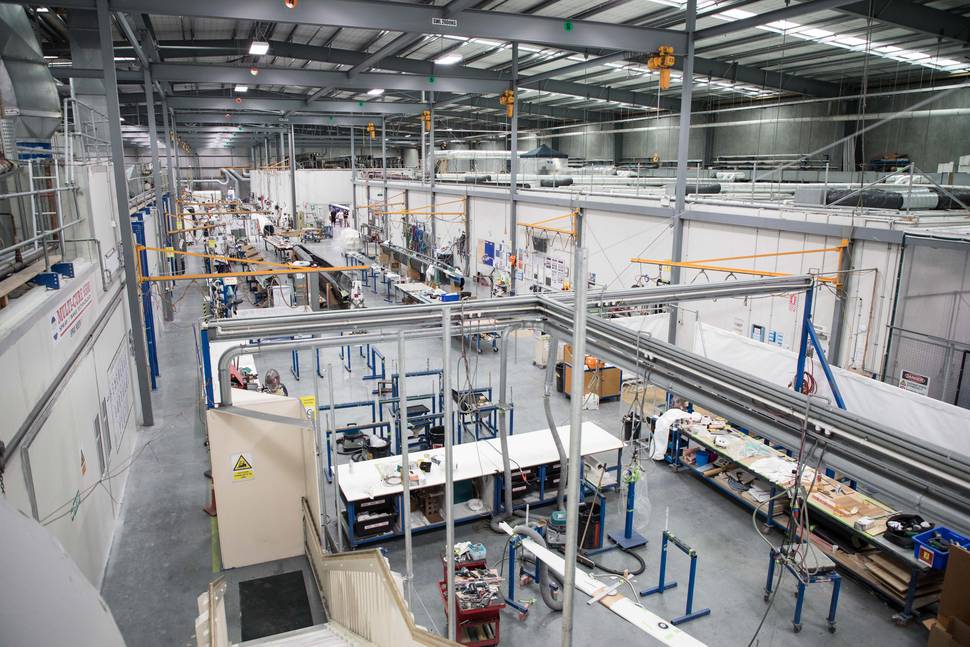 "We have a fairly big service side to our business, we do race boats and superyachts, and we're seeing a lot of superyachts starting to say they are coming down [to New Zealand] now," he says.
"Most of these boats are going to come down from Europe and the States and they'll do a fairly big service while they are here. The rigs, masts will come out and we'll service everything."
About 100 docks around the country are going to be set up to host visiting boat owners that come to New Zealand to watch the regatta unfold, he says.
Hauser says America's Cup offers big opportunities for New Zealand businesses.
"For our business it is fantastic but it's also fantastic for New Zealand.
"New Zealand has become such a destination now for people and to have that sort of event here brings in international teams and their following - it's just all upside for New Zealand.
"[There are] big opportunities coming our way as New Zealand businesses with a lot of these wealthy people coming into New Zealand so it's bloody exciting. It's so good that Team New Zealand have done it and brought it here."
Aside from marine projects, Southern Spars is also building carbon fibre wheels for Cycling New Zealand and the Olympic cycling team.
It began making carbon fibre wheels six months before the last Olympics and is now in the design development stage for wheels for the 2020 Tokyo Olympics.
"We've built a wheel that is way lighter and way stiffer than anyone else could do and we've seen some pretty cool results come out of that."
Southern Spars dabbles in work for aerospace and aviation industries, and plans to pursue work in the high performance sport space.