Authorities on the Hawaii's Big IsIand are planning to re-open Volcanoes National Park this weekend following eruptions at Kilauea that destroyed 700 homes.
The lava from Kilauea volcano created the planet's newest land - an area equivalent to 350 rugby fields - and a helicopter flight over it this week revealed the devastation wrought by lava on its march to the sea.
From an altitude of 1000m there's still some glowing lava vents visible and a line of sulphurous smoke and steam in one flow it opens out to an obsidian black plain of lava neat the sea.
Surviving clusters of houses are completely surrounded by solid lava and many are completely marooned.

A geothermal power plant that is also an island that can no be reached. Roads not blocked by towering walls of lava have been reopened. In one place a steel plates used for cars to drive on until permanent repairs can be made.
Destruction by lava - that moved at nearly 8m a second at times - is seemingly random. The burnt out remains of a house are visible but the garage just metres away is still standing.
The eruption temperature of Kilauea lava was about 1170C in tubes that carried it up to 10km to the sea it reached 1250C.
US Geological Survey scientists say the tubes contained the heat so efficiently that the lava was still a sizzling 1140C when it reached the ocean.
The National Park in the Kilauea area is a huge drawcard for tourists but it was closed on May 11. Before the closure, the park attracted 5500 visitors a day.
The park service says ''profound damage'' to infrastructure was unprecedented in its 102 year history including building damage, rock falls, deep cracks in roads and trails, and numerous breaks to water and sewer lines.
At the same time, the summit area of the park was dramatically changed by tens of thousands of earthquakes, towering ash plumes, and 62 massive collapse explosions.
While the impact on the area was dramatic ,only about 25sqkm was affected directly by the eruption in a corner of the Big Island is about 10,400sqkm.
About 150km away near Kona, the Hilton Waikoloa Village was confronted with a big challenge.
Although the island's biggest hotel was not affected by the volcano, guests started cancelling, said Casey Anderson, senior marketing manager.
''We had local and also national coverage - the images they were broadcasting were very powerful of lava covering houses and cars and that's what people were very concerned about.
''We had guests within the next week or two who had bookings a month out asking if they needed to bring car masks because they were very concerned about air quality.''
Others asked if ash was falling on the hotel, whether the grounds would be covered in lava and whether flights were still landing.
''They were comparing us to what happened in Iceland a few years ago because the air traffic had been stopped and they thought it was going to happen here .''
''There was a major educational effort we had to do to counter that message in that we're 80 to 90 miles from the volcano - this island is enormous,'' said Anderson.
Within the first two weeks of the eruption bookings plunged by 50 per cent but with a concerted social media campaign the hotel turned that around.
''The company bought a drone so we could launch that on good weather days and fly it around the hotel, over the lagoon and show people having a good time and we broadcast live. Within a month or two we saw a really good recovery.''
Due to a fall in demand, Hawaiian Airlines cut back on some flights to Hilo, a city of 200,000 near the volcano. However the airport there was operational at all times.
There was an overall 12.7 per cent slump in tourists in July, although figures from the Hawaii Tourism Oceania show Kiwis bucked the trend, with numbers down by 5.5 per cent for the month.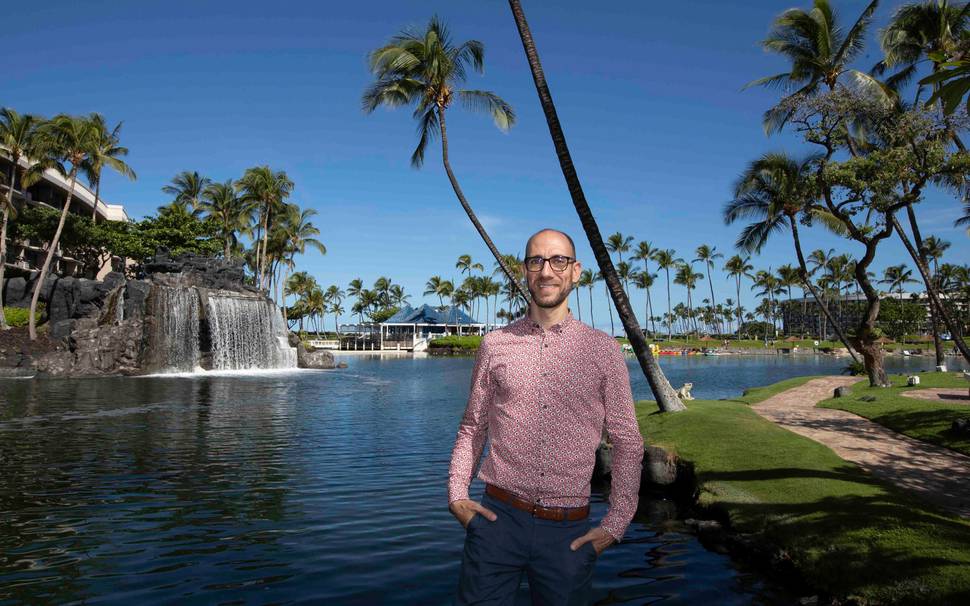 In the last 12 months there were 81,200 Kiwi visitors to the Hawaiian Islands, up 34 per cent on the previous year.
And of that, 8965 to the Big Island.
Although the park is due to reopen on Sunday (NZT), authorities warn of restrictions to access and risks.
The US Geological Survey said rapid reactivation of volcanic activity could happen at any time. Potentially damaging earthquakes are possible and hazardous gas is a risk.
It also says for the first time in years there is no molten lava to see in the park.
• The Herald travelled to Hawaii courtesy of Hawaiian Airlines