Knowledge is money when you're playing the sharemarket, a court has heard.
And when a trader has "business secrets" which are not public they have an "unfair advantage", Crown prosecutor Sam Lowery says.
"You've heard that this is an insider trading case."
Lowery was delivering his opening address to a jury in the High Court at Auckland today - the retrial of Hamish Marc Sansom.
Sansom, a former senior manager for Eroad, a transport and technology company, was charged with insider trading by the Financial Markets Authority (FMA).
He is accused of selling 15,000 Eroad shares for about $50,000 just days before its stock price plummeted after news went public the company was performing badly as it attempted to break into the United States market.
Sansom's first trial, in March, was the first insider trading trial in New Zealand's legal history, however, it ended in a hung jury.
"You might have heard the old saying knowledge is power," Lowery said today.
"It goes a bit different in the sharemarket. Knowledge is money."
However, Sansom's defence, led by David Jones QC, argues the FMA just want Sansom's "head on a plate - they want a trophy" for the landmark case.
Lowery said those who buy or sell shares with non-public information of a company have an "unfair advantage".
"They can make greater profits than other investors in the market because they know more," he said.
The FMA accused Sansom, who has 30 years of business experience, of acting on a series of texts he exchanged with a former workmate, who had tipped him off about Eroad's US sales data in 2015.
The data showed Eroad, a publicly listed Kiwi company - which also operates in Australia and the US - was performing badly in the North American market, specifically Oregon.
Sansom sold 15,000 of his shares in the company just two days after the received texts from Eroad's former insights and analytics manager Jeffrey Peter Honey.
Honey has already been convicted and sentenced to six months' home detention for his part in the scandal.
Honey's September 22, 2015, message to Sansom read: "US sales not doing too well, time to sell up? Confidential obviously."
It also included a photo of an executive US sales summary.
"You're a bad boy, but thanks!" Sansom replied to Honey's text.
"Was going to sell down significantly anyway," Sansom said in a text a minute later.
On September 24, Sansom dumped his shares at a price of $3.41 each.
Four days later news of Eroad's US sales setback went public and its share price crashed by about 20 per cent.
"Eroad told the market what Mr Sansom already knew," Lowery said.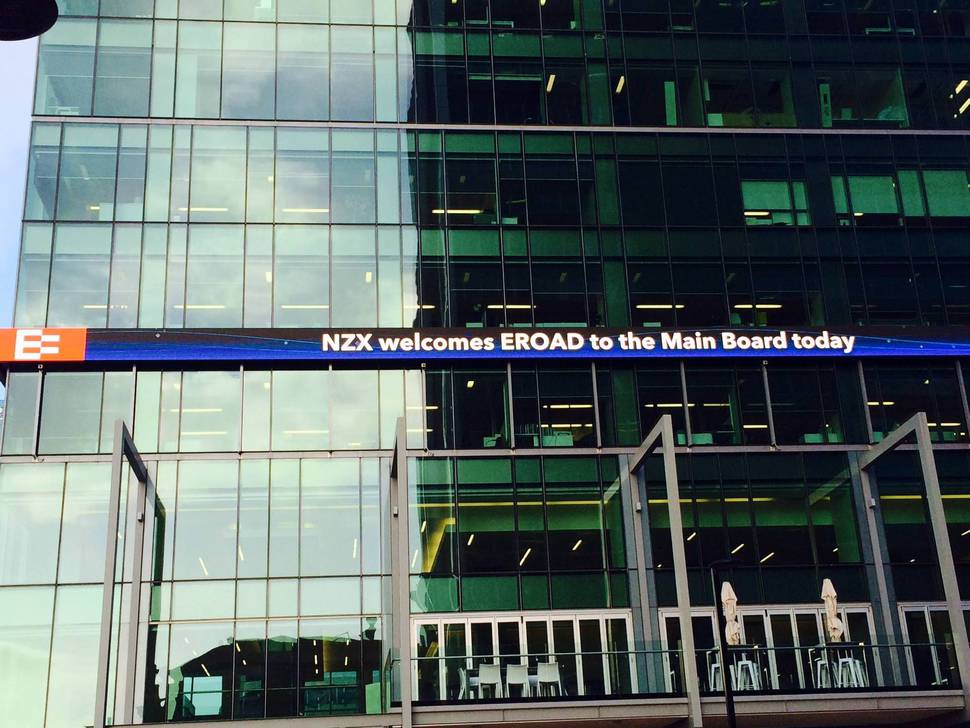 "[Sansom] is not some kind of criminal mastermind or the Wolf of Wall Street," the Crown lawyer continued, referencing infamous American stockmarket manipulator Jordan Belfort.
"His offending was unsophisticated and it was opportunistic rather than premeditated. He was well aware of the rules prohibiting insider trading ... he cheated."
The announcement resulted in the biggest daily and weekly fall in Eroad's trading history, since its initial public offering in August 2014.
By October 2, 2015, the company's shares were trading at $2.60 each.
On November 19, 2015 the FMA received a referral from NZX (New Zealand's stock exchange) market surveillance about Sansom's trading and began its investigation into Sansom and Honey.
Lowery said Sansom's argument "I was going to sell anyway" is not a defence.
"It's a bit like knowing the lottery numbers in advance," Lowery added.
"It's not just stock traders who work in high-rise buildings and wear cuff links to work [who are affected by insider trading], but everyday New Zealanders … particularly those who have KiwiSaver accounts.
"This case is as straightforward as the text messages we have seen. A well-placed company insider gave Mr Sansom a tip," Lowery said.
Sansom's lawyer told the jurors they had "no skin in this particular game" and said they should put aside any concerns insider trading affects their KiwSaver or personal finances.
Jones said during his opening statement his client simply "knows the market".
"What you have is numbers that were known to Mr Sansom that were available through public announcements through Eroad," he said.
Sansom told the FMA during its investigation he already knew American sales weren't positive as projected, Jones told the court.
"If you looked at the numbers, the hard facts, you could see that things were not going too well. And you could see this from May [2015]," he said.
"The FMA want his head on a plate - they want a trophy. This was their first case under the new law."
The trial continues.