Ngāti Whātua Orākei Whai Rawa has revealed plans for a new 30-unit apartment block at its Eastcliffe Retirement Village.
The new building is set to replace the now-demolished faulty 33 residences in six blocks dogged by leak, fire and seismic issues previously on the site.
"All six blocks have now been demolished and the 34 affected residents are currently temporarily relocated in other homes within the Village or in quality Eastern Bays rentals at Whai Rawa's expense," said a statement from Whai Rawa director Ngarimu Blair.
FOR MORE PROPERTY NEWS AND LISTINGS GO TO ONEROOF.CO.NZ

"While master-planning for the redevelopment of the entire Village site is being undertaken by Warren & Mahoney and got underway earlier this year, the process of design and consenting is likely to take some time. Whai Rawa therefore took the decision to expedite development of one block to provide a permanent option as quickly as possible for affected residents.
Blair said that the board's focus has been on developing feasible solutions for residents and carrying those out as quickly as possible.

"While affected residents are in quality temporary accommodation, we understand they are elderly, vulnerable and need certainty. Time is of the essence. They now have the choice of a permanent relocation within an existing village apartment which some have chosen to do, to move on from Eastcliffe by terminating their occupational rights agreement and accessing their funds to make alternative living arrangements or to take possession of a superior, brand new apartment in a comparatively short period of time," he said.
Blair said Warren & Mahoney had undertaken master-planning for the site and he released a statement describing the job and the new block was designed by architects Klein of Dock St in Auckland.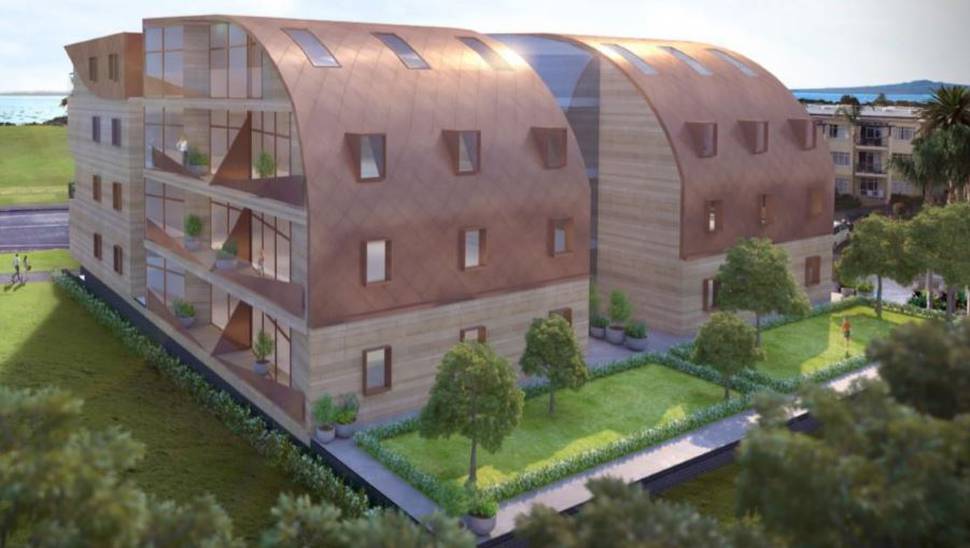 The shape of kāhu or bird was used as the concept behind the design. A visual interpretation of its form viewed from above was the inspiration for the curvy roof line on the new block which is shaped in a C-form at the back but designed to take full advantage of waterfront and green views over Bastion Point or Takaparawhā.
Read more: Thirty four residents evacuated from retirement village

"The new concept has been designed by specialist architectural firm, Klein. The apartments will be situated on the current carpark off Kupe St, with a north westerly aspect taking full advantage of views across Auckland city and the Waitemata Harbour. This is a flat site that ensures the build will be relatively straight forward and quicker than other potential sites and consenting risks are much reduced, all of which accelerates the timeframe for completion which is anticipated to be in 2020," the statement said.
Some residents have expressed unhappiness about the process, upset about possessions being moved and having to shift while the homes are re-built.
Blair said the design concept was now being refined in collaboration with residents and would then go through the final design and full consenting process.

"This redevelopment is a major undertaking for Ngāti Whātua Ōrākei and we are absolutely committed to quality - quality of design, materials build and most importantly, quality of living for our residents," Blair said.