ASOS has temporarily ceased sales of a lightening bolt clutch bag after the retailer was accused of 'ripping off' an independent designer.
The fashion giant is launching an investigation after independent brand designer Lisa Lewis accused ASOS of imitating her designs.
Lisa, designer at Zeadora, took to Instagram to point out the comparisons between her signature Jacqui clutch bag, priced at £265 ($516), and ASOS' Lightening Bolt Marble Clutch, £30 ($58), according to the Daily Mail.

With a clasp fastening, marbled plastic and lightening motif, both bags have undeniable similarities.
Posting on Instagram Lisa explains how she was keen to meet ASOS buyers this summer at the PURE London trade show in the hopes of expanding her business.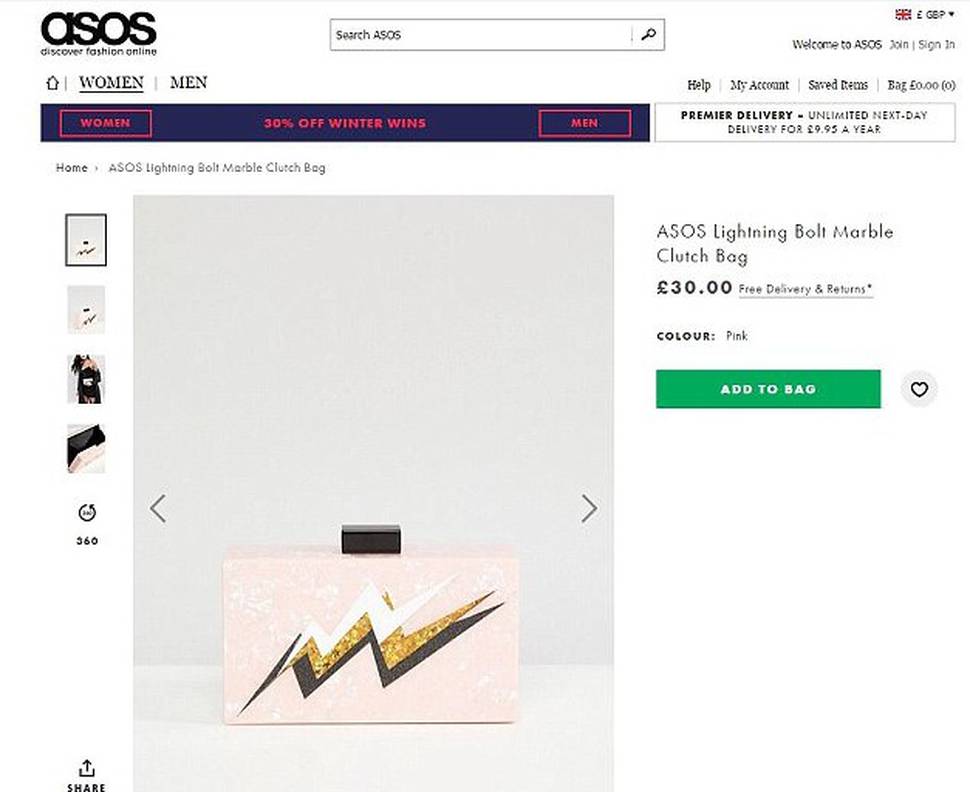 Speaking to the MailOnline Lisa said: "I saw a girl at the trade show wearing an ASOS badge and so eagerly ran up to her and asked if she'd come and view my stand but she said that she was on her way out and it wasn't her department.
"The following day some girls with the same badges came past to chat and asked about my pricing. They started taking photos of my bags - the black one especially with the yellow lightning bolt.
"After the show I emailed the girls who gave me their card but never heard from them."
Lisa continued to explain how she had come across ASOS' clutch while browsing their website after becoming convinced her design might be used.
"Every week I like to check out their clutch bag department on their website to see if they've done anything similar at a cheaper price, as I remember they copied one of Laurie Lee Leather's jackets, so I always keep an eye out and I saw the bag.
"Different colour but the exact same lightning bolt shape (leaning on its side like mine), pearlescent acrylic material and I couldn't believe it."
Fans of Zeadora whose clutch bag designs have previously featured in high-end fashion magazines including Vogue and Tatler, slammed ASOS on Instagram.
One wrote: "Your version is so much nicer"
Another said: "Wow that's messed up. Their bag has nothing on yours"
Others advised the independent brand to contact ASOS' managing director directly.
MailOnline contacted the online retailer for comment, their head of PR responded:
"ASOS takes IP very seriously. We are investigating this complaint and will be reaching out to Zeadora directly. In the meantime, we have suspended the item from sale on our site."
Lisa who began her "affordable luxury" fashion brand in 2016, says she finds ASOS' design "unjust".
Speaking to MailOnline she said: 'I've worked really hard to create a product that is "affordable luxury" and to have ASOS come along and do something like this is insulting and "unjust".
Designs within her brand have been inspired by things of personal significance, such as music motifs and prints. Each item including "Jacqui" has been named after a family member.
Zeadora has since reduced the price of the clutch bag to £150 ($291), in accordance with a reduction in the cost of production.
The bag which is made of acrylic with a marble affect is fully lined and contains two detachable gold shoulder straps.
ASOS' design is also made of acrylic and comes lined.
Lisa believes trade shows should be more clear about their target market and share more information before brands take part.

She said: "I was told it would be great for my business but once I got there I felt like a fish out of water. My brand is more of a middle market rather than mass market which wasn't clear at all until I got there."
This isn't the first time inspiration behind ASOS designs have been questioned as similarities between luxury brands and the retailer emerge.
Earlier this year ASOS was accused of "ripping off" the designs of independent designer Laurie Lee of Laurie Lee Leather after her leather jacket exclusively available at Selfridges appeared strikingly similar to their own online offering.
In response to the claims by Laurie Leather, ASOS said "We take IP concerns extremely seriously and immediately took the jacket off our site while we investigate further."