The second job responsible for Fletcher Building's $110 million profit downgrade is said by one analyst to be the $700 million NZ International Convention Centre although SkyCity Entertainment Group says that job is on time and on budget.
SkyCity yesterday said it was "comfortable" with that contract and Fletcher is staying quiet, but an analysis from Citi Research Equities analyst Simon Thackray said it was his opinion that the convention centre (NZICC) could have caused $40 million of losses, even though that contract is only in its very early stages.
A copy of the analysis was passed to the Herald.
Colin Espiner, SkyCity communications manager, said in response to Thackray's analysis today: "The NZICC is on time and on-budget. It is proceeding according to plan, and we are pleased with the progress being made. Excavation is largely complete and we are beginning to pour concrete and erect steel. The centre will be an amazing building that Auckland can be proud of, and it remains on schedule for completion in the first quarter of 2019."
Thackray said the $40m NZICC loss was in addition to $80 million losses from Christchurch's Justice and Emergency Services Precinct near the Bridge of Remembrance, the analysis estimated.
Thackray attributed the $110m profit downgrade as coming from $120m of losses:
• $30m initially from the Christchurch job, flagged at the half-year with no price;
• a further $50m on that Christchurch job;
• total $80m from Christchurch
• $40m from the NZICC job in Auckland;
• total losses, two jobs: $120m.
"Justice Precinct and NZ Int'l Convention Centre look to hit FY17e [financial year 17 estimated] guidance," Thackray wrote.
"Although not detailed by management in [the] $110m downgrade to FY17e [earnings before interest and taxes (EBIT)] guidance ($610m-$650m) we expect the Christchurch Justice Precinct has incurred an additional $50m in losses over the $30m already booked in [first half of] 17.
"In addition, some $40m in provisioning has been raised against a major commercial project we expect is the NZ International Convention Centre and Hobson St hotel project in Auckland with an estimated contract value around $450m."
Mark Adamson, Fletcher Building chief executive, refused to name the two contracts which caused the profit downgrade.
A statement from the Ministry of Justice on March 6 said: "Fletcher Construction has revised its hand-over date."
It added that the new precinct was "the largest multi-agency government co-location project in New Zealand's history."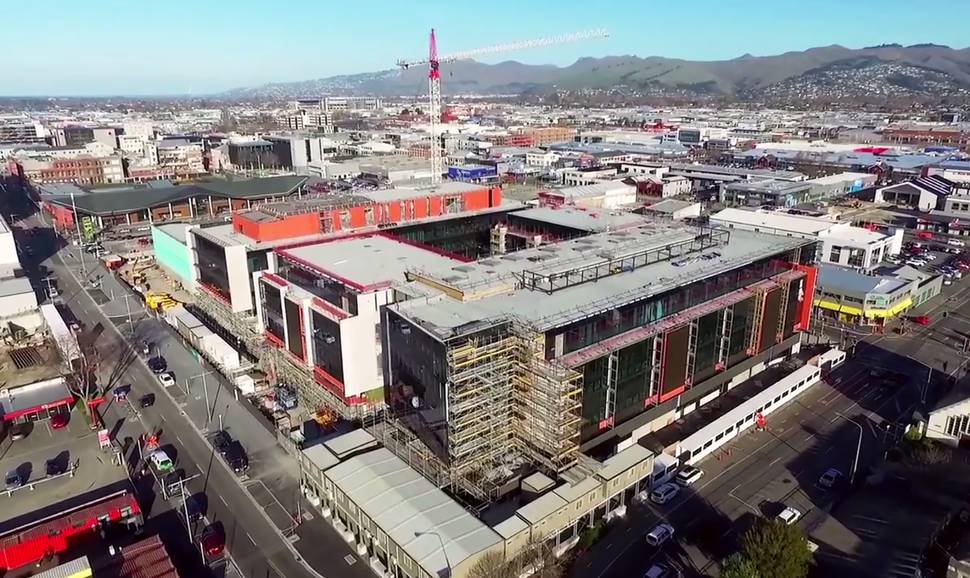 Thackray noted the timing of the $110m profit downgrade.
"[Fletcher] management downgraded FY17e EBIT guidance to $610-650m from $720-760m only three weeks after the 1H17 result where they had expressed considerable confidence that a $30m construction loss contract loss provision would be sufficient in FY17e.
"We expect that fit-out requirements for the complex Christchurch Justice Precinct have seen an additional $50m in expected loss provisioning and that a review of the project time line for the estimated $450m NZ International Convention Centre and Hobson St Hotel has resulted in a $40m provision being taken in the current year.
"Additional contract reviews have also resulted in $20m in incremental charges bringing the total impact in FY17e from construction contract provisions to some $140m.

"Although it would be helpful to assume no further losses in the balance of FY17e or into FY18e, we expect considerable investor resistance to [Fletcher] given the understandable perception of increased risk, especially around NZICC which is just 15% complete, Thackray wrote.
"Whilst the thoroughness and quality of the project reviews that lead to today's provisions are critical for earnings confidence in construction in FY18e (the year that management are widely accepted to be aspiring to deliver $820m in EBIT) we expect the current share price is already discounting considerable downside risk and implies almost no earnings contribution from construction in FY18e," Thackray wrote.
Fletcher named the two loss-making contracts as being one finishing in the next few months and one finishing in 2019.