Russian President Vladimir Putin and US President Donald Trump share a love of private jets and have dozens of properties across the globe.
While Putin reportedly made his wealth through investments in oil and natural gas, Trump says he made his 'the old fashioned way', and through real estate investments.
But there's one major difference between the two men's wealth: Estimates of Putin's net worth reach upwards of $200billion, while Trump, who boats a large fortune, is estimated to be worth far less - $3b.
Despite saying on the campaign trail last year that he was worth "in excess of $10b", two other estimates have put Trump's real net worth far lower.
Forbes estimated last year that Trump is worth $3.7b, while Bloomberg put his net worth at $2.9b.
Bloomberg found that Trump's total debt, primarily from bank loans, rose from $350 million in 2015 to $630m in 2016.
The official richest man in the world, according to Forbes, is Microsoft's Bill Gates with a net worth of $75b.
Trump said before his inauguration that he would hand over "complete and total control" of his global business empire to his two oldest sons, Donald Jr and Eric, to avoid conflict of interest during his presidency.
His lawyers also said that he would hand over profits that his hotels earn from foreign governments to the US treasury.
Still, however, Trump is the founder, president and chairman, of the Trump Organisation, which owns resorts, residential buildings and golf courses across the world.
As of last year, the Trump Organisation had ten properties in New York alone and dozens across the United States, as well as golf courses in the United States, Scotland and Ireland.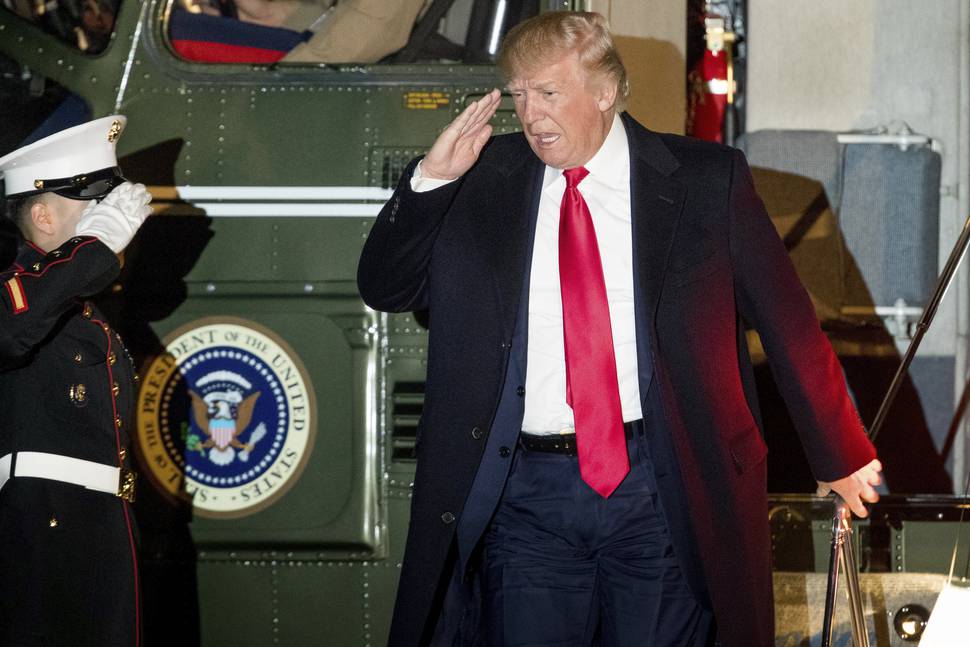 When he became president, he had to give up his $1m personal aircraft for Air Force One, but still holds properties in Manhattan's Trump Tower, Beverly Hills, California, and Palm Beach, Florida.
Other properties and assets include Hotels in Las Vegas, Chicago and Washington, DC, the Mar-a-Lago resort in Florida, and a winery in Virginia.
He also has assets in Trump product licensing and approximately $230m in cash and liquid assets, according to Forbes.
In July 2015, one month after he launched his presidential bid, Trump's personal financial disclosure (PFD) form with the Federal Election Commission (FEC), said he held positions with more than 500 companies and organizations, and had 168 different assets and sources of income.
The form showed he claimed $362m in income in 2014.
Trump, 70, says he made his money 'the good old-fashioned way', even though his father gave him a $1m trust fund and put him in control of his real estate and construction firm in 1971.
Forbes has also estimated that Trump will earn $7m from the new season of The Apprentice. Despite it being hosted by Arnold Schwarzenegger, Trump remains an executive producer.
Researchers for the magazine Forbes argued in 2015 that Trump is worth no more than $4b, pointing out that he lost a string of business deals after offending millions by calling Mexicans rapists and drug traffickers.
As President, Trump will earn a salary of $400,000, and a further $50,000 in expenses, but he has previously said he will only take $1 a year.
"I think I have to by law take $1, so I'll take $1 a year. But it's a - I don't even know what it is," he said shortly after his November presidential win.
Only two other presidents have not taken the salary: Herbert Hoover and John F Kennedy. Both of them donated the sum to charity.
Unlike in the United States where the president's salary remains unchanged each year, the Russian presidential salary is constantly in flux.
In 2013, Putin's officially declared salary was approximately $115,000 a year.
Shunning decades of tradition, Trump has steadfastly refused to release his tax returns or to divest from his business. Instead, Trump said he has turned operation of his business over to his sons, while still retaining his stake.
Trump has said he has no investments in Russia, and Democrats acknowledged that have no evidence otherwise.
As for Putin, his net worth has been widely speculated, with the former KGB agent likely having private assets in real estate and company holdings.
One of the most quoted guesses of the 64-year-old's net worth is political analyst Stanslav Belkovsky's 2007 estimation of $40b, but Bill Browder, author and a former fund manager in Russia, has said the president has a higher worth - upwards of $200b.
IBTimes raised the question of Putin's wealth last week, pointing out that Browder spoke to Fareed Zakaria GPS in 2015, claiming that Putin's years in power have led him to gain quite a fortune.
"I believe that it's $200b," he said at the time. "After 14 years in power of Russia, and the amount of money that the country has made, and the amount of money that hasn't been spent on schools and roads and hospitals and so on, all that money is in property, bank - Swiss bank accounts - shares, hedge funds, managed for Putin and his cronies."
Belkovsky said that much of Putin's net worth was thanks to the oil business, saying the Russian president controlled 37 per cent of the oil company Surgutneftegaz, 4.5 per cent of the natural gas company Gazprom, and had holdings in the commodities trader, Gunvor.
Gunvor denies that Putin ever had any ownership in the company, which made $93b in revenue in 2012, according to TIME.
Since first estimating that Putin was worth $40b, Belkovsky upped his estimate to $70billion, claiming he gained more information from 'confidential sources around the corporations', according to an interview with The Bureau of Investigative Journalism.
A net worth of $70b would put Putin in second place on the Forbes billionaires list, only behind Gates and right above Zara's Amancio Ortega.
And yet, Putin has been snubbed from the official Forbes list of the world's richest men and women over the years.
"We value individuals' assets-including stakes in public and private companies, real estate, yachts, art and cash-and take into account estimates of debt. We also consult an array of outside experts in various fields," Forbes wrote in 2015.
Without mentioning Putin or any other names, Forbes said the magazine excludes world leaders, particularly "dictators who derive their fortunes entirely as a result of their position of power."
Still, even Belkovsky's low estimation of $40b would put Putin, who's rumoured to be dating Olympic gold medalist Alina Kabaeva, into the top ten of Forbes' billionaires list.
For Putin, a well-known sign of his wealth is $35m super yacht named Olympia.
Chelsea Football Club owner Roman Abramovich is claimed to have given Putin the yacht after he became president of Russia.
But perhaps one of Putin's most visible signs of wealth is a palace on the Black Sea that's reportedly worth $1b.
In a statement in 2010, however, Putin's spokesman Dmitry Peskov said that the president 'has never had any relationship to' the palace.
Meanwhile, self-exiled Russian businessman named Sergei Kolesnikov told BBC that the palace was personally built for Putin, but paid for with a secret slush fund formed by Russian oligarchs.
If Putin, a judo black belt and amateur ice hockey player, not only has access to the country's corporate wealth, but also to the oligarch slush fund, his assets expand tremendously.
According to a dossier written by a political rival of the Russian president, Putin could have access to up to 58 planes and helicopters, a $500,000 watch collection and 20 palaces and country retreats.
The report also claimed he uses a private jet with an $137m cabin which has a bathroom with gold fittings and a $62,000 toilet.
Other perks include a 2300-acre residence on Lake Valdai in north-west Russia.
Last year, Trump was named the second most powerful person in the world, only behind Putin. Trump was listed 72nd in Forbes' 2015 power rankings.
Putin "has exerted his country's influence in nearly every corner of the globe", the US business magazine wrote.
"From the motherland to Syria to the US presidential elections, Putin continues to get what he wants," the magazine added.
Trump's praise for Putin and his campaign promises to improve US ties with Russia have raised expectations of a thaw between the two countries.
Relations between Washington and Moscow have plunged to their lowest point since the Cold War over the Ukrainian crisis, the Syrian war and allegations of Russian meddling in the US election.
The Kremlin has taken a wait-and-see approach recently as Trump has encountered an array of challenges and faced a strong opposition in Congress to a rapprochement with Russia.
On February 13, the White House said Trump had accepted Flynn's resignation amid allegations the retired three-star general discussed US sanctions strategy with Russia's ambassador to Washington before Trump's inauguration.
Flynn's unprecedented early departure poured fuel on demands for a full independent investigation into alleged collusion between Trump's inner circle and the Kremlin.
US media reported that the Justice Department had warned the White House that Flynn had misled senior administration officials about the contents of his talks with ambassador Sergey Kislyak, and that it could make him vulnerable to Russian blackmail.
The Kremlin has previously denied that Flynn and Kislyak discussed the lifting of US sanctions.