House hunters on a budget will now be able to narrow their search thanks to an online tool which helps establish if their dream suburb is within reach.
ASB Bank has launched its Suburb Seeker tool which provides buyers insight into the percentage of properties within a certain budget in each suburb around New Zealand.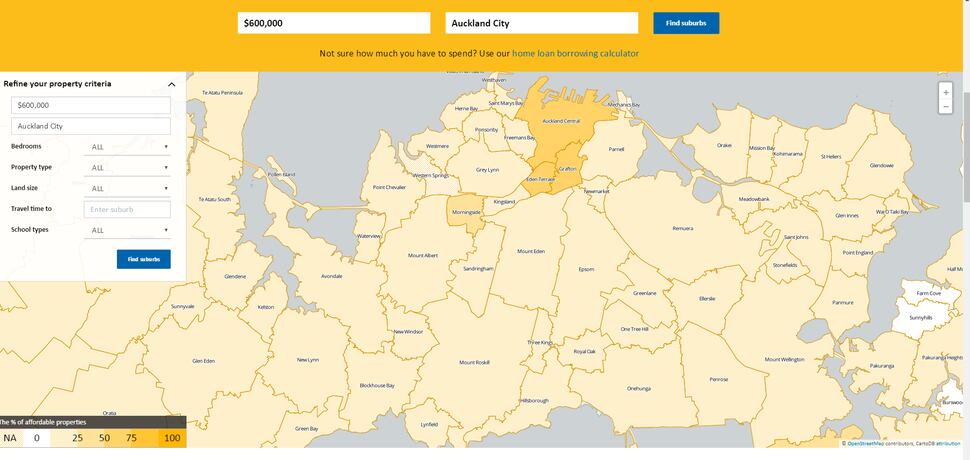 The Suburb Seeker tool was co-designed by property valuation provider Valocity, and ASB. The data originated from historical sales for the area provided by councils and Land Information New Zealand.
Updated weekly, ASB general manager product and strategy Carl Ferguson said the tool would help those searching for a home make the most of their time.
"House price movement has been rapid in recent months and buyers are often unknowingly looking in areas where the price has moved on.
"They invest time, money and effort searching for a house in locations they're unaware they can't afford."
He said the tool provided a "realistic snapshot" of the housing market giving buyers, at all levels on the property ladder, the ability to focus their search on an area they are more likely to get into.
It differed slightly from other property sites in that it gave the percentage of properties in that suburb that sold at a particular price range.
Other property sites tended to give the suburb's median values, or the sales prices of homes sold nearby.
New Zealand Property Institute chief executive officer Ashley Church said it was a "fantastic" idea that had the potential to help people focus on what they could afford.
However, he said the tool should be used more as a guide than a definite source of property prices.
"They are useful as a guide, but it's ultimately down to what a property sells for."
The tool showed there were about 25 per cent of "affordable" properties in Auckland City, barring the apartment rich central business district, or outlying suburbs, that went for $600,000 - the price cap for first home buyers to get a KiwiSaver grant.
In the capital there were between 25 - 75 per cent of suburbs that had properties that went for that price, and in Christchurch about 75 per cent of properties went for that price in the majority of city suburbs.
ASB economist Kim Mundy said house affordability was on the decline across the country - not just in Auckland.
"Historically, this has been an Auckland phenomenon and house prices in Auckland are now nearly 10 times higher than the median household income."
According to property valuation site, QV, the nationwide average property value in the year to January 2017, has grown by 13.5 per cent ($75,096) to $631,302 - $31,302 more than the KiwiSaver grant price cap.
Percentage of properties selling for $600,000
Auckland: 25 per cent
Wellington: 25 - 75 per cent
Christchurch: 75 per cent