If you're into hi-fi and home entertainment, you've probably come across the Oppo brand before, a subsidiary of Chinese giant BKK Electronics.
Oppo also makes smartphones for the very crowded Google Android market; the R9s that came out late last year will be available in New Zealand next week or so, and promises plenty of premium pizzaz for, well, not quite pennies, but for less money than the competition at least.
Build quality is great with a thin and elegant metal case, and Oppo's proud of the "six-wire" aerial design which means you only have six very thin stripes at the back of the R9s, and not the usual thicker plastic covered lines.
This is not a water-resistant, IP-68/69 rated phone though. Swimmers and clumsy people take note.
The Oppo R9s is a largish phone, with a 5.5-inch screen (measured diagonally) and it's an AMOLED one covered by Corning's Gorilla Glass 5.
That abbreviation stands for active-matrix organic light emitting diode, but ignoring that word soup and you'll be looking a beautiful 1920 by 1080 display that's visible in strong sunlight, with great contrast and colour, for both stills and video.
Oppo put 64GB of storage on the device, with 53GB accessible for users. This is expandable to 256GB, if you sacrifice one of the R9s dual-nano SIM tray slots and put in an microSD memory card.
Speaking of, it's not clear if you can use the R9s with two 4G SIMs and switch between them, or if one slot is 2G only as with many other devices. I've asked Oppo's representatives to clarify this but unless Oppo's worked some radio magic, it'll be 4G/2G for the dual-SIM slot, which is not that useful.
No complaints about the fingerprint scanner on the R9s home button though: it is outstandingly quick and accurate, one of the better ones I've tried.
A Qualcomm system on a chip with eight processor cores at 2GHz speed powering the R9s sounds like it should provide plenty of performance. In reality, this is where Oppo saved money (and power consumption), as the device is far from the fastest you can buy.
On Geekbench 4, the R9s scored 844 and 3144 on the single and multi-core benchmarks. A Huawei P9 Plus managed 1815/5181, and the iPhone 7 Plus is still the fastest per core (it has two), hitting 3427/5701.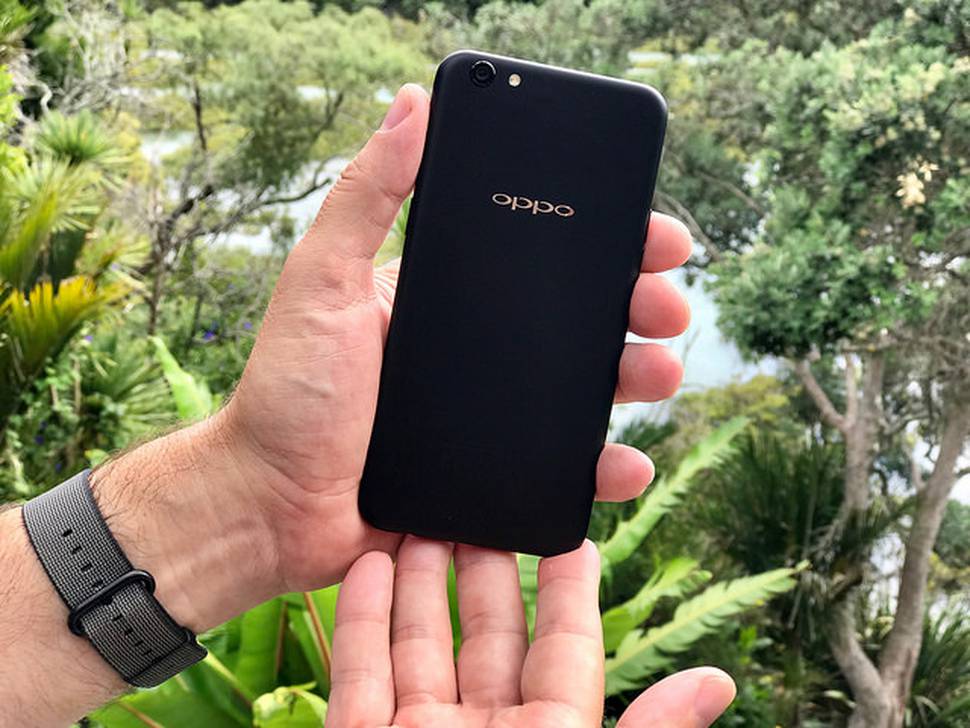 Graphics and video performance was likewise adequate rather than stellar, and you're not going to buy an R9s for gaming and other demanding graphics tasks.
Perhaps as a consequence of the somewhat anaemic system performance, battery life from the 3,010mAh power source is pretty good: despite heavy use during the review, I got almost two days between charges. Even better, Oppo has devised "flash charging" with 20 Watt wall-wart, for the R9s. It's called Voltage Open Loop Multi-step Constant-Current Charging which absolutely nobody could remember, and so Oppo abbreviated it as VOOC.
VOOC charges the phone quickly - 60 to 75 per cent in 30 minutes - and doesn't cook the phone even if you're doing other things while the devices is plugged into the wall, like watching videos. In fact, the Oppo R9s remains nice and cool most of the time, which is great.
Oddly enough, despite the fast charging feature, the R9s doesn't use USB-C though, and sticks to the older micro-USB connector standard.
On the wireless side of things, the Oppo R9s supports 4G in the usual frequency bands in NZ and overseas, 850 and 900MHz too. That's for Category 6 LTE which in theory is as fast as 300 megabit per second downloads, and 50Mbps uploads. You get 2.4GHz wifi as well as 5GHz, with 802.11ac, the latest and greatest wireless standard, and Bluetooth 4.1.
There is no near-field communications (NFC) however for payments and other services, nor does the R9s have LTE carrier aggregation for faster broadband performance.
Security-wise, I ran a bunch of security vendor vulnerability scanners on the R9s, and the device is only susceptible to the "Certifi-gate" flaw. That's not so only, because the Android vulnerability in question was first discovered in August 2015, and should be patched by now.
Oppo put Google's Android version 6.0.1 or Marshmallow operating system on the R9s, with its own ColorOS user interface on top. ColorOS looks nice (iOS-like) and understated, and has built in apps like an Opera-based web browser, but I'm not convinced it does anything much for overall usability.
There's a power-saving feature that kills apps running in the background and Avast antivirus, but I'd rather have had Android 7 on the R9s.
Sony sensor for rear camera
Samsung might disagree, but the go-to brand for good camera performance at the moment is Sony. The Japanese company supplied its Exmor RS IMX398 6.4mm sensor for the R9s rear camera.
This gives you 16 megapixel resolution and sits behind a very bright, f/1.7 aperture lens.
The IMX398 has a raft of advanced features, like the dual-pixel phase detection autofocus which locks onto subjects very fast, and the camera assembly has an LED flash for illumination.
It's easy to go down the rabbit hole of tech specs, but suffice to say, stills from the rear 16Mpixel camera look great without too much effort like dropping into the expert mode that provides manual control of exposure parameters.
Video isn't too bad either - the R9s can shoot up to 4K resolution, but the electronic image stabiliser is switched off then and it's easy to get shakey movies without a tripod. The 1080p mode is the easiest to get good results with, or even 720p which gives you much smaller files yet decent quality.
Compared to flagship products from Apple and Samsung, you miss out on features such as higher frame rates - the R9s maxes out at 30fps in 1080p and 4K - and slow-motion, but it does have time-lapse, panorama and beauty modes.
Oppo is believes the 16Mpixel front camera should appeal to selfie fanatics, and it's fairly good for its purpose. However, I'd rather have half that resolution and autofocus for the front shooter, to avoid blur when you hold the camera too close or too far away from you.
The bundled photo editing software is pretty rudimentary, with no auto or manual adjustment of exposure, and comes with just a few filters, background blurring, cropping, a pixelation feature to obscure details in pictures, and annotation.
Video editing? You need to find some software yourself for that.
Up against stiff competition
The Oppo R9s is very good, but so are the current premium devices from Huawei, HTC, Samsung, and Sony which beat the newcomer in areas such as performance, photography and features.
Annoyingly enough, Oppo's local distributors did not want to provide a recommended retail price for the black R9s that was sent to me, but it is supposed sell for less than a grand locally.
Some parallel importers sell the R9s for around $750; if the Oppo device ends up costing that, it's good value with a nice set of features.
If Oppo's local distributors price the R9s so that it ends up in the mid-range smartphone sector, it'll be a contender, otherwise not. That's testimony to how spoilt smartphone shoppers are for choice at the premium end of the market, and how hard it is in 2017 for competing vendors to get a foot in the door with users.