$58 million was spent on horses at this year's Karaka bloodstock auctions, organisers say, up $2.5m from the previous year.
The National Yearling Sales, which wrapped up today, are the premier showcase of New Zealand's racing talent, and this year they attracted international attention.
Provisional reports suggest 338 lots were sold for an average of $172,803 over the two day sale fetching a total of $58m.
NZ Bloodstock managing director Andrew Seabrook said 169 horses were sold yesterday fetching a total of $30.2m - a record for the first day. Today's auction saw $27.8m change hands.
"It was a day worth remembering for the sale of a white colt offered by Windsor Park Stud, knocked down to the bid of Michael Wallace for $510,000. And the day's top selling yearling, lot 312, being sold by Sir Patrick Hogan's Cambridge Stud to David Ellis of Te Akau for $625,000," Seabrook said.
The Cambridge Stud was the most expensive horse sold today.
The buyers included three Dubai sheikhs - Sheikh Hamdan bin Mohammed bin Rashid Al Maktoum, Sheikh Mohammed bin Khalifa Al Maktoum, and Sheikh Mohammed bin Rashid Al Maktoum. All three bought horses, spending a total of $2.6m. The most expensive being a Pencarrow Stud filly for $750,000.
The most expensive horse sold yesterday was a bay colt from Beltana Stud for $825,000.
The biggest buy yesterday was by David Ellis, of Te Akau Racing, who bought 15 horses for $2.4m.
ASB chief economist Nick Tuffley said strong sales at Karaka were in line with economic growth in New Zealand.
"There's pretty decent consumer spending going along with that so we've got an environment where employment's been pretty solid for a while, businesses are doing reasonably well and interest rates are supporting growth.
"Factors like that will be contributing to people's decisions over things like purchasing horses and cars, which is another area where we have been seeing a fair amount of strength over the last year or two."
Record first day at Karaka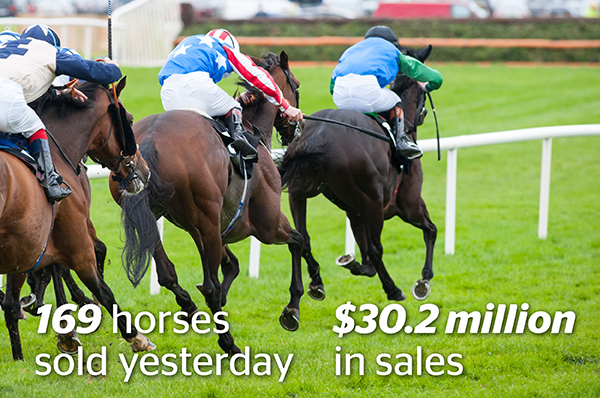 By the numbers:
• $3.6m: The most expensive horse ever sold at Karaka, Don Eduardo, in 2000
• $86m: Amount spent at the auctions last year, a record for the event
• $88,000: Average price of a horse at last year's event
• 1347: Number of yearlings going under the hammer this year