Sony's RX100 range has been a favourite since the first model came out around four years ago. Not because it's the best for everything, more because it is a great compromise between size and quality.
Long story short, if you want something that takes much better pictures than smartphones, yet fits into your pocket, the RX100 is hard to beat.
I tried out the new RX100 V, the fifth incarnation of the little camera; its predecessors were already packed to the gunwales with features, but Sony has nevertheless managed to add even more.
A standout one is the 315-point autofocus which is incredibly good at latching onto moving objects for sharp pictures. This is something Sony's worked on with its bigger Alpha cameras, and the RX100 V is pretty amazing the way it locks on to what you want to capture and doesn't let go.
Oh and, the RX100 V can do 24 frames per second bursts, and if you really want to go insane, there's a 1000fps mode with lowered image resolution.
For capturing action, the limiting factor is the relatively short focal length of the Zeiss Vario-Sonnar 24-70mm (35mm film equivalent) f/1.8 - f/2.8 zoom lens. You have to be fairly close to subjects.
The one-inch sensor inside the RX100 V is a good deal bigger than what you'll find in smartphones.
That means much less chance of blown-out highlights during sunny days, and heaps better low-light performance; also, the sensor sports 21 megapixels / 20 Mpixel effective resolution and has been upgraded with Sony's unfortunately named "backside illumination" (BSI) technology which helps in that respect.
As per earlier RX100 models, the fifth-gen camera uses origami-style tech to work around the limitations of the small size. This includes a bright LCD that folds out vertically (but not sideways), and a little pop up viewfinder and flash that can be moved upwards for bouncing the light, both of which are tremendously useful.
The lens too expands out when the camera turns on, so in use, the RX 100 V is considerably bigger than when it's powered off.
Small size notwithstanding, the reason you plonk down almost $1900 including GST for an RX100 V is the image quality. Pictures look great, sharp and detailed with excellent colour and contrast. You get RAW (direct sensor data readout) and compressed JPEGs out of the camera, and I was quite happy to let the auto ISO (sensitivity) wander up to 6400, and still get decent pictures, which is astonishing. The SteadyShot optical and digital image stabilisation system helps a great deal to avoid blurry shots in low light too.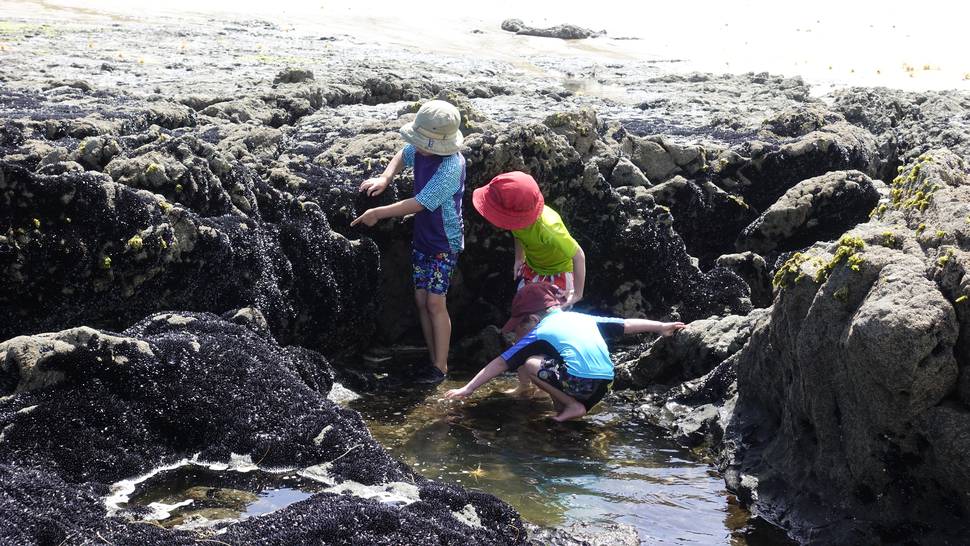 For best results though, I'd limit the auto ISO to no more than 3200, especially if you're going to crop into pictures.
The lens is bright at f/1.8 at the widest 24mm end, and despite the small sensor, you get nice bokeh or background blur; while the smallest aperture is f/11, the mechanical shutte manages 1/2000 of a second, and the electronic one 1/32000 of a second which is amazing. You get full manual control over the exposure, and auto ones too like Program and multiple scene modes.
Sure, larger sensor cameras will beat the RX100 V especially in difficult light, but how often do you carry one of those around day to day? As a journalist tool or a travel camera, the RX100 V gets full marks.
Add to that a large amount of video modes, maxing out at 4K with 30 frames per second, or the fun 100/120fps 1080p (PAL/NTSC) plus the usual range of 24, 50/60fps settings, and the RX100 V leaves little to desire for photographers and videographers wanting a pocketable camera.
While you can use the USB cable to transfer images and videos, this can also be done via 2.4GHz WiFi which is convenient and reasonably quick if the files aren't too large or many.
Sony's Playmemories apps for both iOS and macOS really aren't the best though; the latter would frequently hang when importing images, and I resorted to using a USB cable (or an SD card reader) for transfers most of the time.
You can't escape some trade-offs thanks to the small size though. First, the controls are small for big hands. Apart from the stepless multifunction lens ring, they can be tricky to use while composing a shot. Setting exposure parameters before framing the shot makes sense therefore.
Sony's BIONZ processor inside the RX100 V is fairly quick in most situations, but the camera can take a breather at inopportune moments when you want to continue shooting. Get the fastest SD card you can afford for the RX100 V, especially if you use bursts and 4K video a lot, to minimise the wait while images are recorded to storage.
The RX100 V's battery is also small, so the first thing you'll buy is one or two spares.
They're charged in the camera via a USB 2.0 connector which is convenient but... you can only charge one at the time, and there's no shooting while charging. Get a separate charger with the spare batteries in other words.
Another small nuisance is the tripod mount not being centred with the lens on the RX100 V. A bigger one is the lack of touch screen which would be great with the fantastic new autofocus system.
That's about all there is to kvetch about - the RX100 V is a great premium compact camera for enthusiast photographers who want portability and great image quality in one package.