Kiwis are being warned to steer clear of emails claiming they could win prizes from well-known New Zealand businesses.
The Herald was alerted to the emails by Briscoes' marketing manager, who was concerned about the firm's brand being used to promote a giveaway it had nothing to do with.
The emails were sent from a company called freebiefox, which is run out of Canada.
Other emails could give readers the impression they were from Pak'N Save, Mitre 10, and Countdown.
The Department of Internal Affairs (DIA) said it had received reports regarding messages of this type and said people should be wary.
"They contain an embedded hyperlink for the recipient of the email to click in order to redeem the said voucher(s). However, when the embedded link is clicked the user is then navigated to a website that markets and promotes a competition to win a luxury car, holiday and $15,000 cash.
"There does not appear to be any mention of the voucher the recipient has won. The website provides the user the opportunity to enter the competition and asks first for personal details including first name, surname and email address."
The DIA advised people not to click any links within email messages they were not expecting to receive, or from people they did not know.
Speaking from Vancouver, the man behind freebiefox, Chris Sturlis, said he had decided to target New Zealand because the United States' market was already saturated.
"Freebiefox is a daily deals, coupons and free samples company that I run from here in Canada that's based in New Zealand," he said.
Freebiefox could send up to 40,000 emails to New Zealander subscribers every day, alerting them to prize draws, coupons and other offers.
The competitions were run by third-party "performance networks" that were not actually affiliated with company whose goodies were up for grabs.
"[My clients] run prize draws that say 'you could have a chance to win, say, Pak'N Save vouchers' because those vouchers would be open on the market for them to purchase for the winner," he said.
People did legitimately win prizes through freebiefox and the company aimed to be transparent. However, he said they'd received a large number of complaints recently because it hadn't been made clear that the prize draw had no affiliation with the company involved.
Sturlis blamed this on a rogue staff member who'd started outsourcing work to an overseas firm without his knowledge.
"So my content editors ... create HTML emails around those competitions. Well one of them started outsourcing to a firm abroad, I believe it was in India, without me knowing."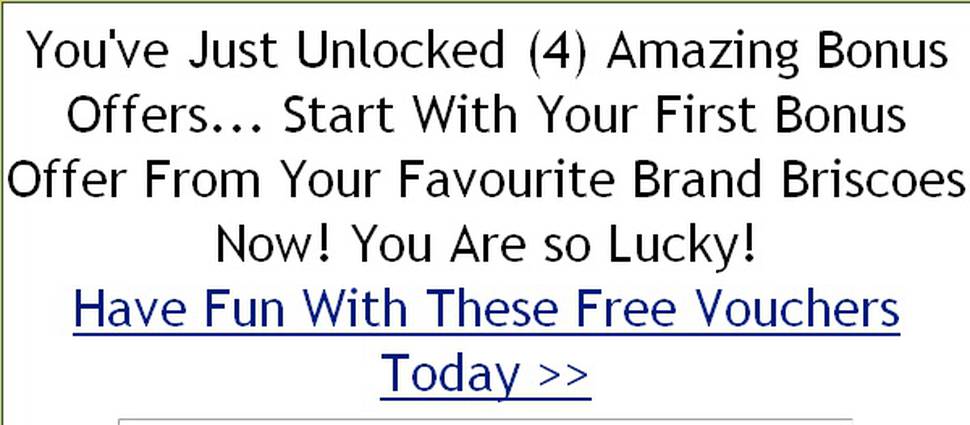 The content editor had been sacked and freebiefox had gone back to sending emails which were clear about what they were offering, he said.
"I don't think it's misleading to say 'you have a chance to win Pak'N Save vouchers' if they're legitimately offering them as a competition."
Briscoes Group managing director Rod Duke was not happy that his company had been associated with a freebiefox prize draw.
"Do not click on any links in these emails ... we have certainly not given approval for our brand to be used by this company," he said.
The DIA said to lodge a complaint about these messages or any other unsolicited emails they can visit here.