All IT systems are up and running again after a major network outage at Auckland Airport affected flight information, Eftpos and parking.
Auckland Airport spokesman Simon Lambourne said an issue with the airport's IT network had delayed passenger processing minor delays to flights.
Lambourne earlier reported that some systems were running again and passengers were being processed.
He said a small number of international and domestic flights have been delayed by less than an hour, but said that there are still some delays to passenger processing.
Earlier a flight departure information board outside the international terminal said: "Flight information temporarily unavailable. We are working to resolve this issue as soon as possible. Please locate an alternative flight information display or report to the nearest Helpdesk for further assistance."
The airport also tweeted earlier: "There is a network outage @AKL_Airport affecting flight information. Flights are not affected. Update will be available as soon as possible."
A man at the airport said then that a number of systems were down at the international terminal.
"I saw a couple of food places upstairs had signs saying 'eftpos down, cash only'."
The main screens displaying flight details in the arrivals hall were not working then and he soon found out Eftpos machines to pay for parking were also down.
"People were standing around not knowing if anything had landed and every second person was going to the people at the information desk to ask about flight details.
"There was a massive line, which stretched along the carpark to the manned booth, of people who couldn't pay for parking unless they had cash.
"There were a lot of annoyed people who just wanted to go home after a long flight."
The airport had tweeted then that there was "no known resolution time".
Reanne Poutami was among about 70 people waiting to be processed.
She arrived at the airport about 12.50pm and has been ushered from one line to the other since.
"There's been messages over the loud speaker but it's hard to hear them so no one really knows what's going on."
Poutami lives in Melbourne. She has been in New Zealand for a wedding and was due to fly to her home city at 3.10pm.
"I've got work tomorrow so I hope there's no delays with my flight."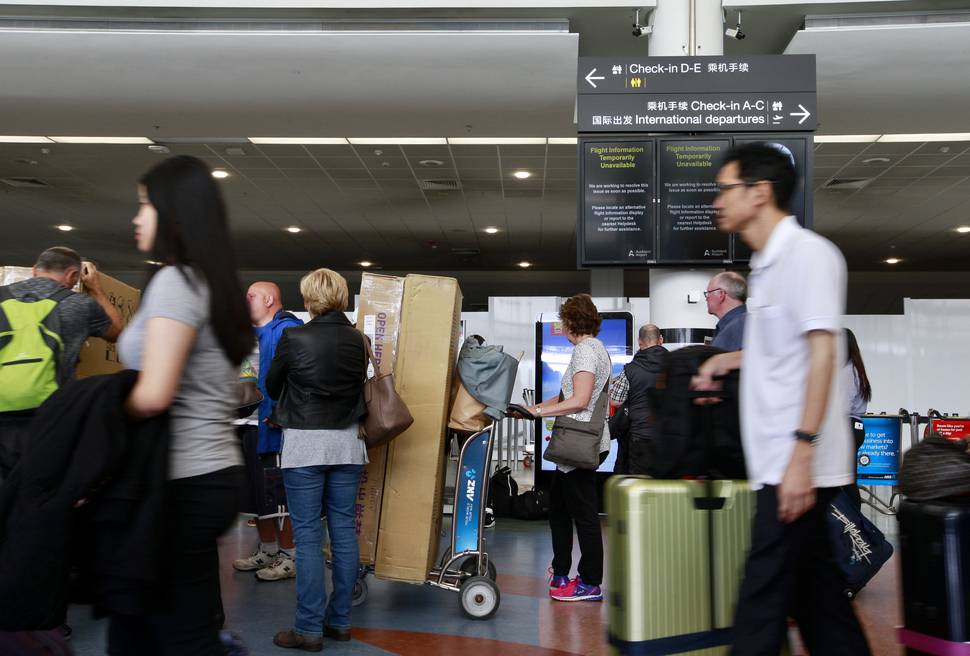 Airport staff have been prioritising the processing of people with earlier flights.
A staff member was also seen asking families with strollers and young children to go to the front of the line.
Another flier in line, Lachlan Neill, said he had been told baggage was having to be manually processed. This was a key reason for the processing delays.
Neill, a Kiwi living in Australia, was due to catch a flight to Brisbane at 3.30pm. He said airport staff had been helpful and he understood his flight would leave on time.
It has been reported that the outage is not just affecting the airport.
The networks of most businesses around the airport also went down for about 40 minutes and are slowly being restored.
The receptionist at Hotel Novotel Auckland Airport said their internet stopped working temporarily at around 11.30am.
Air New Zealand spokeswoman Emma field said it is business as usual for the airline.
Vector confirmed it was not its outage.