Despite an 8.7 per cent fall in revenue and the challenge of low global dairy prices and a high New Zealand dollar, Fonterra topped the Deloitte Top 200 again this year for profit -- increasing 65 per cent from $506 million last year to $834 million in 2016.
READ MORE:
• Deloitte Top 200: Company of the Year - Z Energy
• Deloitte Top 200: Chief Financial Officer of the Year - Jolie Hodson
• Deloitte Top 200: Chairperson of the Year - Christopher Moller
This increase has largely been driven by moving higher volumes of milk into higher-returning consumer and foodservice products, while securing sustainable ingredients margins over the GlobalDairyTrade benchmarks.
Top profits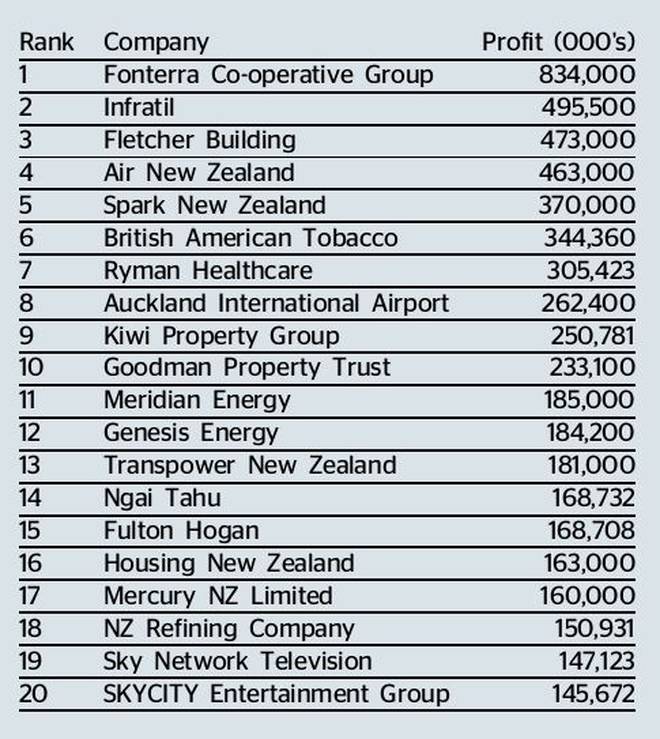 Infrastructure investor firm, Infratil, retained second place, improving net profit from last year by 6.3 per cent to $495.5 million. Infratil's financial results have been dominated by the company's divestment from Z Energy and iSite and its investment programmes at Trustpower and Wellington Airport.
An increase in residential and commercial construction activity levels in Australia and New Zealand was among the reasons that saw Fletcher Building jump from fifth to third place on the Top Profits list this year, lifting profits by 69 per cent to $473 million. The company also sold its operations in Rocla Quarry Products, resulting in an $80 million gain.
Air New Zealand saw its profit increase 42 per cent to $463 million, retaining fourth place on the top profit ranking. This has been driven by an increase in passenger revenue and lower fuel costs.
Also benefiting from an increase in passenger numbers, Auckland International Airport saw profits increase by 17.4 per cent to $262 million, and retained its eighth place ranking.
Biggest losses
Woolworths New Zealand Group suffered the largest loss in this year's Top 200, with a 205 per cent drop from last year's $178 million profit to a loss of $190 million. This is largely due to a $326 million impairment of its Ezibuy operations, reflecting deteriorated trading of this part of the business and the strategic decision to separate Ezibuy from Woolworths Australia's Big W.
Kiwirail has dropped to third place in the ranking from being the top loss-maker last year. This is partly because the table includes Kiwirail's last year's results as the 2016 results were not available at the data collection cut-off date.
Subsequently, the results for 20216 have been released and Kiwirail has made a higher loss than that presented in the table.
Watch: Chief Executive of the Year winner - Mike Bennetts:
Z Energy chief executive Mike Bennetts is the winner of this year's Deloitte Top 200 Chief Executive of the Year Award. Bennetts describes the biggest challenge he has faced this year.
Losses continued for Xero, increasing 19 per cent from $69.5 million last year to $82.5 million.
This reflects the company's continued investment in scaling the business -- specifically an increase of $55 million in sales and marketing expenditure, a $24 million increase in product design and development costs and a $6.4 million increase in general and administration expenses.
This expenditure increase has been largely offset by an $83 million in operating revenue due to subscriber growth across all markets.