An 18-year-old Aucklander is seeking up to $200,000 in a share sale for his start-up after turning down a position at an Ivy League university.
Personal delivery service LazyAz is using AlphaCrowd's equity crowd-funding platform to expand services to the rest of the country.
LazyAz founder Aryaman Taore recently turned down a place at Harvard University to take full control of the business.
Taore, who is studying engineering at Auckland University as well as running the business, said he had always been business-minded.
"I really wanted to create my own startup when I was 13. I said I would do it at 16, but it started at 17 - it was always something I wanted to do."
Indian-born Taore, who immigrated to New Zealand with his family at age six, said initially his family and friends didn't think much of his business idea.
"In all, the usual word I got was a 'dumb idea'," he said.
"I remember I was with my friend in a car and I explained to him the idea and he said 'oh that's the dumbest idea, what are you doing?'.
"I think a lot of people didn't really understand where it could head, it was a very new concept but things have of course changed, luckily."
The start up has been on the market for three months and receives roughly 20 to 25 orders per day. It is already on track to make profit.
"Since we've launched we're about 75 to 80 per cent in terms of breaking even already. By the end of this year we will be profitable and that will allow us to expand in to other areas from the start of next year," he said.
"We initially only thought Auckland City would be the only place the concept would work but we're getting a lot of demand from outside areas like the North Shore and East Auckland."
Taore kicked the business off with $1,000 savings and a $750 "investment" from his parents.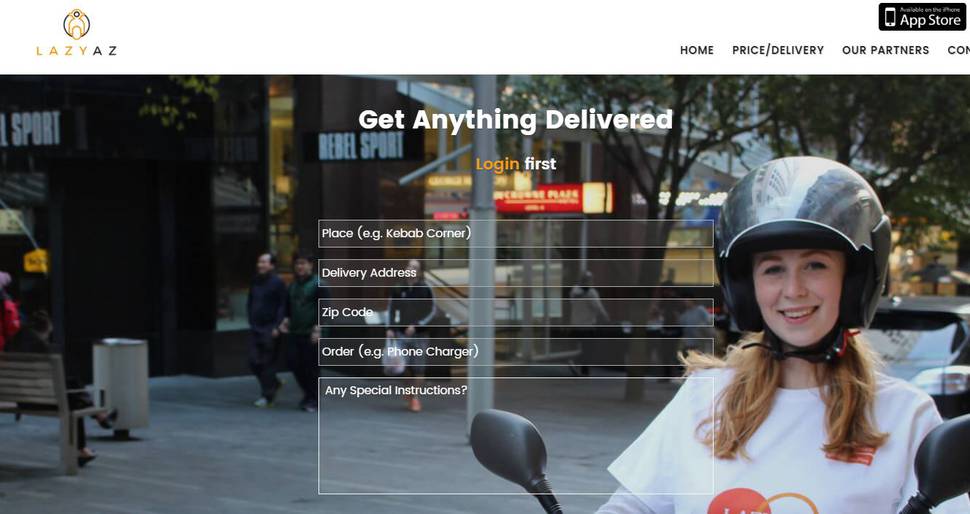 "It took a lot of convincing. I said: 'your going to be buying me a new phone at some point in time so why don't you invest that same money in to this app?," he said.
"They didn't really believe in the idea even after giving me the money."
The business delivers a range of items - predominantly food - but goods range from flowers to makeup and are delivered by scooters and cars. The company has three to four deliverers working at anyone time.
The public response to the business had been good, Taore said.
"Initially it took time to grow traction but now what we're seeing is we've got about 1,500 loyal customers with us that are ordering once every week, once every two days even."
LazyAz is hoping to raise between $75,000 up to $200,000.
After just one day into the 21-day crowd funding campaign, Taore said there had already been between $43,000 and $45,000 in investment.
He said pledges have been from a mix of investors and the general public who wanted to be part of a brand.
"We're based in the city in terms of where we are delivering right now and the idea is to take the money and nationally expand in to Wellington, Hamilton and other cities around, and also in Auckland in terms of other areas outside of the CBD," he said.
"It's a scale business and it's only really profitable when you scale to a large number of orders so that's what we're really going to do with the money."
The crowd-funded money would also be used to work on app technology, he said.
"The current app we have right now is very basic and we're working on creating an app that is able to aggregate all the stores on it. What you could have is go on the app have your stores like KFC, Zara, or whatever it is - food, fashion, electronics - and have a catalogue where you can simply order."
Taore said he had global ambitions for the business.
"New Zealand is a tiny aspect of it. New Zealand is where we do want to test the market, understand it and prove it. But really it's about global expansion in to a lot of Asian and South American countries where population is very dense. There is no competitor out there and there isn't going to be even in two to three years time so we want to go out there and establish a market."
The app is free to download from Apple App Store.