Property investors will need a 40 per cent deposit under tough new restrictions revealed today.
Restrictions to lending limits on residential properties are also being extended nationwide.
The new rules are being urgently introduced in an attempt to put a lid on New Zealand's spiralling property prices.
Reserve Bank Governor Graeme Wheeler has outlined the new rules this morning, and told banks they will be expected to act immediately.
The new loan-to-value ratios (LVRs) would take effect on September 1, but the Reserve Bank wants banks to "observe the spirit of the new restrictions" in the lead-up to the new policy.
All the major banks said they were supportive of the move.
"Once we have fully reviewed the proposal and its implications we will work with the RBNZ to implement the changes before they come into effect on 1 September," a Westpac spokesman said.
New rules - to begin September 1
Investors
• Restrictions for investor lending extended from nationwide from Auckland only
• Banks will be forced to require a 40 per cent deposit - up from 30 per cent - for at least 95 per cent of the loans they make in this area.
Home buyers
• Restrictions for owner-occupier lending extended from Auckland to nationwide.
• Required deposit level remains at 20 per cent for at least 90 per cent of bank lending.
Exemptions
- The exemption allowed under the current LVR policy will continue to operate, including for construction lending and major non-routine repairs of dwellings
The Reserve Bank said to "simplify" the LVR policy, it has proposed removing the distinction between lending in Auckland and the rest of the country.
Last month, the Reserve Bank left the official cash rate at 2.25 per cent, but Wheeler warned investors could soon be targeted by new LVR rules.
The Reserve Bank introduced LVRs of 20 per cent in 2013 to rein in the housing market, and last year it raised the limits to 30 per cent for investors in Auckland.
It will consult on the changes until August 10.

Today's announcement comes after Prime Minister John Key expressed frustration about the Reserve Bank's response to rising house prices, saying that it should not need any more time to investigate stricter rules for property investors and should "just get on with it".
Reserve Bank deputy governor Grant Spencer on July 7 said that the bank was considering new LVR restrictions, but would not introduce them before the end of the year.
Spencer also told the Government to get its own house in order, by taking another look at its immigration and tax settings.
Explore our interactive: How many houses can you afford in each suburb in New Zealand?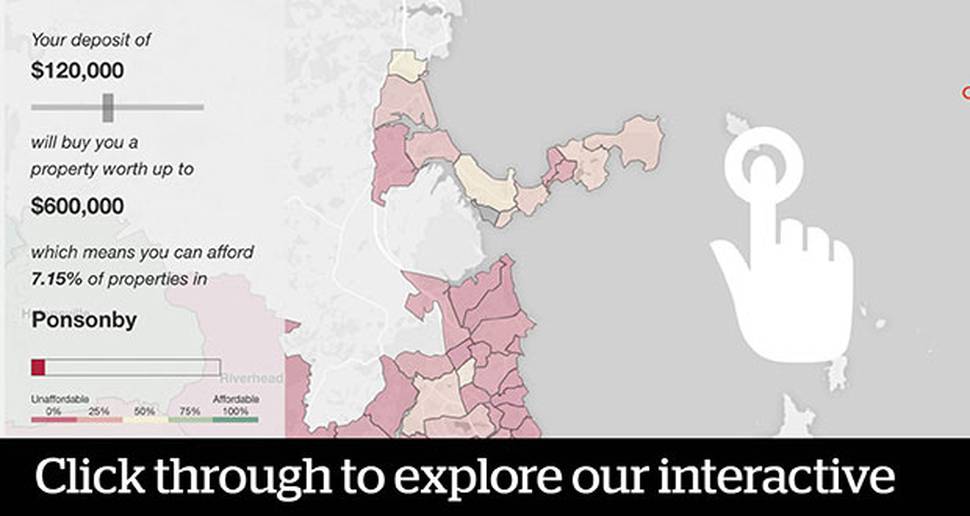 When people are saying 'let's stop investors from buying' they've got to realise the downside of that is they're making life harder for tenants.
"We have had positive initial discussions with the Minister of Finance on amending the Memorandum of Understanding on macro-prudential policy to include this instrument."
New Zealand Property Investors' Federation chief executive Andrew King believed today's moves were more to do with controlling house prices than protecting the financial stability of the banks.
Making it harder to buy a rental property would have an impact on the number of dwellings available for renters, he said.
Watch: John Key speaking last month about some of the causes of New Zealand's high house prices:
"It's going to have larger impact on tenants, particularly tenants in Auckland because there's a real shortage of rental properties in Auckland and this will do nothing to help the people living in their cars and over-crowded conditions to be able to get a rental property," King said.
"A lot of people think 'investors are competing with first-home buyers and we would prefer first-home buyers to get homes'. But the investors aren't buying the homes for themselves...they're not buying them to have empty, they're buying them for tenants and there's huge tenant demand at the moment," he said.
"When people are saying 'let's stop investors from buying' they've got to realise the downside of that is they're making life harder for tenants'.
A sharp correction in house prices is a key risk to the financial system, and there are clear signs that this risk is increasing across the country.
An ASB spokeswoman said the bank was still working through the details of the Reserve Bank's announcement so it was difficult to be too specific about the full implications of the proposals.
"We look forward to working with the RBNZ through the consultation process to better understand the proposed changes and their potential impact in detail. ASB will observe the spirit of the new rules," she said.
Because most high debt-to-income lending is to investors, the Reserve Bank believes that, set at the right threshold, debt-to-income restrictions will affect investors more than owner-occupiers.
The Government has a Memorandum of Understanding (MoU) with the Reserve Bank on which tools it can use to curb mortgage lending, and the memo would have to be amended before an income cap could be introduced. The Minister of Finance had responded positively towards the proposed amendment, Wheeler said.
ASB Bank economist Nick Tuffley said the Reserve Bank was " acting with a degree of haste that seemed lacking in recent public statements".
"We had expected further measures, just not quite this soon.
"But the intention to put new lending restrictions in place means one potential roadblock to responding to the weak inflation environment will be reduced. The still-high NZD and weaker than expected inflation outcome reinforce that the OCR needs to drop further from a pure monetary policy perspective.
He said the announcement of new house lending restrictions reinforced the likelihood of the Reserve Bank cutting rates in August, given the very tight timeline proposed for implementing the added restrictions.
"Our OCR view is still August and November for 25bp OCR cut to a low of 1.75 per cent.
"Thursday's economic assessment will still shed some light on the extent of concern the RBNZ has over what appears to be a lower inflation outlook."
A BNZ spokeswoman said it was working to understand the details of the proposed changes.
"We will implement these change working within RBNZ timeframes, acknowledging these are likely to form part of the consultation. Naturally we'll want to have confidence that our systems and people are set up to be compliant with any changes."
An ANZ spokesman said the bank was supportive of the changes.
"We're supportive of the Reserve Bank's proposal to tighten lending to rental property investors, and reduce existing limits for other borrowers with Loan to Value Ratios of over 80 per cent. We routinely fine-tune our lending rules to take account of current market conditions. In recent months we've tightened LVR limits on some lending," the spokesman said.
"This included reducing the Auckland residential investment lending maximum LVR from 80 per cent to 70 per cent, and reducing owner-occupier lending maximum LVR limits. The price of Auckland's houses is the result of more demand than supply. Until that is addressed the prices of Auckland houses will continue to be high. We're committed to assisting customers with their plans for home ownership and providing structures and payment levels to help them comfortably pay down debt," he said.
A Westpac spokesman said the bank was "pleased to see the changes support owner-occupiers".
"Once we have fully reviewed the proposal and its implications we will work with the RBNZ to implement the changes before they come into effect on 1 September."
Read the Reserve Bank's consultation paper released this morning on proposed loan-to-value restrictions.