What's better than one smartphone camera? Two smartphone cameras! Huawei and German photography legend Leica have joined forces with the P9, to create a solution that works around the problem of being forced to use small-sized image sensors with double cameras.
First, the f2.2 camera lenses with 27mm focal length (35mm equivalent) are not made by Leica, even though the optics are branded with the German maker's Summarit budget moniker (budget and Leica being two words that don't really go together).
Leica co-designed the camera system on the P9 and lent its name and cred to Huawei, no doubt for a goodly amount of money.
The system comprises one 12 megapixel sensor for colour and another imager with the same pixel count for black and white without a sharpness reducing Bayer filter that work together.
Sony made the sensors for Huawei, and thanks to some excellent engineering, the P9 does not have an annoying "camera bump" or protruding lenses, unlike all its competitors.
An initial round of test shooting showed that the twin camera concept works rather well, and you get great stills that are sharp, and have natural colour. Once you get your head around the fairly clean user interface for the camera controls and enable Pro mode which lets you set shooting parameters, the P9 can take pictures that seem as if they came from larger, more expensive cameras.
As expected, there are heaps of filters and camera modes to play around with. I like the three Leica film modes for different levels of colour intensity and look, but my favourite gimmick was the background/foreground blurring feature.
Enabling this lets you emphasise the objects you want to show and blur out the rest, just like with larger cameras that have fast lenses. The P9 lets you preview the "bokeh" or blur, and it saves the depth of field information in the image taken so you can tap on the screen and change which object you want to stand out, and increase and decrease the aperture.
Unfortunately, there doesn't seem to be a way to export that information, so you have to set the bokeh on the phone, and save that image separately. Nevertheless, it's a great feature that Huawei has implemented particularly well compared to others I've tried out in the past.
There are three auto-focus modes on P9: laser, contrast and depth, with the latter being handy for objects further away.
The autofocus works very well in good light. In low light it missed a few times but in my limited testing, the P9 still seems to outdo the competition when it's dark.
Video, which maxes out at 1080p at 60 frames per second - there's no 4K support as with competing phones from Apple and Samsung - isn't bad, but not as impressive as still photographs.
Huawei wants a slice of the premium handset market, and the P9 is made to a high standard with an aluminium body and understated design. It's not too dissimilar to Apple and Samsung's phones in fact, and the Chinese telco giant has made it clear the two competitors are in its cross-hairs.
A new Level 4-rated fingerprint sensor went on the back of the P9, and it's very accurate and quick indeed. Plus, you can set it to be the shutter button which is handy (or fingery) for when you want to use the rear camera for true monochrome selfies. The front 8Mpixel camera is good, but can't do black-and-white without a filter.
The P9 runs Huawei's HiSilicon Kirin 955 system on a chip, which features an eight-core processor, and four-core graphics and 3 gigabytes of memory. The chip is fast on CPU tasks, but not as quick as competing premium phones on graphics. In practice, the P9 seems able to keep up most things you throw at it.
While the P9 is not waterproof (there's no ingress protection or IP rating) it appears the NZ models will get expandable storage with micro-SD cards. This is good, as shooting lots of pictures and videos would soon fill up the 32 gigabytes of storage my P9 came with.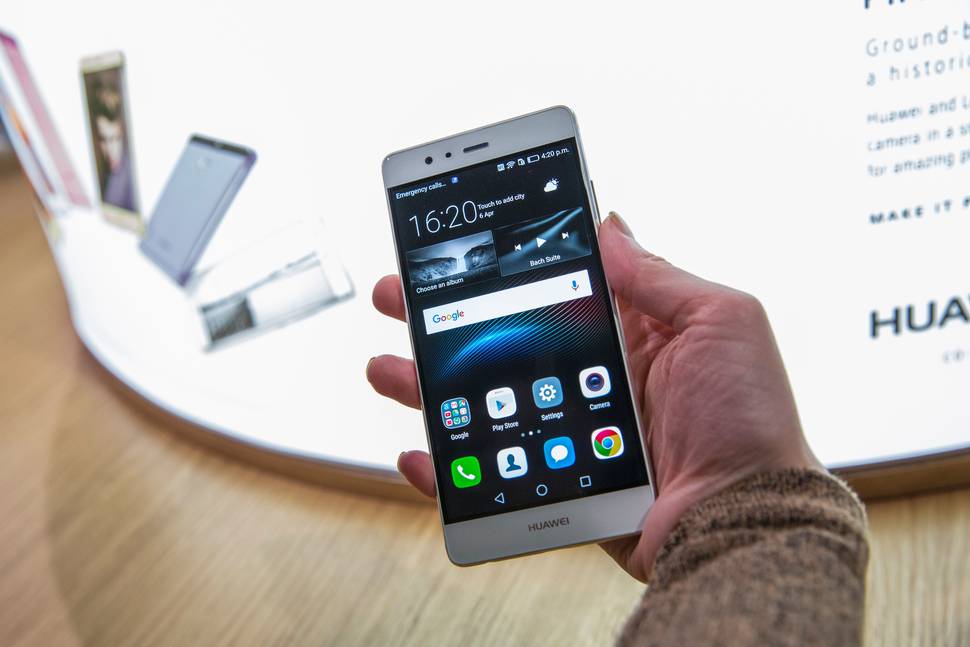 Three models will be available in New Zealand: the 5.2-inch screen P9 Lite that misses out on the dual camera, the mid-range P9 (also 5.2-inch), and the P9 Plus which as the name implies has a larger, 5.5-inch display and Huawei's take on the taptic buzzy screen feature.
None will feature dual SIM capability, which is probably just as well as the second card slot only supports 2G, and not full 3G/4G LTE.
Pricing for New Zealand is up in the air at the moment, but expect it to be a bit less than comparable Apple devices.
Now, having great cameras didn't help Nokia's phones much, but then again, Huawei didn't build the P9 with software platforms headed into oblivion which is a huge difference.
It'll be interesting to see if the dual camera P9 fares better than the Sony Xperia Z5 for instance, which also happens to be a great picture-taker. Either way, the P9 proves that Huawei can make top-notch gear with innovative technology that rivals and outdoes the best its competitors have.
Juha Saarinen travelled to Huawei's Southern Pacific Conference 2016 as a guest of the company.