President's visit will boost links with NZ, but there's little sign of a breakthrough on free trade deal.
"To lose patience is to lose the battle."
Mahatma Gandhi's words, more than 60 years old, are worth remembering as President Pranab Mukherjee touches down in Auckland today.
Mukherjee's trip is the first time India's head of state has come to New Zealand, and thought to be the most prominent political visit from that country in 30 years.
And if patience was needed while waiting for such a delegation, the same is true of the thing Mukherjee could help advance during his two-day stay: a free trade agreement.
Despite the gap between visits by Indian leaders, the 80-year-old political veteran told the Weekend Herald that New Zealand and India "share close and cordial ties".
There is a meeting of minds, he says, on important regional and international issues.
"And, of course, we should never forget that cricket - followed so avidly in our two countries - is a strong binding force."
The Indian diaspora is another connection; some 4 per cent of New Zealand's population are of Indian descent, and close to 15,000 people migrated here from the subcontinent last year.
Tourists have also flocked here from the world's largest democracy - almost 50,000 of them last year.
With more and more Indian-language films being shot here, Mukherjee says his country is "getting acquainted with the stunning natural beauty of New Zealand".
Two-way trade has also grown steadily in the past five years.
This, however, has been more to New Delhi's benefit, and the growth in New Zealand's exports has failed to match the aspirations the Government set half a decade ago.
Trade officials, in their "NZ Inc India Strategy", once hoped New Zealand would ship $2 billion of goods to India by 2015. Instead, the value of goods exported to India annually has fallen since 2011, from $900 million to $637 million last year.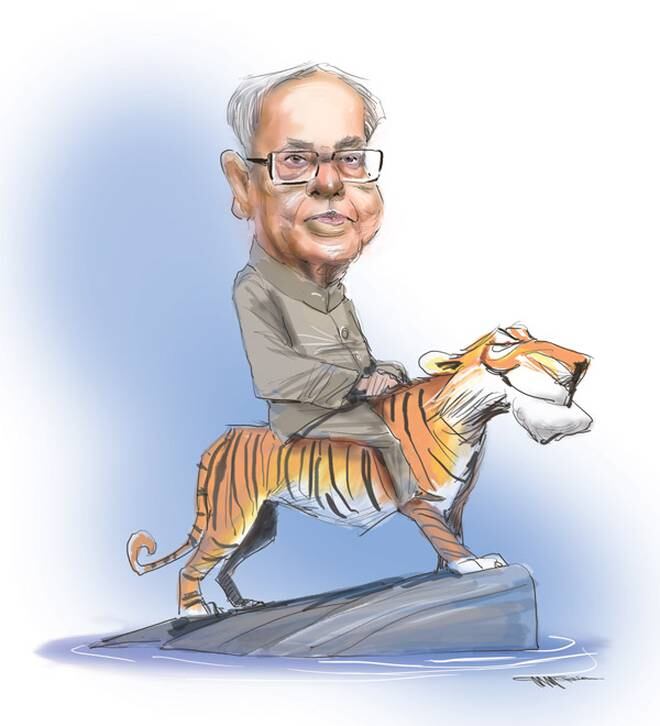 Although a lift in service exports has offset that drop, this expansion also fell short of the Government's 2011 ambitions.
The failure to hit those goals is unsurprising, given that the lynch pin of the strategy was securing an India-New Zealand FTA.
Negotiations for this potentially lucrative deal kicked off in April 2010 and have gone through 10 rounds without reaching the holy grail.
It's easy to see why the Government wants to reach an accord with the world's second most populous nation. As well as reducing tariffs for our exporters, such an agreement would lessen New Zealand's reliance on China, our biggest trading partner.
Despite its ongoing problem with widespread poverty, India's economic growth is unparalleled among large economies.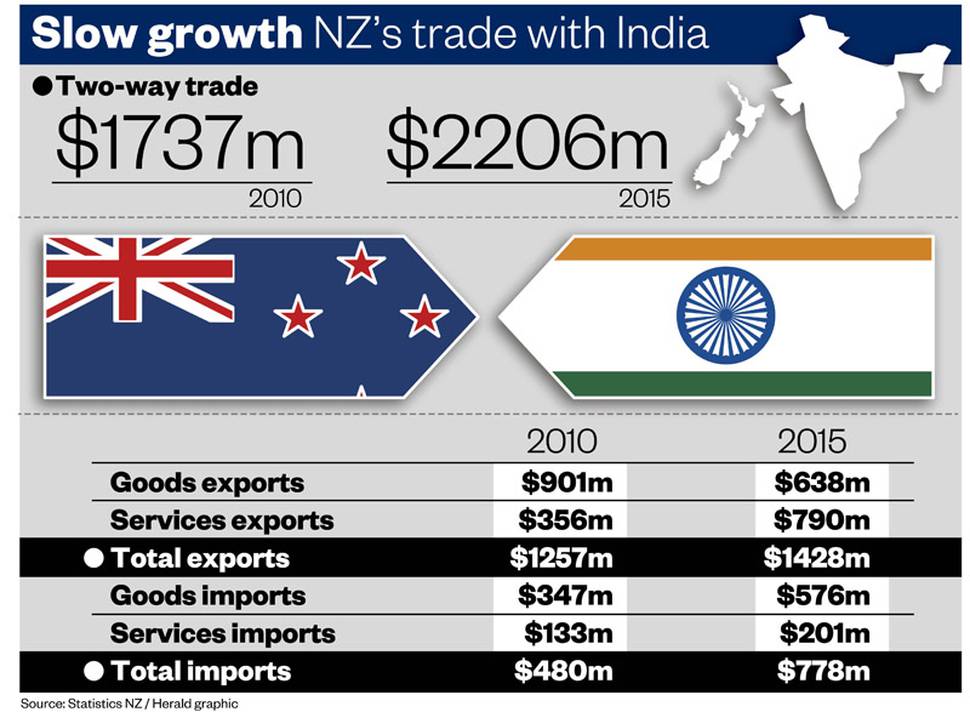 "India is today the fastest growing economy amongst the largest economies of the world," says Mukherjee. "This achievement is particularly remarkable as it has been achieved in the face of global headwinds and a second consecutive year of below normal rainfall."
The International Monetary Fund, he points out, predicts India's economy will grow by 7.5 per cent this year and next.
The World Bank is even more bullish, predicting growth of 7.8 and 7.9 per cent respectively.
There are, however, sceptical voices.
Opposition parties and economists alike have claimed low oil prices have both buoyed India and disguised underlying economic weakness.
The country's exports had dropped to a 15-month low and factory output had fallen, the Bloomberg news agency reported at the end of last month.
Its stocks, bonds and currency were also among the worst performing in Asia for the year.
That's not exactly the message Mukherjee will be pushing during his visit.
"I am confident India is on the verge of a takeoff and we look forward to engaging in close co-operation with the companies and businesses of New Zealand for mutual benefit," he said this week.
Although Mukherjee sees "considerable scope" to strengthen commercial ties between India and New Zealand, he did not explicitly mention the prospect of an FTA.
John Key, who will be meeting the President for bilateral talks tomorrow, is more forthright.
"We will be talking about a range of different issues, but we want to advance a Free Trade Agreement," Key said on Tuesday.
Although negotiations have been going on for more than six years, India New Zealand Business Council treasurer Bhav Dhillon says the signs are still positive.
The blanket FTA will not work ... we need to think in more innovative ways to get into the Indian market.

SHARE THIS QUOTE:
One of India's junior agriculture ministers is expected to accompany Mukherjee during his visit, which Dhillon says shows the "intent on continuing dialogue".
"We are very confident and we are very close to negotiators on both sides ... we don't think there's a deadlock," Dhillon says.
New Zealand is only one of the nations trying to get a trade deal with India and an agreement would therefore take time, he says.
"We always tell the New Zealand Government: don't lose patience and keep working on it and we will get an FTA in the end."
Professor Sekhar Bandyopadhyay, director of the New Zealand India Research Institute, is not so sure.
Since Prime Minister Narendra Modi came to power in 2014, India has become more interested in direct overseas investment, he says. "That's why the FTA negotiation has not gone very far.
"At the end of the day, the party in power is a nationalistic party and economic nationalism is very powerful within Indian politics and particularly within the current regime," Bandyopadhyay said.
The academic, based at Victoria University of Wellington, believes New Zealand needs to approach India in a different way.
"The blanket FTA will not work ... we need to think in more innovative ways to get into the Indian market. The usual pattern which we have been following - which has worked for China or southeast Asia - will not work for India," he says.
New Zealand has expertise in agri-technology and cold chain storage which could be put to great use in India, where a large proportion of agricultural production is wasted.
We will be talking about a range of different issues, but we want to advance a Free Trade Agreement.

SHARE THIS QUOTE:
Aviation, pharmaceuticals and medical research are other sectors where the two countries could collaborate, he says.
Although New Zealand's education and tourism sectors are enjoying strong interest from Indian students and travellers, Bandyopadhyay says there is an opportunity to lift this further.
Mukherjee, too, sees these as areas where New Zealand and India can strengthen ties. "I believe there is considerable scope for further expansion of co-operation in the fields of trade and investment, science and technology, education, agriculture, information and communication technology ... [New Zealand's] tourism and education sectors also have significant strengths which could benefit India," he says.
"I foresee that we are on the threshold of a far closer [relationship] between our two peoples than we have ever seen."
50-year veteran of Indian politics
Pranab Mukherjee is perhaps the definition of a political animal.
The 80-year-old's tenure as President of India caps about 50 years in public office, including terms as Minister of Defence, Commerce, Finance and External Affairs.
His present position, which he assumed in 2012, sees him act as India's head of state and commander of its armed forces.
Born in a small village in West Bengal, Mukherjee is the son of parents who were both freedom fighters in the battle for independence from the British.
His father was a leader in India's Congress party, and Mukherjee rose through the ranks of the same party during his career.
Before being elected to India's parliament in 1969, he worked as a teacher and a journalist after gaining university degrees in both history and law.
Outside of Indian politics, he has served as a board member of the International Monetary Fund, the World Bank, Asian Development Bank and the African Development Bank.