Scale the heights
Take in a 360-degree view of Sydney from the top of the Sydney Harbour Bridge with the award-winning BridgeClimb. Your team will walk along catwalks, climbing over and under the famous bridge - reaching the summit, where you'll have the entire Sydney Harbour at your feet. Take a team photograph at the top, then toast your climb with drinks and canapés served in your exclusive space, while photos of your climb are projected onto plasma screens. Climbs can cater for large groups, recently hosting a corporate climb for more than 2000 people.
Drama queen
Once you've seen it from above, see one of the world's most iconic venues on a private tour of the Sydney Opera House. Your team will have access to areas normally reserved for performers. Stand on the world-famous Concert Hall stage, take up the conductor's baton in the orchestra pit, or sneak a peek inside the stars' dressing rooms. Follow with a performance at one of the world's most celebrated performing arts centres, and a pre- or post-show dinner at the Bennelong restaurant. Backstage tours accommodate a maximum of 12 guests.
Pièce de résistance
Imagine Melbourne's icons and attractions swathed in monumental works of art created by your team. Big Stick Adventures 'Paint the City' programme sees teams create giant artworks which are then displayed in attention-grabbing spaces, such as wrapped around Australia's tallest building, Eureka Tower; covering the surface of the Melbourne Cricket Ground; hung from a helicopter and flown over the city; spread across Federation Square; or carried by boats down the Yarra River. You may even make the news. Suitable for large groups 50-100 people.
Go underground
In the opal mining town of Coober Pedy, South Australia, around half the residents live underground in 'dugouts' - built to avoid the often scorching heat. The Desert Cave Hotel in South Australia is the world's only underground hotel, and offers meeting facilities for up to 180 delegates, along with underground accommodation, underground shops and galleries, and an underground bar and gaming room. The hotel arranges specialised group tours of the South Australian outback, including fossicking for your own gemstones.
Swim with sharks
Come face-to-face with a real Great White Shark in South Australia's Port Lincoln, the home of shark diving in Australia. No diving experience is required, and up to eight people can enter the cage at a time. Your team-mates will be lowered into the deep blue to meet the ocean's top predator. Don't like the idea of being in a cage? Adventure Bay Charters has an 'Aquasub' underwater viewing platform where you can view the fierce creatures while staying dry. Private boat charters can cater for up to 27 guests.
www.adventurebaycharters.com.au
Whitsunday wonders
With dazzling white powder-soft sand, sapphire-coloured waters, and kaleidoscopic displays of coral and tropical fish, the Whitsunday Islands off the coast of Queensland are certain to be memorable for your team. Charter a private yacht and sail at leisure among the 74 islands; take a thrilling seaplane or helicopter ride to Whitehaven Beach, one of the whitest beaches in the world. A private function for up to 300 guests can be held on its sandy shores.
www.whitsundaysbusinessevents.com.au
Australia's red heart
Sunset over the rust-red flanks of the Northern Territory's Uluru is magical when viewed from a camel's back. Your team can ride camels around the base of Uluru and watch the landmark change colour from mauve to burning red. Later, at a 'Sounds of Silence' dinner, a storyteller will share tales from the night sky above. Various sites can accommodate up to 300 guests. Until March 31, 2017, teams can also experience the global phenomenon of the Field of Light art installation, where more than 50,000 lights will illuminate the landscape. For maximum 120 guests.
Whisky Business
Tasmanian whisky has taken the world by storm, winning accolades around the world. Join Tasmania's premier whisky distillers for two days of exclusive tasting and insights into what makes this golden nectar so special at the award-winning Saffire on Tasmania's Freycinet Peninsula. This opportunity is only available for groups booking the entire 20-suite resort, which also includes a day spa, gourmet meals, and tailor-made experiences among the beauty of Wineglass Bay, the pink Hazards Mountains and crystal-clear Great Oyster Bay.
To a tee
One of the finest stretches of golf in the world, the Melbourne Sandbelt in Victoria is home to eight of Australia's best courses. Golf Select can arrange corporate golf days playing one of these exclusive courses for up to 100 guests; or an ultimate golfing tour playing different courses for small groups, including Royal Melbourne (ranked No 6 world and No 1 in Australia); and Kingston Heath (ranked No 27 world and No 2 in Australia). Tee off on a course that has challenged the world's greatest golf champions.
Recipe for success
Whisk your team into a frenzy and see who can take out the title of MasterChef. BBQ MasterChef by XL Events is a combination of reality television's favourite cooking shows, with an Aussie twist. Teams are outfitted with chef hats and aprons, given gourmet BBQ's, cooking utensils, and ingredients, which must be prepared, cooked and presented on time to a panel of judges, before sitting down and enjoying the fruits of their labour. MasterChef programmes are available throughout Australia, and are suitable for around 100 guests.
Lights, Camera, Action!
Is your team ready to star in their own blockbuster movie? Teambuilding Australia delivers a team programme which includes everything your team needs to make a fantastic mini-movie, including costumes, make-up, music, sound effects and actors. Scripts include James Bond, Mission Impossible, Austin Powers, Charlie's Angels, Star Wars, Pirates of the Caribbean, Snow White and the Seven Dwarfs, The Flintstones, The Wizard of OZ, and Batman and Robin. View the finished movies and attend an Oscars-style awards ceremony. Suitable for 100+ guests.
www.teambuildingaustralia.com.au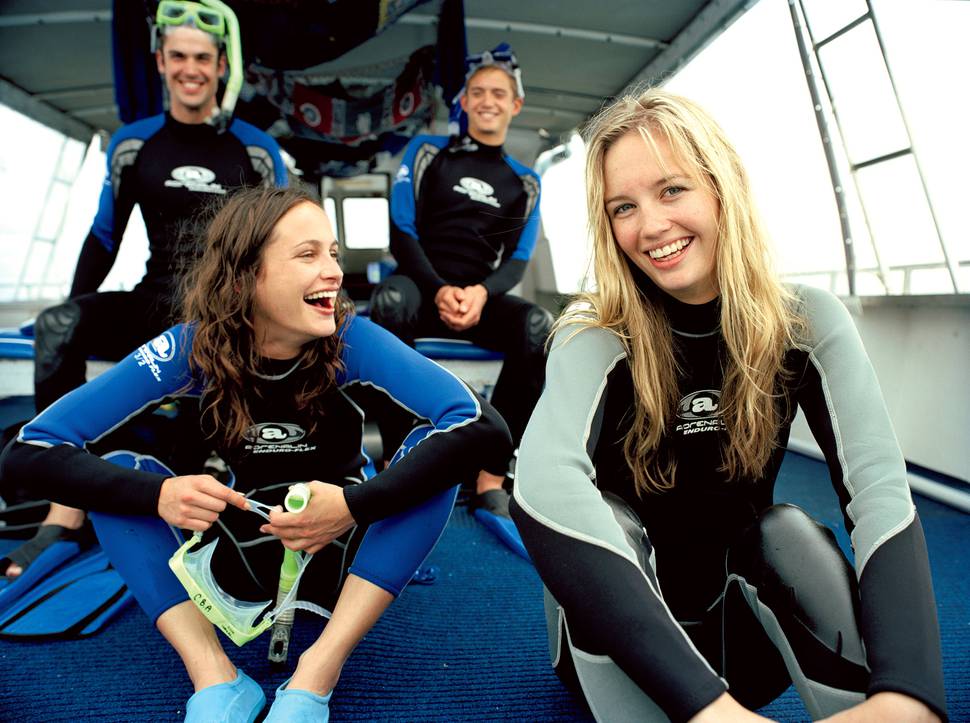 Gentle giants
Swimming with whale sharks at Western Australia's Ningaloo Reef is one of life's most amazing group wildlife experiences. Every year, between March and July, these harmless giants of the ocean congregate in the Ningaloo Marine Park following the mass spawning of coral. A number of tours operate out of Coral Bay and Exmouth, and from this year, some have also been granted permission to swim with humpback whales, one of the only places in the world where this is possible. Maximum numbers of 20, with 10 people in the water at one time.
Brought to you by Tourism Australia