A man who spent a portion of his childhood living in an Air Force base house at Hobsonville Point in Auckland has been part of the team helping with its redevelopment.
Craig Walker lived in the Base Commander's house for three and a half years with his family in the early 1960s while his father was a commander with the Air Force.
This morning, Mr Walker was part of the team moving the house from its original spot in Hobsonville Point to the northern end of Sunderland Ave as the "final flourish" in developer Willis Bond's regeneration of the old Air Force defence base.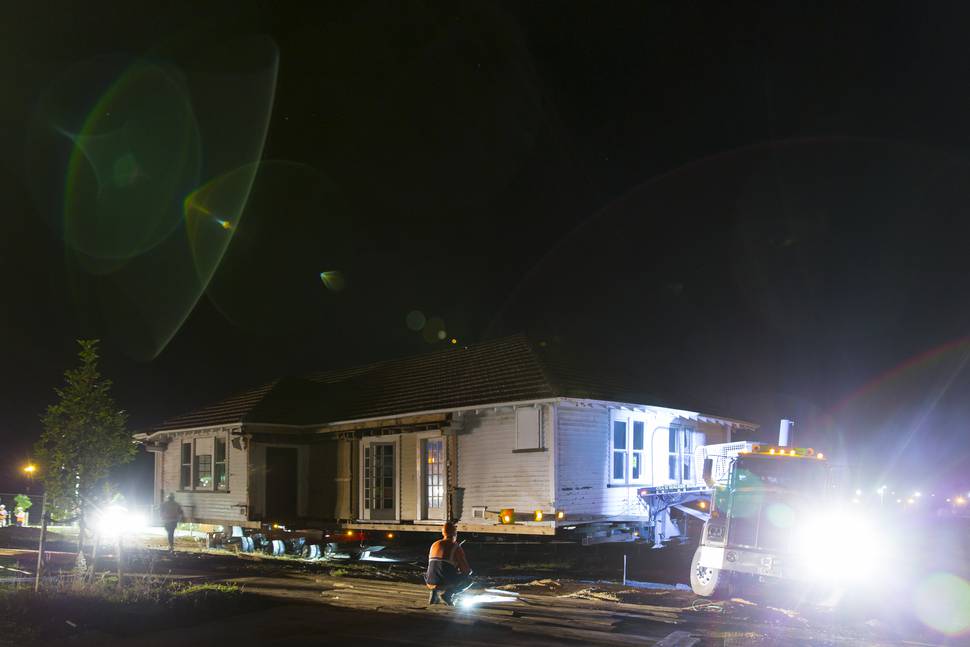 Hobsonville Point has been redeveloped into several precincts, with the Sunderland precinct boasting 11 fully refurbished old air force homes and four being sold as it.
Sunderland gets its name from the Sunderland flying boats which were introduced to the Royal New Zealand Air Force fleet in 1951 and housed at Hobsonville Point.
Mr Walker, who now owns a building removal company in Auckland, said it was something of a coincidence he ended up involved in the project, and digging up and moving the house brought back many childhood memories.
"When we were working on the site and actually loading the house, there were a multitude of childhood memories," he said.
As a child almost all of Mr Walker's friends were children of people in or associated with the Air Force, he said, and they would spend their time playing in the defence base's pool, tennis courts and movie theatre.
"Apart from certain restricted areas, pretty much we had carte blanche of the base, and because Hobsonville Point was on the water we could play in the mangroves and catch fish.
"It was an incredible place to spend your childhood."
Mr Walker guesses at that time in his life he took about two or three so-called "indulgence flights" in Air Force planes every year, a great adventure for a small boy.
An indulgence flight is when a spare space is used for a civilian to ride along on an Air Force flight to a predetermined destination, such as Christchurch.
The fact that the Base Commander's house was now a heritage building was a comfort to Mr Walker.
"In those days the commander's house was quite glorious. It's now a bit run down but I know the land company will restore it to its former glory."
Wayne Silver, director at Willis Bond, said the company was attracted to Sunderland because it was a high quality project.
"Sunderland met that criteria and the heritage homes are a key part because of their special character. We were enthused by the whole Hobsonville Point story. The vision and the quality of the infrastructure is evident the second you arrive."
He described the redevelopment of the Base Commander's house as the final flourish for the project, which could be challenging at times.
"You don't know what's behind the boards until you get in there and pull them off. It is a very different process from a typical property development -- much more a labour of love."
The vision behind Hobsonville Point's redevelopment is to build a sustainable community full of people who can live, work and play locally. Once complete it will be host to a number of retail stores, offices, some 3000 homes and a full dining and entertainment precinct along its waterfront.
Sunderland Avenue is having an open street on Saturday 9th April where all remaining homes are available to view by the public between 11am - 2pm.