Tackling anti-competitive behaviour is one of new dame's many missions.
It's accepted convention that politicians do not attack prominent New Zealanders who have just been awarded high honours.
But when Paula Rebstock was made a Dame in the New Year Honours list, a churlish Andrew Little said she was already well compensated by the Government "including the $2000 a day she charges for her work on Child Youth and Family".
"New Year's honours should be reserved for those who do something extraordinary, who put in some voluntary effort, who go well above and beyond the call of duty and I don't think that's happened in this case.
READ MORE:
• New Year Honours: Dame Paula Rebstock
• Foster parents in line for $80 payment
"The honours system should not be manipulated for political purposes," Little added, overlooking the salient fact that his response fell into the same category.
Rebstock won't dignify the Labour leader's jibes. "I have no comment to make," she said yesterday.
Now back at work after her traditional "January off" with her family to replenish her energy levels before tackling another year's heavy workload, Rebstock says it is impossible for her to identify a single top priority for 2016.
"I work with a number of businesses and organisations, including Child, Youth and Family, ACC, the University of Auckland Business School, Auckland Transport and KiwiRail, "she says. "They each provide important public services to New Zealanders, some of whom are our most vulnerable.
"So my focus is on ensuring that these organisations deliver consistent, high-quality services that Kiwis value. There is an immediate opportunity to improve outcomes for children in state care and to roll out improved services to ACC customers and levy-payers."
She is confident she will make significant progress.
Rebstock's personal presentation is impeccable. It was pouring buckets when we met at NZME headquarters just before Christmas to talk about her impending dameship, but her trademark hairdo was in place. She was well prepared for the pending round of media interviews.
It would be easy to be beguiled by her soft-spoken manner. But her core is steel.
Directors who have served on Government-appointed boards with Rebstock say she will not brook political interference and is unafraid to make it clear where boundaries lie.
Rebstock acknowledges there are always pressures.
"My experience is it is a lot easier if you understand your role from the start," she says. "I think the Government rightfully is quite careful to select board members. It can be a slippery slope but you can't allow it to get to that slope."
I think we put issues around competition and the importance of that to the economy and consumers on the agenda in a way it hadn't been done before.

SHARE THIS QUOTE:
The political environment was certainly toxic when she took on the ACC chairmanship. Former ACC Minister Judith Collins promoted her after John Judge resigned over the Bronwyn Pullar privacy affair.
Rebstock credits Judge with having done a fantastic job to lift ACC's game.
"It was really a surprise to me," she says. "I had only been on the board a short while and we did not have any view over privacy issues, in most companies this matter would not reach board table."
She says the Pullar affair was a shock to the corporation and its directors.
But as ACC checked through its broader files they found many privacy breaches had occurred. "From a board perspective it was hard," she related. "You think, 'Gee why didn't we know and how could we know'. It's hard.
"In that situation we lost part of the board, then we lost the chief executive, it was a pretty serious situation. As a new board we had to recruit a CEO."
What's not often understood is that ACC is the largest institutional investment fund in New Zealand. A business transformation programme will bring with it a new digital interface with customers and the levy-payers.
Rebstock says ACC's approach is to invest early in rehabilitation to save long-term costs. "ACC really needed to reconnect with its customers and make sure services are benchmarked against what our customers needed and our levy-payers said they expected."
"I really think it is going to set a new standard for what can be achieved in Crown organisations," Rebstock says. "The financial performance of the company now is very secure both from focusing on the rehabilitation which is the core business of the corporation but also the tremendous results on the investment side where we have just celebrated our 20th year of out-performing the market.
"You'd struggle worldwide to find other funds that performed so well over that same period."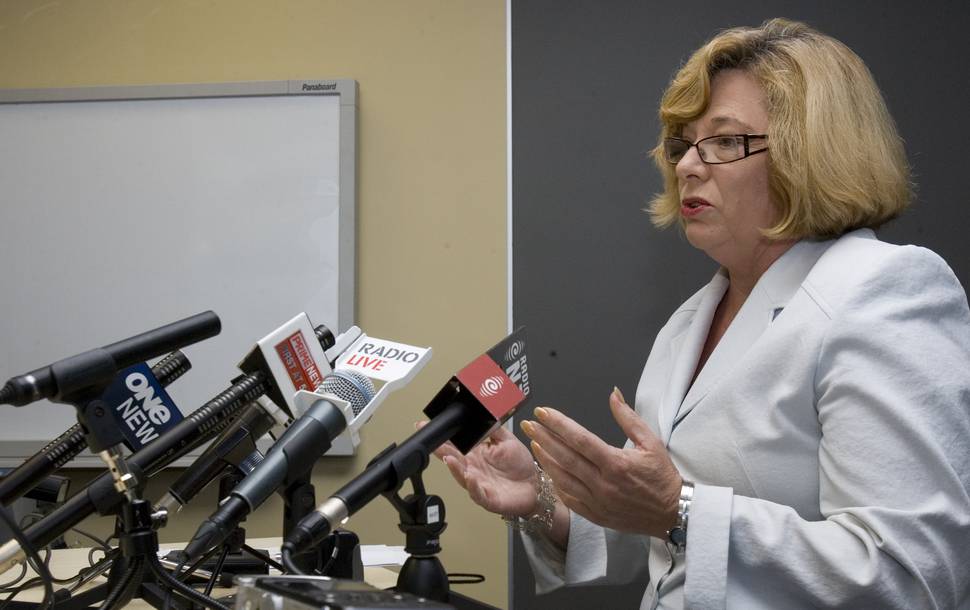 She is clear that while she was appointed during a tumultuous time, both Collins and her successor Nikki Kaye knew where the lines were. "The Government under the Crown Entities Act can't be involved in the operational side of the business.
"No one attempted to cross the line," she adds, explaining that boards also need to understand the Crown's rights as shareholder.
Rebstock's not afraid to rock the boat. Her controversial probe into leaks from the elite foreign ministry, over radical restructuring plans, resulted in a request to the Ombudsman to investigate whether she had played a fair bat.
Rebstock is unrepentant: "You'll never get sound decision-making if ministers can't trust they can be given advice and given an opportunity to consider it without it being politicised.
"The Mfat (Ministry of Foreign Affairs and Trade) stuff was just hard and needed to be looked at and put to rest," she says.
"Some things in your career you do because they need to be done. But they don't fill you with huge joy afterwards."
What did fulfil Rebstock was her lengthy period as chair of the Commerce Commission.
"I really loved being at the commission and as an economist it was a great place to be.
"I think we put issues around competition and the importance of that to the economy and consumers on the agenda in a way it hadn't been done before."
It's no secret that Rebstock was undermined by elements in business when she tried to eliminate cartel-like behaviour from the NZ market.
It is obviously still unfinished business in her book.
Late last year, Commerce Minister Paul Goldsmith became the latest minister to reject official advice to criminalise cartels by removing a clause from legislation.
Rebstock reckons there will come a day when a cartel is prosecuted across jurisdictions.
"We know with some of our industries the prices are really high. You can say we are far away but we can't kid ourselves, a business downstream will pay a consequence in terms of its own competitiveness.
"You might get away with it in NZ and consumers have to pay for it. But when other businesses have to compete offshore or if they themselves face monopoly or duopoly prices there are real consequences."
She emphasises other countries don't struggle with this.
"In the US which has a pretty business-friendly environment, nobody there would question whether cartels were a significant risk not just to consumers but the wider economy and businesses.
"Watch this space."