See how the five years, seven month jail term for Alex Swney stacks up against sentences received by other notorious white collar criminals.
Former Heart of the City boss Alex Swney was jailed for five years seven months today in after pleading guilty to charges laid by the Inland Revenue and Serious Fraud Office covering "sophisticated" offending over more than a decade.
The ex-mayoral candidate has been on bail since charges were laid last year but will now swap his plush Ponsonby pad for a jail cell.
The most recent offences, which Swney admitted after a Serious Fraud Office investigation, involved dishonestly using 229 false invoices to obtain $2,527,005 from the organisation between February 2004 and October 2014.
In January, he pleaded guilty to four representative charges covering 12 years of offending and $1,757,147 of unpaid taxes.
A summary of facts filed by the IRD showed how Swney issued "various fictitious invoices" to Heart of the City, from which he benefited.
Read also:
• Alex Swney jailed: 5 years for stealing $4m he thought he was owed
• The downfall of Alex Swney
Investigators questioned several organisations - including the New Zealand Herald - over the authenticity of the invoices and determined they were created "without authorisation".
Swney is also on the end of a civil action launched by Heart of the City, whose board announced the move in December after forensic accountants scoured their finances.
Swney's timeline of events
1994
- Swney registers Heart of the City as an incorporated society and becomes chief executive
2007
- Fails in a bid to become Auckland mayor
Sept, 2011
- During a routine review IRD finds anomalies with a GST refund claimed by Heart of the City (HOTC). The invoice number does not match the name of the company and leads them to Swney
April, 2014
- He appears in Auckland District Court facing 39 tax evasion charges laid by the IRD
May, 2014
- Judge Grant Fraser suppresses Swney's name and that of HOTC
Sept, 2014
- His contracted is terminated by HOTC
Oct, 2014
- Swney pleads not guilty to 39 charges laid by IRD and his name suppression lapses
Dec, 2014
- HOTC confirms an independent investigation had been completed and they would be pursuing the former CEO through civil proceedings
Jan, 2015
- Swney pleads guilty to four representative IRD charges covering $1.8m offending
Feb, 2015
- HOTC confirms seven events will miss out on funding because of costs incurred on investigative and legal efforts
April, 2015
- The Serious Fraud Office lays four charges alleging a decade of false invoices covering more than $2.5m. Swney pleads guilty to the charges
April, 2015
- The defendant gets a last-minute reprieve when Judge Fraser falls sick and postpones the scheduled sentencing
May, 2015
- The civil case between Swney and HOTC is called behind closed doors in the High Court at Auckland for the first time
June, 2015
- He is jailed for five years seven months for what the judge calls a "gross breach of trust".
How it stacks up - recent white collar criminal sentences:
David Ross - 10 years 10 months
Believed to be the country's biggest fraudster, David Ross is serving a sentence of 10 years 10 months' jail after swindling investors in a ponzi scheme.
The 65-year-old's elaborate fraud, spanning 12 years, cost hundreds of investors their life savings and retirement funds.
Ross, Wellington financier and former head of the Ross Asset Management (RAM), was sentenced at the Wellington District Court in 2013 to 10 years 10 months' jail
In total, $115.5 million of investments is estimated to have been lost in the group, which folded in November 2012. Prior to its collapse, Ross had led investors to believe they had $351.5m in client portfolios.
A minimum non-parole sentence of five years and five months was imposed by the sentencing judge.

Michael Swann - 9 years, 6 months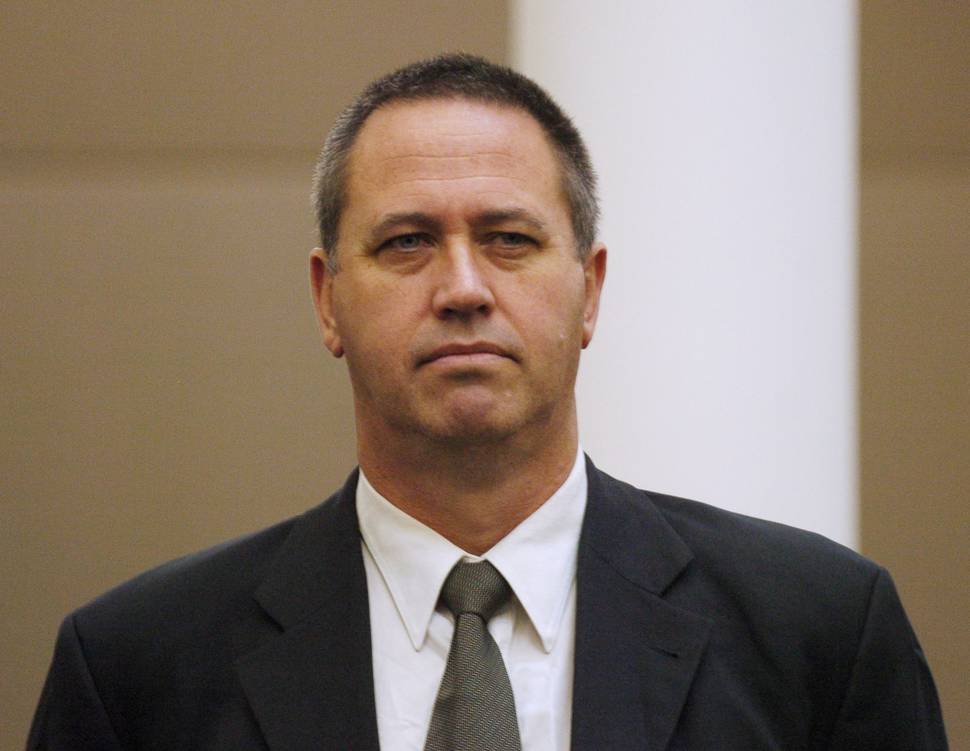 Michael Swann was sentenced to nine years six' months jail in 2009 for his part in defrauding the Otago District Health Board of $16.9 million. He spent almost $11.6 million on boats, flash cars and properties - buying some with suitcases of cash. A former employee of the health board, Swann was released on parole earlier this year after serving four years and eight months of his sentence. As at July, police had recovered about $3.6 million from Swann, mostly through the sale of assets seized under the Proceeds of Crime Act. Millions of dollars more remain unaccounted for.

Neal Nicholls - 8 years, 6 months and Wayne Douglas - 8 years, 2 months
The founders and beneficial owners of failed finance company Capital + Merchant, Neal Nicholls and Wayne Douglas are serving sentences of over 8 years in jail each. This followed a Serious Fraud Office trial where the men were found guilty of theft by a person in a special relationship for a series of loans totalling almost $20 million.
The pair loaned investor money for their own benefit in ways that breached Capital + Merchant's trust deed. In sentencing them, Justice Edwin Wylie said the directors' actions were cynical. "The offending was sophisticated," he said. "Each of the offenders was driven by self-interest and greed."
The men both got 7 and a half years in jail and had their sentences extended to after pleading guilty to Financial Markets Authority charges. C+M collapsed in November 2007 owing $167 million to 7500 investors. They are likely to see none of their money back.

Gavin Bennett - 8 years
This Christchurch businessman was behind a $103 million fraud that funded his "lavish and "grandiose" lifestyle. Gavin Bennett was sentenced to 8 years' jail last year after pleading guilty to a running a Ponzi-style scheme which swindled South Canterbury Finance for at least $23 million. He is the former owner of IT firm DataSouth and pocketed millions from the six year scam, at times partying with models and drinking "Dom Peringnon like it was Speights". Judge Jane Farish when sentencing Bennett said it was "an unprecedented level of fraud in our criminal history".

Jacqui Bradley - 7 years, 5 months
Jacqui Bradley swindled 28 investors out of around $15.5 million through her business, B'On Financial Services Ltd, which she ran with her now-deceased husband. In 2012 she was sentenced to seven years and five months' jail for her prolonged and premeditated defrauding of clients.
Bradley's clients - who handed over millions of dollars - were told their money was securely invested with a Macquarie Bank fund in Australia, or had been used to buy New Zealand Government stock and gold futures. Instead, client money was in a "classic Ponzi scheme" being used by the Bradleys to repay other B'On investors and fund the couple's lifestyle.
Investors' money was spent on school fees, clothes shopping, payments on a BMW and the mortgage on a Remuera home that was valued at $4.7 million in 2008, the Auckland District Court heard during her trial.

Rod Petricevic - 6 years, 10 months
One of the most vilified faces following the wave of finance company collapses around the global financial crisis, former Bridgecorp director Rod Petricevic is presently serving a sentence of six years, 10 months in jail for misleading investors and fraud charges. He was sentenced following two separate cases from the Serious Fraud Office and Financial Markets Authority Bridgecorp collapsed in July 2007 owing 14,500 people about $490 million.

Ken Anderson - 6 years
Ken Anderson, the former boss of a Canterbury clothing manufacturer that kitted out some of our greatest sporting heroes, was jailed in 2013 for his role in a multi-million dollar fraud.
Anderson was the sole director and ultimate shareholder of century-old Lane Walker Rudkin (LWR) when it went into receivership in April 2009.
After a 21-month investigation, the Serious Fraud Office (SFO) laid 61 charges against him in 2011 for allegedly fabricating financial documents to gain loans from Westpac.
As a result of the fraud, losses of $70 million were suffered.
The SFO also laid 21 charges against him for allegedly using fake documents to gain funds with a letter of credit facility from Westpac.
In 2013 Anderson pleaded guilty to three representative charges.
The charges state that between November 2006 and March 2009 with intent to obtain a pecuniary advantage, dishonestly and without claim of right Anderson used or attempted to use a document to obtain funds from Westpac, and for credit transactions between another company he was connected with.

Stephen Versalko - 6 years
A former investment adviser at ASB Bank, Stephen Versalko stole $17.8 million from its customers over nine years before being discovered and jailed. Versalko spent most of the stolen funds on multimillion-dollar homes and a lavish lifestyle, this included paying at least $3.4 million to two prostitutes and showering them with $800,000 of gifts. He was sentenced to six years in jail in 2010.