It's a shame that Kim Dotcom ended up hogging the debate around surveillance, privacy and technology and used it as a battering ram against Key and National because it's actually a very important issue that affects us all.
The societal impact of having an all-knowing state apparatus that can pinpoint where we are at any given time, know who we talk to (and in some cases what we say) and be able to delve back years into archived material to map out our actions should be of concern to anyone.
Automated large-scale surveillance through phone records and other automatically gathered data has not ever been on any party's published agenda, yet it's happened over the years without transparency.
I think it's fair to say we don't know the half of it, despite Snowden's leaks. Americans are currently scratching their heads over the discovery of fake cell phone towers across the United States (Bruce Schneier has links to all the stories on his site) for instance.
These towers appear to be for surveillance only, capturing and recording data from and of mobile phones that connect to them. Nobody knows who operates them however, or where the snagged data goes.
Such information can be used for good like when the police asked telcos for phone records to work out who might have been near Rutger Hale who died in a freak accident last year near Lake Hawea.
However, it can also be used to figure out for instance if journalists have met their sources somewhere, and to keep track of political opponents.
People and companies - much of the surveillance is for commercial purposes, not to catch terrorists or anything - are starting to resist being unwilling participants in the quiet panopticon experiment though.
Apple and Google have both said they'll make it harder to extract information by strengthening device encryption and also by security their infrastructure.
At a personal level, people are starting to use encrypted services in increasing numbers.
That's the result of a runaway surveillance machine that everyone clearly feel uncomfortable with, but which our politicians refuse to discuss properly.
Is that really how it should be?
High-waisted hackers hang out
I bet quite a bit of the above will be discussed at the annual Kiwicon security conference in December, with
undoubtedly getting a special mention. I don't know if Rawshark will be there in person, or as several people, but you never know.
Despite their unhealthy penchant for all things 80s, the Kiwiconsters are by and large a cool crowd and the conference should be in the calendar of security conscious people.
More detail in lovely plain text on the Kiwicon website including instructions on how to submit papers for talks.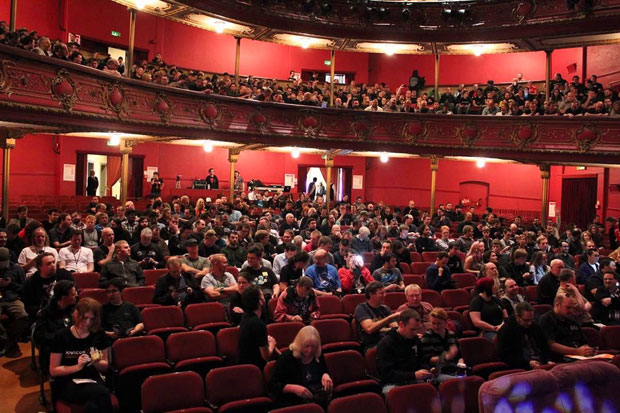 Photo from Kiwicon 7 2013; Source: Mike Forbes
Kiwicon 8 will be held at St James Theatre in Wellington with training sessions starting December 9, conference kicking off on the 11th, and everyone collapsing in a heap three days later.
Students/unemployed pay $30, those with jobs and wherewithal cough up $80 plus whatever they feel like on top.
Gear: Panasonic Lumix DMC-FZ1000 camera
I'm always looking for a ways to lighten the load when travelling for work, and one of the things that burden me the most is having to lug a DSLR with lenses, a tripod and other bits around for work.
When Panasonic lent me its new FZ1000 I was keen to see if the image quality was good enough to replace my DSLR at least for some jobs. The long and short of that is, yes almost, but moreso, I think the FZ1000 would be a very cool travel camera for many people.
To me, the FZ1000 feels light and a good size with its compact, mainly plastic housing.
That's a matter of opinion though as I'm used to my large Canon EOS 7D with swappable lenses, and some people will find the FZ1000 on the big side.
There's the usual long-as-your-arm list of features built into the FZ1000, but some of the more important ones are Wi-Fi, a great electronic viewfinder, and tiltable/flippable rear screen which isn't touch enabled oddly enough.
The biggest (literally) reason to be interested in the FZ1000 is the 16-times optical zoom Leica DC Vario-Elmarit lens. This spans a massive 9.12 to 146mm focal length natively, which converted into 35mm equivalent is the same as 25 to 400mm.
In other words, the FZ1000 goes from a good wide-angle to a long tele, which can be expanded to 800mm with digital zooming. The latter provides acceptable quality for those times you can't get close enough but really must have a picture.
The optically stabilised (to prevent blur) lens on the FZ1000 is also fast at f/2.8 to f/4.0 but there are some caveats here. First, f/2.8 is only available at full wide angle; zooming towards the tele end, the lens is only f/4.0.
Second, the smallest aperture is f/8.0. I asked Panasonic NZ about this, and their theory is that the lens couldn't fit longer aperture blades for f/16 and f/32 stops. Either way, this can become a handicap in very bright light.
Panasonic compensates for the lack of small apertures to some degree with fast shutter speeds - 1/4000 of a second with the mechanical curtain and a whopping 1/16000 of a second with the electronic one. Using the electronic shutter has its pros (speed, silence, no vibrations) and cons (can cause a rolling, distorting effect with fast object) however.
You can even shoot 4K video with the FZ-1000 at 3,840 by 2,160 resolution, 100Mbps bitrate and 25 frames per second - the manual says 24p, but I wasn't able to set the camera to that; in NTSC mode it looks like you can shoot 4K at 30fps.
That's great stuff and having four times the resolution of standard 1080p high-definition really does make a difference, if you can display it of course.
However, 4K recording is only available in Creative Video mode which means you'll have to set aperture and shutter manually; also, the video file format must be MP4, not AVCHD. Also, you'll need a fast UHS Class 3 SD card as the files are big.
Does the FZ1000 take good pictures then? Yes, very much so. There's a larger than usual for compact cameras at least, one-inch sensor with 20.3 megapixels that means you can go up to 1600 ISO sensitivity without too many worries, and 3200 at a pinch. It can go up to 12800 and 25600 but those are for emergencies only.
JPEGs out of the camera look sharp with good colour, but for even better results, shoot in RAW mode and edit images yourself. The lens is acceptably sharp throughout the focal range but what really helps is how responsive the FZ1000 is, and also, the very fast auto-focus
Thanks to the quick AF, I was able to snap a picture of the RNZAF's new trainer aircraft as it flew fast over Auckland some weeks ago, high up in the sky. Normally, it's just luck if your camera manages to lock on to objects miles away and focus correctly, but the FZ1000 is a particularly good performer in that respect.
My biggest gripes with the FZ1000 was Panasonic's menu system for setting up the camera - I had to resort to the manual quite a bit - and the annoying lens cap that kept falling off.
Battery life could be better (get a spare) and the NZ price isn't very sharp at $1,368 including GST when the FZ1000 goes for just over a grand with US online retailers.
That aside, the FZ1000 does fairly well as a jack of all trades and is worth considering if swapping lenses isn't your bag.