In the third of a six-part series on exporting to China, Paul Lewis looks at the competitive advantage New Zealand dairy products have – in spite of the recent botulism scare – and the prospects for growth.
If there was a reason for optimism about New Zealand's continued growth in dairy exports to China - in spite of its economic slowdown and the Chinese government's efforts to boost the local industry - it was under our feet as we toured a local dairy farm not far from Beijing.
It was effluent from the cows, and plenty of it. We padded cautiously in and around it, our shoes protected by plastic bags.
The run-off came from hundreds of cows in sheds, their heads craning through the barrier to get at their feed; their rear hooves in the effluent which was sluiced out as the cows headed off to milking. It collects between the sheds and is run into pits - and then pumped into concrete mixer trucks which haul it off to be used as fertiliser elsewhere.
It seemed primitive to New Zealand eyes. It was about 31 degrees on a sunny day and the cows were cooled by water sprinklers and fans.
No Kiwi should be too holier-than-thou about effluent when the dairy industry is coming under environmental criticism at home for the same run-off and its effect on the country's waterways. In addition, the same company had another farm close by - this one cleaned by an automatic system, the giant 480m-long shed cooled by air conditioning and the cows looking much more comfortable. It showed how China is catching up fast in dairy techniques and production.
But, in both operations, something was missing: clean, green, lush New Zealand grass. Even once you overcome the distinctly Kiwi feeling that cows should be in paddocks (acknowledging the existence of indoor farming in New Zealand too), it is noticeable China lacks that grass which produces high quality milk.
That is New Zealand's ace in the hole. Any visit to China and a study of its recent dairy history ensures that word 'quality' recurs.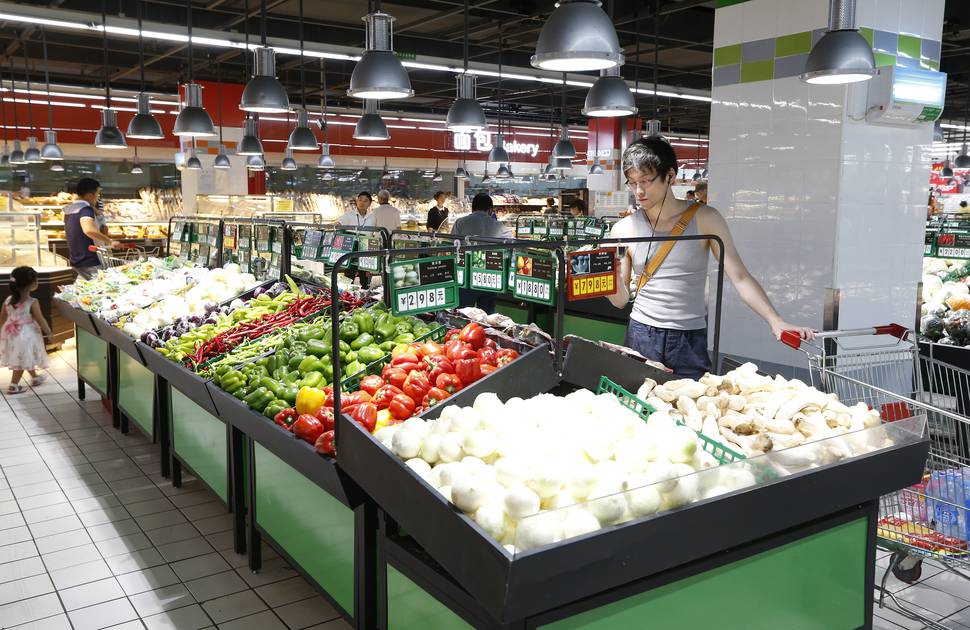 Already dairy exports are reaching over $16 billion in the year to April and China, our biggest trading partner, takes over a third of that. It's an enormous figure (doubling in the year to April) and is targeted for more growth; quality products which attract a premium are universally seen as the way to achieve that.
But it's also a treasure trove that must be carefully guarded. China is full of tales of companies glowing with the benefits of accessing China only to lose market share staggeringly quickly when something goes wrong or trends, patterns and tastes change.
The problem for China's dairy industry is not just underfoot, as with effluent and land problems. It is also in the air - literally and figuratively.
The government is moving to address the vast pollution problem which stems largely from China's coal-burning power stations, an already large and rising number of vehicles, and industrial expansion.
Mark Tanner, managing director of China Skinny - a marketing, online and research agency in Shanghai and the author of one of the most penetrating blogs from China - quotes some chilling statistics. He says research in January (a bad month for pollution in Beijing) showed the air quality in Beijing was worse than being in an airport smoking lounge with 16 people smoking.
Deaths from lung cancer rose 400 per cent between 1983-2013 while asthma problems had increased 40 per cent in the last five years. "The problem [with China's pollution] is that it is made up of very fine particles, much smaller than elsewhere. It gets through your nose hairs and into your lungs; it's toxic."
"One quote from a government agency said that Beijing was almost uninhabitable for human beings. Some time ago, the only way you would have heard that was from foreign media. But that quote shows that the government is being a lot more open now about admitting there is a problem."
Few would bet against China beating its pollution problem eventually. It is that kind of country; little seems beyond it. But it will be a long "eventually". Water shortages and quality is a growing issue; so too fading amounts of farm land because of erosion and more pollution. Foot and mouth disease, while there has not been an outbreak for a year, may not have been totally eradicated. About 22 per cent of the national herd was culled after the last outbreak.
In the air, figuratively speaking, is another issue - cynicism. Chinese consumers, says Tanner, have been exposed at a very early age to so much advertising and broken promises that they believe little they are told by local commercial interests. He says an example last summer was the new lion at a zoo in Henan province.
The new arrival was marketed well and kids flocked to see it. But they were surprised when the "lion" began barking. It was a Tibetan mastiff - a mane-like ruff made it look similar but a lion it wasn't.
"From a young age, Chinese consumers are exposed to fakes," says Tanner. "From phony lions to rat meat sold as beef and lamb to bogus Apples stores, it's for good reason that Chinese consumers have trust issues."
So Chinese consumers, faced with pollution, credibility and quality issues, vote with their shopping trolleys at supermarkets and other outlets. They often look to foreign imports for quality as the consumer base becomes more sophisticated - although the government is making significant moves to shore up the local industry and China's consumer base is also becoming more nationalistic. In 2012, only 14 per cent would buy local branded luxury goods; now it's up to 40 per cent.
That means dairy exporters, led by Fonterra, have a delicate line to walk. Fonterra, in spite of the botulism scare, more than doubled its six-month revenue from July 2013-January 2014 to $3.15 billion - compared to $1.28 billion in the same period the previous year. Growth of $1.87 billion from China fuelled most of that growth.
What this all adds up to for New Zealand dairy exports is opportunity, even after the botulism scare. Chinese consumers had their confidence in their local industry badly dented after the 2008 melamine scandal which saw 300,000 babies sick; six died.
Even reputable local dairy players did not escape the loss of faith. Foreign milk companies rushed in to take advantage while some local firms moved processing offshore to help restore reputation and the quality equation.
Then the botulism scare rocked Fonterra last year and prefaced Chinese moves to reduce the number of players in the dairy industry (local and foreign companies, including some from New Zealand). With fewer players, regulation of the industry (ensuring quality) will be easier as will the creation of bigger players with integrated supply chains.
Many of China's dairy farmers have small holdings and tiny herds of only a few cows - difficult to control. So the Chinese government is consolidating the local industry and has sought to control dozens of dairy brands of doubtful origins.
They are also promoting locally grown milk products over imports to help the local industry recover and grow and there are slightly conflicting opinions on how well Fonterra emerged from the botulism scare.
It's agreed that the company - and New Zealand as a whole - did well to take responsibility and face the issue directly. But not everyone thinks that Fonterra escaped unscathed. Tanner estimates that about 50 per cent of the Chinese population still do not realise that the scare was just a scare; the botulism fright was reported widely but not so the fact that it had been a false alarm.
Another Kiwi in China, Scott Brown of RedFern Associates, a consultancy which specialises in helping businesses enter the complex China market, says Fonterra were eventually viewed favourably for "coming out and fronting" the issue.
"There was a lot of social media about this issue and I remember the comment by a Chinese mother online which basically said that she knew they [Fonterra] had made a mistake but they admitted it - and she said she would continue buying their product for her baby.
"Okay, the timing was terrible and it gave an enormous advantage to Irish, French and Chinese companies in a very competitive market but I believe that is the prevailing attitude about Fonterra." He said the damage was to 'Brand NZ' and, while it was recovered, some smaller New Zealand companies paid the price.
Now Fonterra is engaged in moves encouraged by the Chinese government to help local companies develop and grow which, to some, looks like giving a competitive business advantage away. The reality, however, is partnerships in China will be needed for Fonterra to grow in the long term.
China is not putting all its food and beverage eggs in one basket. Recent acquisitions of international producers have grown as that middle-class hunger for a more affluent diet outstrips China's ability to produce it.
Recent acquisitions include US$1 billion for Tnuva, the Israeli cheese and consumer foods company, Weetabix, the UK breakfast brand; China grain trader Cofco recently spent US$1.5 bn on a joint venture in sugar, soya bean and wheat with Hong Kong giant the Noble Group.
Zizhong Yang, CEO of Nomura China, told Thomson Reuters this month: "As China's middle class becomes richer, their taste for goods and services will become more sophisticated. Local supply is not sufficient so they have to look outside China. Food security and safety has been a pivotal issue...with abundant capital, China would rather buy than import."
There is, too, one other statistic that underlines how long it will take China companies to get anywhere near New Zealand's level as a producer. China wants to grow and consolidate its national dairy herd so that 70 per cent of its farmers have more than 100 cows. In 2008, only 20 per cent had more than 100. By mid-2013, they had reached 35 per cent.
So New Zealand's "trusted partner" status is an important factor as Fonterra and others strive to help attain the ambitious growth figures for this export market. Some studies strongly suggest more moves into premium products will drive a 20 per cent growth rate in that area.