Major growth in crowd-funding site donations shows depth of Kiwis' generosity is still waiting to be plumbed.
Online fundraising site Givealittle hit $10 million in donations this week - a milestone its founder says shows how generous Kiwis are.
Donations have grown exponentially in the past 18 months and just under $8 million has been raised since a zero-fee policy was introduced under the Telecom Foundation's ownership in November 2012.
Stories featured in the Herald which tugged at Kiwis' heartstrings and got them to dig deep were the campaign to send father-of-two Robbie Ritchie to Germany for an operation to stop seizures and save his life; the bid to bring baby Lily home after she was born three months early on a stopover in China; and the fundraiser to prolong Jared Noel's life so he could be at the birth of his baby daughter.
Social entrepreneur Nathalie Whitaker developed the crowd-funding site in 2008 to create a place where Kiwis could ask for donations.
Although it was built with funding from angel investors it had relied on a 5 per cent administration fee, which had inhibited its growth.
Mrs Whitaker said most growth on the site, which she described as "the Trade Me of giving in New Zealand", had occurred in the past 12 months when $6 million of the $10 million had been raised.
At the time of takeover, Givealittle had clocked $2.3 million in donations.
"Its [zero fees] is a huge enabler because there's an awkwardness around fees in our space because the causes are so great, and the idea of having to take fees away in situations where people need life-saving treatment or it's a memorial situation where every dollar counts, we can really empathise with the way donors see the world and see that they really want 100 per cent of what they give to get through."
Although $10 million raised for 3072 organisations or members was a worthy milestone for Givealittle, Mrs Whitaker believed it had a long way to go to become a major channel for generosity when there was $1.5 billion to $2 billion of personal giving every year in New Zealand.
"New Zealanders are very generous and people love to help, but what stands between people getting help in most cases is their ability to ask for help. I've always hoped we could get to a place where anybody who needed help or needed funds would know Givealittle existed."
The organisation was also developing ways to help businesses better engage with the site and creating a function so people could donate directly from their pay.
Between 20 and 30 campaigns are uploaded onto the site each day and $50,000 raised each month, but this is predicted to reach about $1 million a month before the end of the year.
Recovering seizure sufferer may return to soccer
For my wife it is a weight off her shoulders. One less thing for her to worry about - the fact I'm going to be around for a lot longer. Robbie RitchieRobbie Ritchie is making plans for his future for the first time in 10 years.
The 34-year-old had put his life on hold because he suffered more than a seizure a week and thought a brain haemorrhage would kill him before he was 40.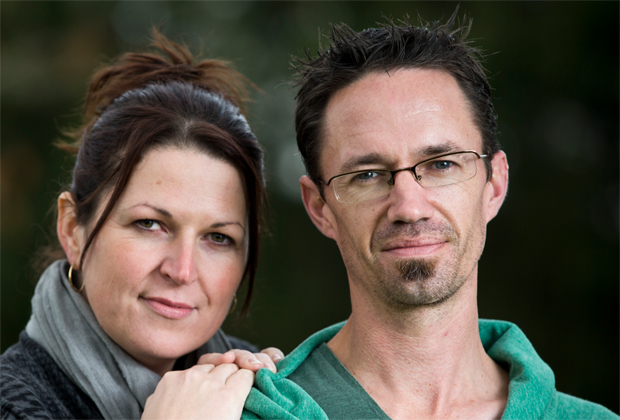 Robbie Ritchie, pictured with wife Jacqui, was assisted by Givealittle to have surgery in Germany. Photo / Greg Bowker
But a life-saving operation in Germany last August, funded mainly by $156,949 of donations made through Givealittle, has cut the incidence of seizures to one in the past eight months and given him a normal life expectancy. The money was raised in seven weeks.
Mr Ritchie has endured seizures since he was 14 years old because of an abnormal collection of blood vessels in his brain, called arteriovenous malformation.
"In six days we raised $100,000 through Givealittle. It was extremely fast. Someone at Givealittle spoke to my wife Jacqui and we broke their system. Too many people were trying to give at once. It was pretty amazing to go through that and quite humbling."
The surgeon in Germany had told him there were no restrictions on what he could do other than spend too much time in the sun for fear of melting the glue they used in his head, so he is now planning to take up soccer again and thinking about career options. He works as the complaints handler for an energy company.
Mr Ritchie is also about to become a father for the third time as he and Jacqui are adopting a baby boy. The couple, who live in Patumahoe, near Pukekohe, already have two children, Alex, 9, and William, 5.
"Life is changing. There are things I'm doing now that I hadn't considered before," he said. "For my wife it is a weight off her shoulders. One less thing for her to worry about - the fact I'm going to be around for a lot longer."
The couple are also using their experience to help others. They are launching a website, One Dollar Warriors, for people willing to give $1 to those who need medical treatment unavailable in New Zealand.
Sharing his experience with the International Neuroscience Institute in Hanover has led to two other New Zealanders who had been given short life expectancies being operated on in Germany.
Mr Ritchie said he found it frustrating that New Zealand neurologists were not using the technique that helped him.
Cancer hit dad gifted precious time with baby Elise
Every extra minute Jared Noel spends with his baby daughter is a bonus.
The 33-year-old doctor has been suffering from bowel cancer for five years and knows he's on borrowed time as he relies on drug Avastin to slow the growth of his tumours.

Jared Noel says his next milestone is Elise's first birthday. Photo / Sarah Ivey
Dr Noel worked as a health officer at Auckland City Hospital until October last year, when he left because of the toll being taken by fortnightly chemotherapy sessions. He met his initial $60,000 target to cover 10 rounds of drug treatment - buying him a few months so he could be at the birth of his daughter - within eight hours of starting the Givealittle campaign in October.
The campaign was a huge success and the $170,000 raised to date has fulfilled his dream of being able to hold his baby daughter Elise when she arrived four days early on January 17, weighing 3.8kg.
The funds are now helping him and his wife, Hannah, who is on maternity leave from her job as a paediatric registrar at Waitakere Hospital, live and fund additional rounds of drug treatment.
Dr Noel said it was unknown how long he had left to live but it could be between three months and a year depending when his body stopped responding to the life-prolonging treatment or when the donations raised through Givealittle ran out.
In the meantime, he and his wife were cherishing every moment he had with his daughter and were busy documenting the short time she will have with her father in photographs and videos. They were currently spending a week holidaying in Rotorua.
The biggest thing that has surprised me [about fatherhood] is the fun you get out of it and the joy of watching your child grow and develop. Learning to smile, laugh and grow - it's pretty precious. It's hard to put a price on that. I know at some stage that is going to stop for me. I'm not going to see it all through, but we knew that when we went ahead with the pregnancy. But certainly we are just relishing the time while we have it and enjoying having her around and having lots of fun with her."
Dr Noel said the next milestone would be reaching Elise's first birthday.
Over the last five years I've done 87 rounds of chemotherapy so I've outlived everyone's expectations from the get-go," he said. We've always just focused on living the life I have left as best as possible and not focusing on the fact I'm going to die."
Top 10 campaigns
• Become someone's angel - $260,103.10
• NZ Red Cross Samoa Tsunami Relief - $208,952.59
• New Zealand Red Cross 2011 Earthquake Appeal - $206,593.25
• Help Tobi and Sarah get a house - $201,610.00
• Help Jared Noel meet his baby girl - $170,175.30
• Red Nose Day - $169,588.90
• Team New Zealand AC 35 Campaign - $166,125.00
• The Lifewise big sleep-out - $158,489.84
• Robbie needs his brain fixed - $156,949.69
• Get Lily home - $101,084.50