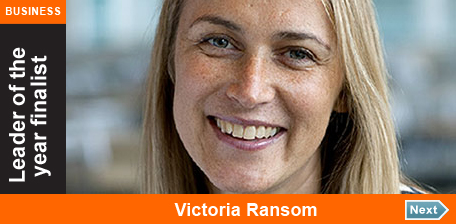 We'll be running our nominees for Business leader of the year over the next three days with the winner featured in the Weekend Herald. Let us know who you think deserves the award at business@nzherald.co.nz
Kiwi entrepreneur Victoria Ransom could well be the wealthiest person to hail from the tiny Manawatu settlement of Scotts Ferry, population 64.
Earlier this year, the 36-year-old sold her social media marketing company Wildfire to Google for a figure thought to be in the hundreds of millions of dollars.
Wildfire builds online tools to help companies with their marketing over social media networks such as Facebook and Twitter.
Born and raised in a tiny settlement near Bulls, Ransom is now working for Google in San Francisco but plans to come back to this part of the world to marry business partner Alain Chuard. The pair worked as investment bankers in New York before starting an adventure tourism company where they stumbled across the idea for Wildfire.
Ransom likes to think of the incident as a "unexpected opportunity".
"I've definitely been a risk taker and haven't tried to plan my career at all," she said in September. "When you try to plan too much you miss out on unexpected opportunities."
Wildfire is not a pure New Zealand success story, the company having being formed in the US, but Ransom believed it was possible to build and keep technology startups here.
For that to happen she said New Zealand needs to encourage young people into the tech sector and create a culture where people are driven to start businesses.
"In Silicon Valley there is just kind of this mindset that this is what you do, you start companies."