When Te Uru in Titirangi opens today, visitors won't just be looking at the art. With its playful staircases, five rooms and unique bush and harbour views, the new space the reincarnated Lopdell House Gallery is an artwork in itself.
"None of the rooms are a generic white cube," says Te Uru director Andrew Clifford, during a peek inside a few days before opening. "Each space has its own character and I think that makes it much more interesting."
Not everyone is fond of the building's jade-green exterior, chosen to emulate the natural patina that occurs on copper, a reference to the aged heritage building of Lopdell House next door. But big things are expected within. Ten years in the planning and two in the building, the $20 million expansion project includes the refurbishment of the entire precinct, and the new gallery means West Auckland now has its own high-spec cultural hub, allowing it to put on more ambitious exhibitions that will draw visitors.
"Suddenly the world's your oyster," says Clifford. "It's an exciting thing for this community to have, it is very much going to be an international gallery, not - as some would assume - a community gallery just to show community works. It will be very focused on the community in a range of ways, in terms of showing local artists. But I think putting that local work in context with what's happening internationally is much more valuable."
The makeover goes back to the late 1990s when discussions started over how to seismically strengthen Lopdell House. Although the gallery could make the amusing claim it was the only one in the country with a sprung wooden dancefloor, it was "almost impossible", says Clifford, to get high-value loans. Meanwhile, the former dining room had amazing views but not much wall space to hang art.
By 2004, plans were under way to maximise the restructure by adding a six-storey gallery (including three underground floors for a classroom, workshop and storage). Award-winning architects Dave Mitchell and Julie Stout came on board, having successfully refitted the Tauranga Art Gallery and converted the old telephone exchange on Lorne St into what Auckland Art Gallery used as the New Gallery until a few years ago. Auckland Council put in $12.3 million for strengthening and restoration of the hilltop building under an agreement with the Waitakere Ranges Local Board; other funds came from the Trusts Community Foundation, ASB Community Trust and the New Zealand Lotteries Commission.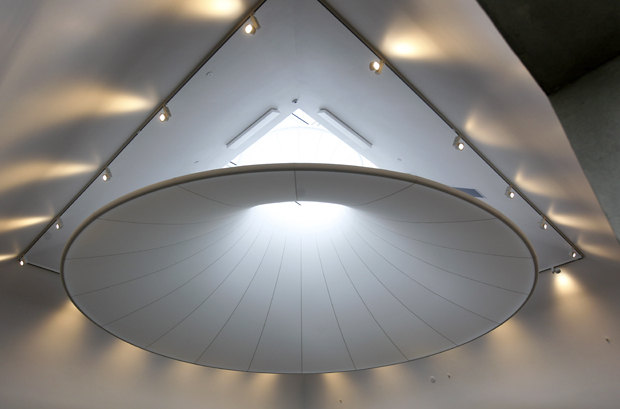 A giant daylight chandelier in the newly built art gallery section of Te Uru or Lopdell House in Titirangi as it used to be known. Photo / Chris Gorman
Upstairs boasts one of the best views in Titirangi, says Clifford, and it's here, against the striking glass panels through which you can see the bush and the ever-changing colours of the harbour, he envisages visitors taking selfies. From the outside, the sight of the jagged staircase calls to mind Paris' whimsical contemporary art gallery the Centre Georges Pompidou. Elsewhere, there are inspiring details aplenty: lights embedded in the handrails, opportunities to view galleries from opposite entrances and in gallery two, an unusual ceiling fixture Clifford refers to as the "lantern", created by stretching fabric across a giant hoop, diffusing the natural light.
At the other end, a large skylight does much the same, so the gallery is flooded from all directions by soft, natural light. Top-floor additions have been removed to create a rooftop terrace. Even the spiral stairwell that winds up from the main gallery is a reference to Lopdell House's Spanish Mission style. Clifford's favourite space is gallery four, with its curved wall and angular ceiling.
With so many unusual spaces to play with, Clifford says there's no set criteria as to which exhibitions will go where. But gallery five, with a skylight, seems the most suitable for projections.
"You just have to find that fine line between creating an interesting context for the art without it competing with the art," he says. "People will be coming to see the exhibitions and some people would prefer a sort of generic white bunker that isolates it and contains it from the outside world. I think the opposite, actually. We need interesting spaces for art and it's got to connect. That's what's great about what they've done here. It's absolutely connected with its environment and context, it tells you where you are."
The new name Te Uru (the west wind) also acknowledges its relationship with local iwi, Te Kawerau A Maki. Opening exhibitions including Te Hau A Uru: A Message from the West, plus the country's most prestigious ceramic honours, the Portage Ceramic Awards (ceremony on November 6), featuring the work of renowned Japanese ceramicist and awards judge Takeshi Yasuda.
If Clifford is daunted by the prospect of running five simultaneous programmes, he doesn't show it. After getting over the next "nerve-racking" few days, he's looking forward to working with internationally recognised local artists, such as Seung Yul Oh and Judy Millar. Then there are those he hopes will become involved from outside West Auckland.
"They may have a perspective on things that are quite pertinent to this area, such as the environment and ecology. It could be much more useful than just talking to ourselves about these things."
And if anyone resists the gallery's challenging design, Clifford points to the Guggenheim, the Pompidou and the Eiffel Tower, which polarised opinion when they were built, and are now iconic.
What: Te Uru Waitakere Contemporary Gallery, formerly Lopdell House Gallery
Where and when: 420 Titirangi Rd, Titirangi, opens today at 10am; see teuru.org.nz