Canada has taken first blood in the Ice Hockey Classic.
In the opening game of the six-game exhibition series, New York Rangers centre Peter Holland bagged a hat-trick as he led his side to an 8-5 win over the USA in Auckland on Friday night.
Holland and fellow National Hockey League player Byron Froese (Montreal Canadiens) combined for five of Canada's goals in the match. The two were clear standouts on the ice in front of a sell out crowd of over 8200 fans at Spark Arena.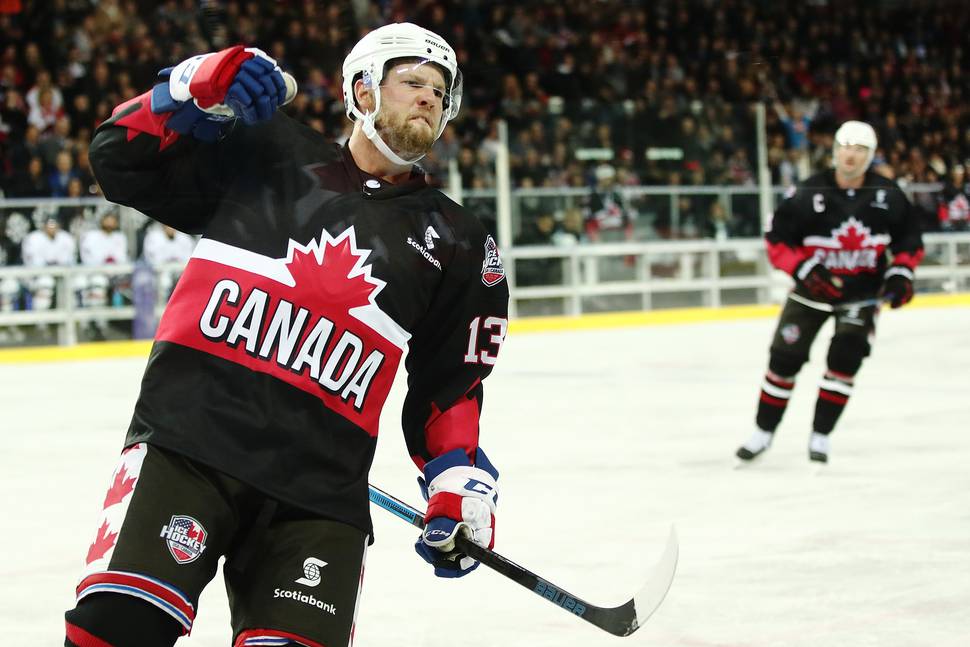 "To come out, have a good game and get a win, it was obviously a lot of fun," Holland said after the match.
Holland opened things up early in the proceedings, despite Canada losing a man to the penalty box soon after the puck dropped. The USA couldn't do anything with the power play, but instead saw themselves fall 1-0 down.
Canada were lucky not to see the scores levelled soon after, with goaltender Chris Driedger making some clutch saves. However, USA eventually broke through, scoring through Shane Brennan and Trevor Gerling to hold a 2-1 advantage after the opening period.
Things began to get a bit niggly in the second period, and USA extended their lead when captain Zenon Konopka scored on a power play after Canada's Kevin Nobel was sent to the box for hooking.
"Any time you get Canada and USA, you put on the two jerseys and it's a bit of a rivalry obviously so bad blood starts to flow," Holland said.
Konopka seemed to be in the thick of things every time something flared up between the sides, spending plenty of time in the penalty box as a result.
"That's his style of play - to get under people's skin - and he played a long time in the NHL because he was successful at it, so none of us expected any less tonight."
After Holland and USA's Nick Lazoroko traded goals late in the second period, Canada were facing a two goal deficit heading into the final 20 minutes.
Within a minutes of the final period starting, that deficit had been reduced through Froese, who scored while Konopka was in the penalty box.
It was the spark the Canadians needed as they pressed on with the job, scoring again through Spiro Goulakos, Holland, Froese and a double to Kyle Baun sealing the win.
Pleased with the result, Canadian captain Nolan Yonkman said it was nice to be able to put on a good spectacle for the fans.
"It was back and forth a little bit, that's a good hockey game. There was a little rough stuff, but we all cleaned that up."
The players will face a quick turn around for the second game of the series, at Wellington's Westpac Stadium on Saturday night, before heading to Queenstown to play on Thursday.
The final three matches will be played in Australia.
Ice Hockey Classic - Auckland
Canada 8 (Peter Holland 3, Byron Froese 2, Kyle Baun 2, Spiro Goulakos)
USA 5 (Zenon Konopka 2, Shane Brennan, Trevor Gerling, Nick Lazoroko)