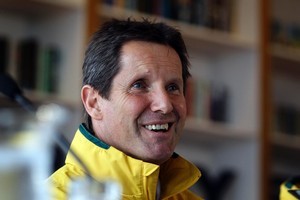 Robbie Deans' mum, Joy, is happy to sit on the fence for this weekend's game as the Dingo in the family guides Australia against the All Blacks.
The Christchurch 79-year-old reckons that having a son as coach of the Wallabies isn't enough to turn her into a fully fledged green and gold supporter for tomorrow night's semifinal clash.
After all, her family did produce two All Blacks - Robbie and 1987 World Cup squad member Bruce.
Mrs Deans never thought she'd find herself even half-backing our cousins from across the Ditch - but, that said, she does want the Australians to do well tomorrow.
"I want the best players, the best team, to win. That's better for my poor heart - it gets battered," the mother of five and grandmother joked.
Mrs Deans said she liked the way her Robbie's team had dug deep to make the semifinal.
"I'm proud of him, heavens yes. It's been a big job for him - and they've done pretty well. We all love sport and that's been ingrained in all of us."
At a press conference yesterday, Robbie Deans spoke about the loyalties in his family.
"[A sister] made the statement when she came across for the very first Bledisloe fixture that I was involved with that it was family first. I suspect in [brother] Bruce's instance, having been an All Black, he might not look at it in that light."
Deans said he hadn't yet caught up with his brother at the World Cup.
He smiled when he spoke of his sibling Nicky, who married All Black contemporary and former New Zealand Rugby Union chairman Jock Hobbs, now fighting cancer.
The trio caught up in Wellington when the Wallabies were based there.
His sister was coping well, he said. "Nicky - she's a rock. He [Jock] is looking good, which is great. We go back a long way. I thought he was coming to visit me when we were at school but it turned out to be my sister. Thought she was coming to visit me but it turned out to be Jock."
The other Kiwi in the Australian team, Quade Cooper, has faced hissing during Wallabies fixtures, but Deans believes playing at home has been an "outstanding" experience because New Zealanders recognised that the tournament was about more than one team.
Does he mind being Dingo Deans? Not at all. He's an "embedded" Aussie now - they can take the heat.