Ewan McDonald went on a family holiday. The riot police came along too.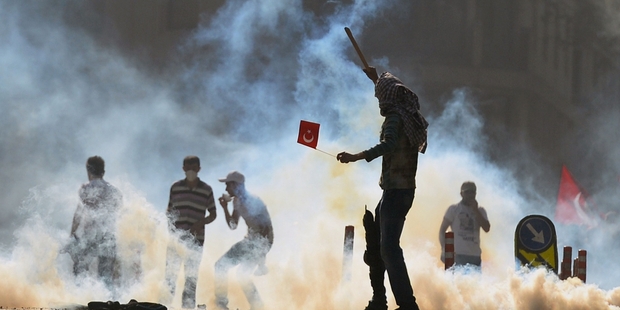 Kas is not so much a town as a picture postcard, for those who can remember what those were: a gaudy snapshot of towering coastal mountains, tiled-roof villas tumbling down the valley to the village, the waterfront square and its cafes, the tiny marina where fishermen used to moor their dinghies and cruise firms berth their not-quite-super yachts now.
It's the Riviera - the photo-menus and the knick-knack store signs in English and German and the Billabong shop give it away. Could be the French or the Italian or Spanish seafront, but it's none of the above. Kas - pronounced, near as dammit, as "cash" - is on the Mediterranean coast of Turkey.
In late June the first visitors of the season have arrived. They're welcome: Turkey's tourist industry has had a severe case of Euro-belly over the past couple of summers. The British are not coming, nor are so many of the Germans or French. Pension owners, restaurateurs, carpet salesmen and other one-man-bands who provide most of the goodies and services are hurting. The cheerful estimate is 15 per cent down on last year; many admit a 40 per cent thrashing.
So, even on a warm Friday night, it's not too hard to find a table at one of many cafes ranged around the square and tuck into mezze, grilled fish, wine or beer, çips with everything, and watch an idyllic little corner of the world go by.
Except that the square is not utterly idyllic tonight. Before the statue of Kemal Atatürk, mandatory in every hamlet in the country, 200 locals have gathered. They spread a sheet, painted in slogans, on the paving-stones at the foot of the nation's father. They take a minute's silence to honour the four who died at the hands and water-cannon of the Prime Minister's riot-squads in Taksim Square, Istanbul.
Then a woman beats a small wooden drum, the kind found in souvenir shops for a few lire, and the crowd begins to chant. It is defiant. It is angry. It is unnerving. It rises in volume: some passers-by, out for their evening stroll with children, grandparents and dogs, take it up. The drum beats. Five, 10, 20 minutes, the volume and the tension builds.
At their café tables, the tourists are curious. Perhaps they have heard of the anger that is sweeping Turkey; perhaps not, if they have been disconnected from CNN or worried relatives on Facebook.
Some seem fearful but few, if any, leave the square. Not too many tourists speak Turkish so it is unlikely they do not understand the bald threat being sent to Recep Tayyip Erdoan and his ministers 675km north in Ankara: "Everywhere is Taksim. Everywhere is resistance. We stand shoulder to shoulder against fascism."
Finally one, then two, then many of the tourists react. They leave their platters and glasses and edge to the sidelines of the protest. Out come the smartphones. Out come the cameras. They snap the scene and upload it to their choice of social media.
I had been in Taksim Square during the occupation and reported for the Herald. That was a professional call - no journalist, even one on holiday, could pass up a front-row seat at a revolution.
Little more than two weeks later I felt uncomfortable about joining those onlookers in Kas. I had tramped across the best parts of the Lycian Way; had chilled on beaches; bargained in markets and been a tourist. Gawping at these impassioned citizens urging fundamental change in their country seemed not too far removed from rubber-necking at a road accident.
Perhaps it seemed bad form, rude, a legacy of an Anglo-Saxon upbringing. I was a visitor in someone else's home. If I couldn't see something nice, I shouldn't see anything at all. It was simply none of my business. I shouldn't poke my nose into other people's internal affairs.
But ... we holiday in France because we like the food, or wine, or cheese, and make it our business to inquire about those. We tour Italy for the art, architecture and coffee and fill our boots. We go to Australia and stare at the wildlife and the animals.
So why shouldn't we ask locals about what's going in their country, and try to learn as much as possible about the issues, their perspective on life, to inform ourselves? We've taken the time, and trouble, to fly around the world to Turkey or South Africa because we have a hankering to see and taste the place. We should feel it, too. Otherwise we might as well spend our holidays on a lounger by the pool in a gated resort having the waiter bring frosted beers and eating chips with everything, never encountering a local or entering a shop.
It is a ticklish subject. Many nationalities are reluctant to discuss their political or social views with people they don't know, and they've often good reasons for their reticence. Works two ways: in Antalya a university-educated teacher was happy to chat until he learned my trade. "In Turkey 'journalist' means a government propagandist," he said, contemptuous of the TV channels that broadcast cooking shows and documentaries about penguins while their countrymen died and cities burned.
He could also have been cautioning me against practising journalism without a licence: Turkey is the world's No 1 jailer of reporters.
So I joined the gathering. Just as the chant, the protest ended as quickly as it had begun; and not with a baton charge. The dissidents - brave folk, publicly defying the status quo in a quiet, conservative town of 6000 people who have reframed their town so it depends on tourism and are intent on presenting a happy face to Europe and the world - dispersed to homes or bars away from the square.
The elegant, elderly woman picked up her drum and took it back to the souvenir shop she'd borrowed it from. The owner checked it still had its price tag, and put it back on display.

Kas Checklist
GETTING THERE: Emirates flies daily from Auckland to Dubai with a
connection there to its flight to Istanbul. fares are currently available from $2,497 return.