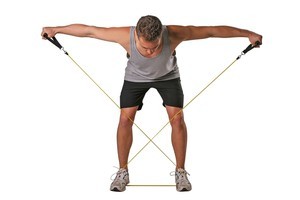 Cord X Fitness' muscles in a bag are perfect to take on trips to maintain workout routines. Photo / Supplied
Some people like to keep up their workout routines when they travel. Sebastian Masset is one of them and that's why he developed muscles in a bag, a portable fitness system that is small and light enough to pack into your luggage.
The drawstring bag contains five coloured bands of varying resistance, two handles, plus a nifty band that hooks through the door hinge so you can pull the bands safely against it, from any height. It also has ankle straps for those serious about keeping up their glute-toning on the road. The idea isn't entirely new - gym junkies have been flogging resistance bands for years - but as a set, complete with door stopper, it's the next best thing to carrying weights in your luggage, as the ban there are muscle-burning exercises aplenty. If you know what you're doing, that is. I go to a gym but had to go online to see how it's done. And a warning, it's best not to stand on the bands with bare feet - without the sturdy weight of a sports shoe, the band risks shooting from under the foot like a big, stingy rubber band. The bands were obviously effective. I'll definitely use them again. Just not on holiday.