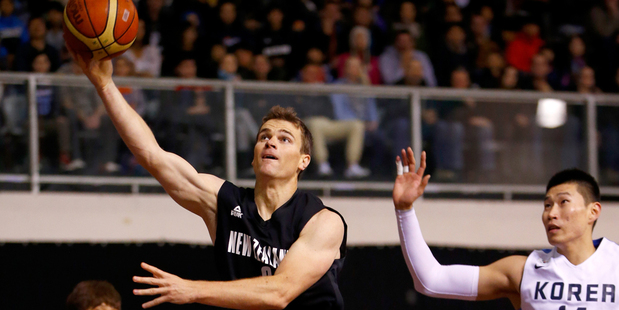 Following a 2-1 home series victory over Korea, Tall Blacks coach Nenad Vucinic has trimmed his roster to 14 as the side edge closer to next month's World Cup in Spain.
The squad leaves for Korea in a week for two more games against the South Koreans and they then move to invitational tournaments in China before travelling to Europe with games in Lithuania and Serbia before arriving in Spain in late August.
Of the 17 players in the squad for the home series against Korea, four will not travel to Asia with Jack Salt, Tohi Smith-Milner and Josh Bloxham not required, while Alex Pledger has a foot injury and will be out for four to six weeks.
"The toughest decision is the one that is made for us with Alex and his injury because he was one of the main players we were counting on," Vucinic said.
"We still don't discount him because we will give him time to recover but it will be a race against time for Alex. We really feel for him, he has worked so hard after surgery on his ankle and now this, it is such an unusual injury too, it really was bad luck the way he came down on someone else's foot."
Influenced in part by the injury to Pledger, the Tall Blacks will take big men Casey Frank and Nick Horvath on tour, despite knowing that only one of the naturalized players can make the final 12 in Spain.
The 14-strong squad includes veteran Tall Blacks with previous World Cup experience, including Kirk Penney (2002, 06, 10), Mika Vukona (2006, 10), Tom Abercrombie (2010), Benny Anthony (2010), Lindsay Tait (2010) and Casey Frank (2010).
There is a strong showing from the younger brigade as well though, most notably in the large form of 16-year-old Tai Wynyard.
Rob Loe, who has recently played in the NBA's Summer League for the Golden State Warriors, will join the team in New Zealand just prior to departing for Korea while Jarrod Kenny is named despite currently carrying a foot injury.
The Hawkes Bay point guard is expected to recover in time to play a part in the Asian leg of the tour.
Tall Blacks squad: Thomas Abercrombie, Benny Anthony, Everard Bartlett, Isaac Fotu, Casey Frank, Nick Horvath, Jarrod Kenny, Rob Loe, Kirk Penney, Lindsay Tait, Mika Vukona, Corey Webster, Tai Webster, Tai Wynyard.