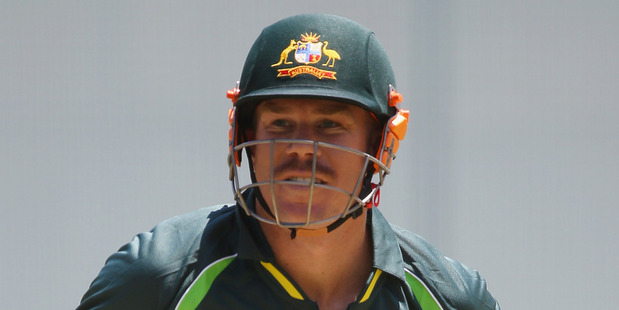 Australian batsman David Warner knows a thing or two about copping abuse from the crowd and has told England's Stuart Broad to "stop having a sook".
Broad reacted angrily on Twitter on Monday to accusations he took offence to some choice words from members at the SCG last week.
The fast bowling strike weapon strongly denied two spectators were ejected at the request of the England team, but Warner said Broad needed to lighten up ahead of the first Ashes test.
Warner was given a roasting by England supporters in Manchester during the winter, his first match since swinging a punch at Joe Root in a nightclub.
Broad is public enemy No1 in Brisbane after he refused to walk last series and is in the firing-line at the Gabba.
"He's already complaining and having a sook," said Warner. "He can expect a lot. If you have a good laugh and enjoy it, people get behind you. That's what happened with me in England."
Warner was also forthright when asked for his take on Kevin Pietersen ahead of his 100th test.
"He's already talking his garbage, but that's how he is," Warner said. "He lets his ego take over and he thrives on that. We're here to spoil [Pietersen's 100th test] and I reckon we will."
Test great Steve Waugh believes Broad has raised the ire of Aussie fans because he plays like an Australian.
"I can't believe we called him a cheat - it's just ridiculous," Waugh said.
"The guys that have got under our skin [over the years] are the guys that play the way we like to play in Australia."
Meanwhile, former coach Mickey Arthur has returned serve on test wicketkeeper Brad Haddin over accusations his insecurity affected the performance of the team.
"I gave Brad a huge amount of support; we gave him time; we told him exactly where he stood," Arthur said on Fairfax Radio.
"I'm bewildered and disappointed by his comments."
- AAP