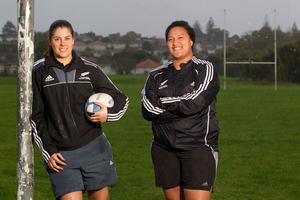 Juggling intense rugby training and university studies has paid off for two members of the Black Ferns.
Doris Taufateau and Eloise Blackwell will walk down Queen St this morning, among thousands of students graduating from the University of Auckland.
The pair - who are teammates for the Auckland Storm - have both completed a Bachelor of Physical Education.
Taufateau, a prop, was part of the winning team at the women's Rugby World Cup in London, 2010. She also works as a relief teacher at her former school, Tamaki College.
The 25-year-old grew up in Glen Innes and is the first person in her family to graduate from university.
She admitted it had been difficult to juggle school work with hard training sessions, but was relieved to have achieved her big goal - to get a qualification.
Blackwell, who was a new cap on the Black Ferns side last year, said being able to study alongside a teammate made things easier.
"It's been pretty cool because we play rugby and then come to uni and study together. It was good to know someone else was going through what you were."
The 22-year-old, from Great Barrier Island, hopes her new qualification will get her a much-wanted teaching job one day.
Today's graduation ceremonies wrap up 10 ceremonies held this week for a total of 6461 graduates.