Tighthead prop yet to show his best, says Waikato coach, Dave Rennie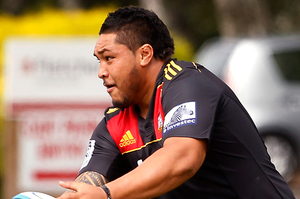 Benched two weeks in a row by the Chiefs and with weight and discipline problems last year, have we already seen the best of Ben Tameifuna?
Not according to Chiefs coach Dave Rennie, who says the 21-year-old tighthead prop is in better shape than at this time last year, when he helped his side out of a hole and quickly gained the attention of the All Black selectors.
Tameifuna was selected in the All Black training squad for the three Ireland tests last year and although he didn't play he was clearly on the radar and thought to be capable of switching to hooker - another string for his considerable bow.
Listed as 137kg, Tameifuna was nearer 150kg when he returned to his Hawkes Bay provincial team and such was his lack of condition that the Magpies refused to pick him.
It was a big comedown for the youngster who shot to prominence after helping the Chiefs to their maiden Super rugby title.
Tameifuna was also sentenced to 50 hours' community service and faced a New Zealand Rugby Union misconduct charge after being found guilty of two counts of driving while disqualified.
However, after Chiefs forwards coach Tom Coventry took Tameifuna under his wing, and following an operation on his nose late last year, Rennie said Tameifuna was back better than ever.
"There's no doubt that he's in better nick this year," Rennie said. "He had an operation on his nose and then got an infection in there which meant he couldn't work for three weeks. That set him back a little bit. He's been back in training for a couple of months since then and he's going well.
"Obviously Ben Afeaki started ahead of him last week and he was on fire. He had a fantastic game last week but Tame's time will come."
Rennie played down Hawkes Bay's decision not to pick Tameifuna, saying: "They weren't happy with the way he went down there but he was superb for us up here. Straight after the NPC we got him up here and got him training hard and I guess [he had] less distractions up this way. He was in really good nick prior to his operation. As I said, he's made some shifts and we're very happy with him."
The Chiefs' propping stocks are considerably stronger than at the same stage last year. In round one last season they lost Afeaki and Toby Smith to long-term injuries. A couple of weeks later Shane Cleaver was gone with a serious concussion.
A lot of pressure fell on Tameifuna and his uncle Sona Taumalolo, now playing in France, and both were outstanding.
Afeaki's form and the addition of former Blues prop Pauliasi Manu mean Tameifuna has to bide his time. Another front-rower impressing at the Chiefs is 20-year-old hooker Rhys Marshall, who was a late addition to play the Highlanders after Hika Elliot went down with a calf injury.
Elliot is back to play the Cheetahs at Waikato Stadium tonight, but Marshall has been named on the bench and remains in line to play at home for the first time.
"Obviously we see a fair bit of potential in Rhys," Rennie said. "That wasn't the original plan to start him in round one but he got thrown in the deep end and came out of it really well.
"He'll gain a lot of confidence from that and we've got a couple of really experienced hookers around him to help nurse him through."
APNZ