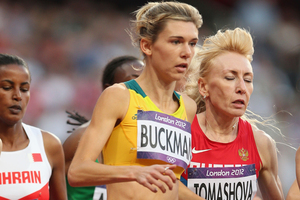 The elite women's field for Auckland's Queen Street Golden Mile on Easter Monday has received a big boost with the addition of two international athletes to take on local favourite Lucy van Dalen.
Zoe Buckman (Australia) and Susan Kuijken (Netherlands) have confirmed their start in the glamour street mile on April 1. Both athletes recently spent time in New Zealand and have joined van Dalen in Melbourne to continue their training.
Buckman represented Australia at last year's Olympics in London where, like van Dalen, she reached the semi-finals of the 1500m. Kuijken, 26, missed the Olympics through injury, but is now fully recovered and looking forward to a big European summer. She is a former NCAA triple medallist and was the NCAA 2009 1500m champion.
At the Christchurch track meet earlier this month she trailed van Dalen for much of the 3000m before out-kicking the Kiwi in the sprint home. Buckman competed in the 800m.
All three are very evenly matched over 1500m - with less than half a second separating their best times.
Over the mile, however, only Kuijken has previous street race experience finishing 5th in the 2011 Fifth Avenue New York mile, while van Dalen and Buckman have yet to taste the thrill of a street mile. Buckman has the best time for the mile on a track - 4m 30.8s, one second faster that van Dalen.
Van Dalen intends to return home and contest the NZ Athletics Championships at Auckland in late March - seeking a 1500m qualifying time for the World Athletics Championships at Moscow in August - and then stay on in Auckland for the race down Queen Street on April 1.
Last held in 1983, the return of the Queen Street Golden Mile is a John Walker Find Your Field of Dreams Foundation initiative.
- APNZ