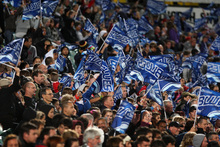 Long-suffering Blues fans are being urged to get to tonight's match against fellow cellar-dwellers the Lions at Eden Park.
But with the game dubbed "the battle of the basement" between the two teams placed 14th and 15th on the table it could be a bridge too far for even the keenest supporters.
Blues marketing manager Grant McKenzie said the crowd for tonight's match - which kicks off at 7.35pm - would "probably not stack up" against some of the attendances at the ground this year.
As of last night 14,000 tickets had gone out in general sales and to Eden Park members, corporate box holders and complimentary ticket holders.
The number is well short of the 32,000 fans who showed up for the Blues match against the Crusaders this year and down on the average 21,000 crowd the park has seen this year for other Blues' matches.
But it's still 2000 more than the miserable mob that showed up last year when the Blues lost to the Chiefs 11-16.
"No one wants to know this but halfway through the season we are still getting the highest averaging crowds of any New Zealand-based franchise by 4000," said Mr McKenzie.
The Blues, who go into the match as short $1.25 favourites at the TAB with the Lions long odds at $3.75, are 10 games into a season they're probably wishing would end when fulltime sounds tonight.
While it's familiar ground for the John Mitchell-coached Lions, who have licked the wooden spoon twice in 2010 and 2008, and three times before that when they were known as the Cats, it's been harder for one of New Zealand rugby's former glamour sides that have endured a horror run with just one win this season, star players underperforming and a coach facing the axe.
Mr McKenzie said children's tickets were an affordable $5 and adult prices had been reduced in key categories with prices starting at $18.
"The idea for this was when the weather turns inclement you could get a good covered seat for $30 and you could have your child sitting with you for $5 - so that's $35 for the both of you to go," he said.
"Our tactic was to address the pricing up front, it isn't to discount tickets above the line and I really don't think discounting tickets will solve the problem - our problem is we need to perform better and we need to win."
MetService forecaster Janet Syme said showers during the day would likely clear at night.
BLUES v LIONS
* Eden Park, tonight 7.35pm
* Tickets sold: 14,000
* Biggest crowd (2012): v Crusaders 32,000
* Lowest crowd (2012): v Reds 12,000
* Average crowd (2012): 21,000

By James Ihaka

Email

James