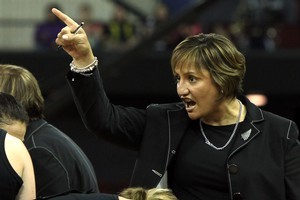 Waimarama Taumaunu has been appointed new Silver Ferns coach and will take over for the three-test series against Australia starting next week.
Former coach Ruth Aitken had been expected to take the team to Australia before handing over to Taumaunu but Aitken is unavailable for family reasons.
Taumaunu has been Aitken's assistant for the past four years and her appointment was widely expected in netball circles. She has received a four-year term to take her through to the next world championships and will be assisted by Noeline Taurua, her main rival for the head coach's role.
A former Silver Ferns captain, Taumaunu becomes just the ninth Silver Ferns coach since the sport first competed internationally in 1938.
"This is such an honour and I am determined to take the Silver Ferns to the next level and would like to acknowledge the amazing record and legacy left by coach Ruth Aitken,'' Taumaunu said.
One of the great indomitable defenders in New Zealand netball history, Taumaunu's name has featured prominently in netball, whether as a player, national, regional or club coach, or an executive member.
She represented New Zealand for a decade from 1981 - the highlight winning the 1987 world championships - and captained the Silver Ferns from 1989 to 1991. She was assistant to Yvonne Willering in 1998 and returned alongside Aitken in 2008. She was also England assistant coach in 2002 and 2003 when she worked with fellow New Zealander Lyn Gunson.
Taumaunu spent five years in England from 1998 as national performance director of All England Netball, during which time she gained an unprecedented five years of lottery funding for the sport. She was also a foundation director of the English Institute of Sport.
Away from the court, the former secondary school teacher has worked on a number of government initiatives to boost sport _ managing Sparc's CoachForce programme and developing coaching and Maori sport for the Hillary Commission.
Netball New Zealand chief executive Raelene Castle said Taumaunu's comprehensive coaching expertise, along with her strong vision for the Silver Ferns, were instrumental in her appointment.
"Waimarama will bring a huge amount of experience, dedication and passion into her new role as Silver Ferns head coach and we believe she is the best person to take the team forward for the next four years,'' Castle said.
Australia series
23 Oct - Silver Ferns v Australian Diamonds, Burswood Dome, Perth
26 Oct - Silver Ferns v Australian Diamonds, Adelaide Entertainment Centre, Adelaide
30 Oct - Silver Ferns v Australian Diamonds, Hisense Arena, Melbourne.
- APNZ