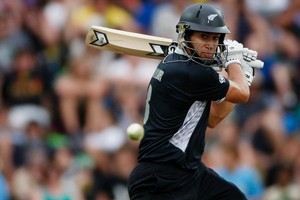 New Zealand are to press hard for a 10-team 2015 World Cup as the International Cricket Council reconsiders its decision to trim associate nations from the quadrennial tournament.
When a series of ICC meetings begins in Hong Kong tomorrow, the thorny topic of the size of the event to be hosted by New Zealand and Australia will be among the most contentious.
Fourteen teams contested this year's tournament on the subcontinent, but only Ireland, who beat England and generally impressed, made much impact among the non-test nations.
Kenya, Canada and the Netherlands were disappointing, meaning a considerable number of lopsided matches.
The ICC initially announced a reduction to 10 teams, which unleashed a furore of protests, largely at the closed shop nature of that decision and the cutting off of incentives for the associate nations.
NZC strongly supports a merit-based 10-team tournament, with either the ninth and 10th test nations - Bangladesh and Zimbabwe - or just the 10th, playing off with the best of the associates for the final spot.
"The [New Zealand] board is adamant it needs to be a 10-team competition but does support a merit-based qualifying process," chief executive Justin Vaughan said.
If it was 12 teams it would need to be done in two pools, possibly leading to a Super Six scenario.
"As soon as you start putting in Super portions it gets very difficult as host, because you don't know who is playing who and where. So the ability to sell tickets and stage a really successful event and keep people interested is diminished."
The only previous World Cup of the 10 since 1975 to have a full round robin was in 1992, again played in Australasia, in which all teams played each other.
Broadcasters favour 10 teams. One reason is that they'll get more financial return out of having an absolute minimum of nine Indian games.
Vaughan says Cricket Australia shares NZC's position. If it is not to be 10 teams, the co-hosts would favour retaining 14 rather than trimming to 12, as 14 means a straight quarter-final/semifinal/final programme.
The ICC will also consider a raft of proposals from its cricket committee, of which Vaughan is a member.
The most contentious is a call for the Umpire Decision Review System to be implemented in all three forms.
Nine of the 10 nations fully support it. India have already restated their implacable opposition. Their hand can be forced as a ths majority of test-playing nations is needed to make it a mandatory playing regulation.
The question is whether anyone will be brave enough to force the game's financial powerhouse down that line.
Two other proposals are particularly eye-catching: doing away with runners for injured or ill batsmen, and making the running out of the non-striker by the bowler in his delivery stride permissible.
Vaughan opposes the adopting of the run out proposal.
It has long been one of cricket's gentlemen's agreements that a batsman should be warned before more direct action is taken. Maybe no longer.
"I think it will get through," Vaughan, who didn't support the proposal, said. "There's a perception the non-strikers are getting an unfair advantage, that they're taking 'fliers'. I don't really see it as a huge problem."
Key recommendations
* The Decision Review System should be used in all tests, and in ODIs and T20s, with a limit of two, one and one unsuccessful appeal respectively.
* There should be no runners allowed for injured batsmen in international cricket.
* Batsmen who change direction running between the wickets to block a throw at the stumps can be given out on appeal.
* Bowlers can 'do a Mankad', running out a batsman in his delivery stride for following up too far, named after former Indian allrounder Vinoo Mankad.
In ODIs
* Two balls should be used per innings, one from each end, removing the need to change balls after 34 overs.
* No limits on overs for bowlers.
* A maximum of four fielders outside the circle for non power play overs.