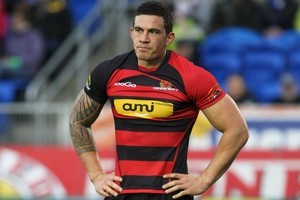 Perception and reality have never been bedfellows in the career of Sonny Bill Williams.
The tumultuous end of his NRL career; the association with Anthony Mundine and Khoder Nasser; the drink-driving charge and sexual escapade in a Sydney toilet have created the impression of a young man who doesn't see legal or social convention as something to respect.
Today's inevitable confirmation of Williams as an All Black will throw up all manner of questions, none more relevant than whether the 24-year-old can assimilate into the world's best team.
Rugby is a code steeped in valour and no team has an ingrained culture like the All Blacks. The value systems are clear and precedent set as to what qualities define a good All Black.
There is no leeway from a nation that idolised Colin Meads, Brian Lochore, Buck Shelford and Michael Jones and now Dan Carter and Richie McCaw. It's clear that to fit in, All Blacks have to be privately proud, publicly humble; they have to respect opponents yet be determined to crush them; clean-living yet sociable and above all, they have to accept that the cult of the individual is not cherished or promoted - it is all about the team.
Williams' talent has never been in question - he's a rare beast, a rugby player trapped in an athlete's body. His power, his deft handling and impossible offloads were always going to be of enormous value to the All Blacks.
The coaches don't think in terms of starting XVs. It's about collecting options, having assets throughout the squad and the detail of how and where they actually get on the field can be worked out later.
From the day Williams signed his contract with the New Zealand Rugby Union, the bigger question has always been about his ability to embrace the essence of All Blackdom. Doubts will persist, but the reality suggests Williams is a grossly miscast figure. He could hardly have been a better ambassador since returning to New Zealand.
Sheldon Park in Christchurch is not the most glamorous place to make an entrance, but Williams was there in early August, playing for the lowly Belfast club. If he was there on sufferance, feeling the whole thing was a chore, he hid it superbly.
"He was an inspiration to our boys," says Belfast coach Don Fisher. "After he came, our boys turned things around and won four games. Sonny has been so supportive. He turned up to all the trainings, came to the team photograph and was even down at our touch night this week.
"He's a down-to-earth guy who fitted in really well and if he does indeed win All Black selection, it will be by right, not because of the investment that was made in him."
What Fisher doesn't say is that Williams stood for an hour after his game for Belfast signing autographs. Everyone wanted a piece of him and through it all, he smiled, scribbled and laughed.
He does the same after every game for Canterbury and, far from being a concern, Williams may in fact be the benchmark for All Blacks in terms of how they engage the public.
The stories of Williams as a humble sort, keen to keep his head down and be one of the boys are consistent. He has said all the right things, done all that has been asked and more and the perception of Williams believing his own hype is far removed from the reality.
For prevalent views to change, Williams must change the way he thinks about his All Black career. He has signed until 2011, giving the impression he wants to dip his toe in and then move on to something else.
The All Black legacy requires more from those who want to preserve and enhance it. It's not something to try out along the way - it is a destination.
With the likes of Carter and McCaw continually shunning big offshore contracts in favour of trying to become iconic All Blacks, Williams' transience doesn't sit well. Can anyone believe he's committed when he hints at his future being somewhere else in 2012?
Given how easily he's fitted into New Zealand rugby and the obvious respect he has for what he covets, he may be swung once he's immersed in the All Black set-up.
It happens every time a new All Black enters the fray. Whatever their expectations, they are always blown away by what they find.
The intensity of touring is something special, even in the modern age. The All Blacks are still the biggest ticket in town when they land in the UK. Public interest is huge, evidenced by the fact stadiums sell out in minutes.
The locals might not know much about rugby in general, but they know the All Blacks; they know Carter and McCaw and they know the haka.
The adulation is more comforting and inspiring than it is smothering and, when All Blacks talk of the privilege they are granted, they mean it.
Then there are the tests. Williams has played for the Kiwis and in an NRL final.
He hasn't stood in the middle of Millennium Stadium with Land of My Fathers ringing in his ears and the whole of Wales apparently ready to play the All Blacks.
Right now, he might truly believe he can walk away from the All Blacks in 2012.
By December, he may well have changed his mind once he discovers that the perception of what it is like to be an All Black trails way behind the reality.