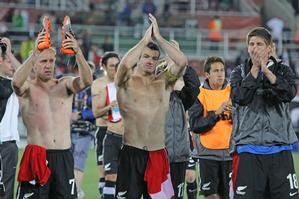 World media are applauding the All Whites after their dream World Cup run came to an end in South Africa this morning.

New Zealand drew 0-0 against Paraguay overnight (NZT), knocking them out of the World Cup but putting them third-place in their group, ahead of defending champions Italy.
"New Zealand's marvellous World Cup adventure came to a creditable but disappointing end this afternoon as another fine result saw them fall just short of the knock-out stages," said the Times in Britain.
"It was a gallant exit by New Zealand, who finished unbeaten after three draws in a group where they were expected to be cannon fodder for the other three contenders but ended up finishing above the Italians," reported the Sydney Morning Herald.
United States sports broadcaster ESPN kept the spotlight on the All Whites in its match report, titled "Brave All Whites head out", celebrating the team for finishing unbeaten against defending champions Italy and a talented Paraguay team.
"Another resolute performance by a nation playing at only their second World Cup - the first coming in 1982 when they lost all three matches and conceded 12 goals," it said.
The New York Times praised the team's "rock-solid collective gut" that had energised the group-stage.
"The All Whites, in only their second World Cup and first since 1982, wound up with a zero goal difference after a minus-10 in 1982, showing resolute organization and occasionally flirting with outright survival from the group as Slovakia-Italy played concurrently," the newspaper said.
USA Today applauded coach Ricki Herbert as his team made its exit.
It said: "New Zealand coach Ricki Herbert has every reason to be proud of his team - despite being eliminated from the group stage at the World Cup."
The match itself, however, was generally acknowledged to have been a "drab" affair.